Death of a Danish music legend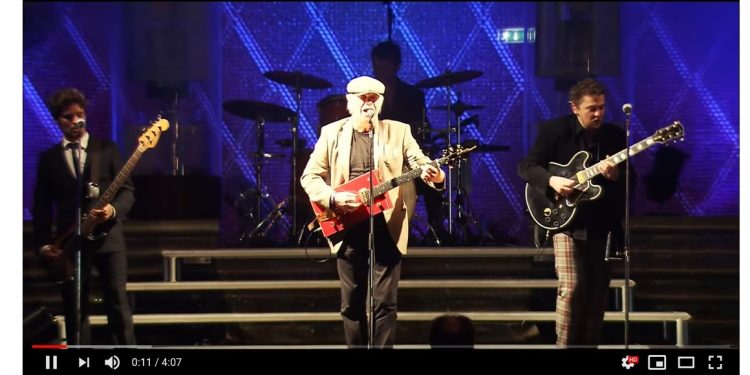 Sunday morning a sad announcement affected the entire nation. Denmark's number one rock star and a music icon, Kim Larsen, was dead. Find here a short attempt at explaining the national grief his death has created.
The article continues below.
By Bente D. Knudsen   Picture: Screen Dump from Official video on YouTube
Understanding the music scene of your new home country can be a challenge for any expat, certainly when it is performed in the national language.
The following days and weeks you will probably hear a lot of talk of Gasolin and Kim Larsen when you meet up with Danes at work or for other social occasions.
For the past 50 years he has been part of the Danish rock scene, and he has the status in Denmark of what an Elton John is to the British for instance, just to try and explain his national status.
Kim Larsen was born in 1945, in the 60's and 70's he performed together with the band Gasolin, and later, after their dissolvement, he made a career for himself.
In recent years with his band Kjukken. He died at the age of 72 on Sunday 30 September 2018 unable to fight the cancer with which he was diagnosed in 2017.
Many of his songs are known and loved by Danes of all age groups, social backgrounds or even music preferences.
He was not afraid of playing the songs loved by Danes even at the age of 72, his last performance at one of the great Danish music festivals this summer at Smukfest in Skanderborg.
The article continues below.
As DJ and DR music host Jørgen de Mylius said to DR5 when he heard his death:
"Kim Larsen was able to unite Danes from all levels of society and of all ages, he was a national icon who embraced all Danes and at the same time he was always very discrete about himself and his person."

I sometimes had the pleasure of being a DJ for afterparties after some of his concerts and performances, and it was really such an "easy job", as the audience always arrived with large smiles on their faces and in a good mood, so all I had to do was to make them keep that feeling."
Kim Larsen was also a cheeky devil, impudent and provocative, and for instance, he never gave up his fight for the right to smoke.
His songs are played and sung at many different occasions, such as the song he wrote to his own son, Smukke Unge Mennesker, which was a tribute on how children grow up and become "beautiful young people", it is still used at many Danish schools for graduation ceremonies.
In a Danish TV show in the 1980's he was asked how his songs came to him, and here he explained that he often woke up with both the text and lyrics in his mind and had to hasten to write it all down before he had forgotten it.
If you want to listen to some of his greatest hits, we recommend several of the songs from his greatest album, out in 1983, called Midt om Natten.
You can find links to his music also on his website at http://www.kimlarsendk.dk/
List:
Susan Himmelblå
Papirklip
Midt om Natten
Jutlandia
Smukke unge mennesker
Rabalderstræde
In 1976 Gasolin tried to sing in English in order to make it in the US, however, this was not a success and the band was dissolved a few years later. From that time, you could also listen to, This is my life, which was still part of Kim Larsen's repertoire for his concerts.
He has wished to be buried at a private and quiet family ceremony his manager informs.