Discover the Danish South Sea Islands – perfect for a weekend break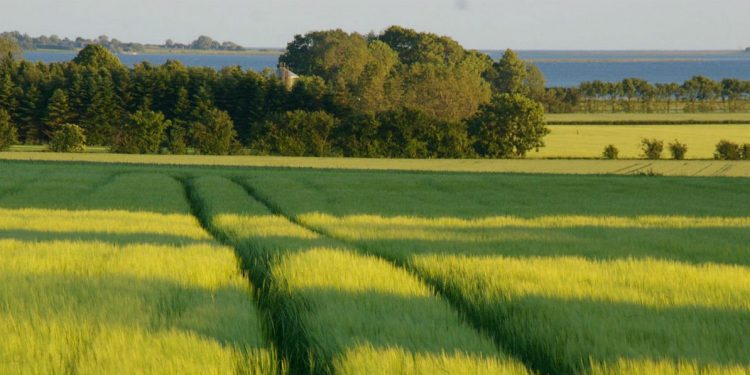 Explore the archipelago islands of south Funen; Tåsinge and Langeland, in Danish "Det Sydfynske øhav". There are abundant sights, museums, and castles to take in.
The article continues below.
By Adriana Alcina/ Stine Rosengren   Pictures: Henning Steen Hansen, Visitdenmark
Whether you travel by car or bicycle, you will certainly be dazzled by their lush, green and hilly landscapes, with abundant spectacular views of the surrounding sea.
Before jumping into a car and driving to them, you have to plan a bit and decide if you are touring all of them at the same time; they are not equally easy to reach.
However, Tåsinge and Langeland are easy to reach as a bridge connects them to each other, and Tåsinge is connected to Funen by the Svenborgsund bridge built in 1966.
Apart from car lanes, the bridge also has cycle paths and pavements.
From Tåsinge, you can access Langeland by crossing the Langeland Bridge completed in 1962. It has a beautiful arch on the top from which you have great views over the city of Rudkøbing, the biggest city on Langeland.
The article continues below.
Tåsinge round trip – our guide:
Being a small island, it is easy to cycle around Tåsinge – however the trip can also be made by car.
I suggest that you start by going east towards Vindeby harbour. Here you will find many sailing boats and a relaxed pace of life. If the weather is good, and you are tempted, then you can take a dip from the small artificial beach there.
Just before leaving Vindeby, you will notice signs for the nearby Vindebyøre campsite.
This campsite has a great area where you can play ball, catch goats and cuddle rabbits, rent a canoe or kayak and paddle up the coastline, or simply go for a quiet walk.
Go back to the main road, the old alley, once the only road on Tåsinge stretching from Vindeby to Valdemar's Castle. Continue east towards the quaint skipper town of Troense. You will enjoy the sight of the town's many old but well-maintained half-timbered houses and their thatched roofs. Have lunch at the Troense Hotel (recently renovated in a delightful modern style) while gazing out over the water (or alternatively, wait for lunch until you reach Valdemar's Castle – see later).
As you make your way towards Valdemar's Castle, you will pass through Troense along Grønnegade, one of Denmarks most charming streets. Valdemar's Castle is right before you, and you must take time to see this wonderful place.
Here you can enjoy concerts and other events – sometimes also outdoor opera. What will be possible due to the coronavirus situation is at present not known as well as when the museum mentioned below will open. More will be known around 11 May.
Visit the castle's museum and see the great hunting collection on the main building's upper floor. Your visit takes you through 21 rooms and a beautiful banquet hall – no guided tour needed as you can experience the rooms on your own. Don't miss the beautiful castle chapel; you can just enter from the courtyard.
You can easily spend a few hours here as there are several activities to enjoy; have a game of mini golf, let the children run around in the adjacent playground and have lunch either at the castle or on the beach. You can buy lunch at the tea pavilion located next to the sea and take a dip here too.
The article continues below.
Continue to Nørreskoven, a small but famous forest only five minutes from the castle. In the forest you will find the memorial to Sixten Sparre, located right where Sparre in desperation shot Elvira Madigan (the famous story is the classic one of two lovers who cannot have each other).
Continue the trip to Bregninge Kirke located in the middle of Tåsinge. Enjoy the views from the top of the church tower; with more than 30 other church towers in sight, it is supposedly the tower, from which you can see the most other church towers in Denmark. On a clear day you can also see all the islands surrounding Tåsinge and you will discover that Tåsinge is really a beautiful hilly island.
Opposite the church is Tåsinge Museum, which houses a great exhibition showing how the country folk lived here in the old days. It is an affordable and wonderful museum consisting of five houses with, among other things, a fully equipped skipper's home and the detailed love story of Elvira Madigan and Sixten Sparre.
Tåsinge has always been known for fishing and folk dance and its inhabitants' dependence on the sea as way of making a living. Complete your visit with coffee and cake outside.
If you want to see where they buried Elvira Madigan and Sixten Sparre just go a few kilometres further to find their tombstones at Landet kirkegaard . And remember, if you get hungry along the way you can easily fill yourself for just a few kroner from the many roadside stalls selling fruit and vegetables.
If you want to make a full tour of Tåsinge, continue North West to Vejlen (next to Vornæs Skov). This area used to be a great hunting ground but today the only sounds you hear are the many birds in the newly established bird sanctuary.
Here, The Danish Forest and Nature Agency is reverting areas of reed to meadow in order to improve the birds' and other wildlife's living conditions by providing grazing for cattle, which will enable plants to spread again. If you want to look at the birds, a boardwalk leads you out through the cane to a bird tower.
During mild winters, and the rest of the year, you always see herons hunting for fish along the reedy banks. A small tip if you are a lover of birds, rubber boots, and getting up early in the morning – even on holiday, then treat yourself to an outing to Vejlen.
Equipped with a pair of binoculars, a thermos of coffee and practical clothes, you can wander around for hours letting yourself be seduced by the birds' mating dances and beautiful songs.
End your day's tour with dinner or a picnic and bonfire on the beach in Vornæs forest, located just north of Vejlen and enjoy the evening sunset.
It's possible to stay overnight in one of the many small B&B's as an alternative to Hotel Troense. Stay for instance at Rose's. It is really cosy and clean and can accommodate up to five people – check www.bedandbreakfastguide.dk/dk/Fyn/Svendborg/BB+Troense and look for Hos Rose.
You can also choose to sail with the veteran ship Helge and see Tåsinge from the sea. It is a charming trip; you can get on and off as you please to discover the various tourist attractions along the way.
More information at www.svendborg-havn.dk/ms+helge,www.brejningekirke.dk, www.taasinge-museum.dk, and www.valdemarsslot.dk
The article continues below.
Langeland – the long island: our guide
Of the three islands, Langeland is the funniest shape; it is 52 km long but really quite narrow, only 10 km at its widest point. The name Langeland actually means "the long island".
Upon crossing the bridge from Tåsinge, you reach the main town of Rudkøbing. Here you can experience a wonderful mixture of old world charm and modern shopping facilities.
Many of the town´s shops are situated in picturesque buildings in the squares and small cobbled alleys. Being an artists' island, you will find a number of galleries and pottery workshops.
Despite being a small island, Langeland is home to three manor houses; two are still family owned and only their gardens are open for visits.
Even so, a visit to the most famous manor house in the village of Tranekær is a must. Head north of Rudkøbing and find Tranekær Slot. It stands high on a hill with an excellent view over the village and a large part of North Langeland.
The castle, owned by the Ahlefeldt-Laurvig family, dates back to the 13th century and is one of Denmark´s oldest lived-in castles. There is no public admittance to the castle, but the surrounding castle park and Skvatmøllen, a great gallery, community house and café, as well as the old castle mill, are open to the public.
The mill has been converted into a museum and, every summer, wheat is ground in the same way as it used to be done many years ago.
Head south again to the Skovgaard Estate, where the former owner willed both the manor and estate to a trust belonging to the Danish Society for the Conservation of Nature.
Now you can visit the beautiful old manor house as well as a number of other buildings. The Skovsgaard Estate is run as a large organic farm with numerous museums in the many buildings.
Take time to visit one of the exhibitions, for instance, Denmark´s only museum showing how working conditions were for domestic servants at Danish manors at the beginning of the 20th century, as well as the carriage museum and the forestry museum.
Continue your trip to south Langeland where you can experience one of the island's major attractions; the herd of wild horses.
They are not genuine Danish wild horses but Exmoor ponies introduced in 2003.
Apart from being a great tourist attraction, they also serve a genuine purpose as they graze the coastal meadow on Klise Nor to the benefit of the local bird life.
The success has led to a further area on Dovns Klint being added and today the herd consists of approximately 40 horses.
Even if it's difficult to find the horses, the excursion is nice; start at the Dovnsgården nature centre – a "picnic hut" with lots of information about the horses and nature. End your day with a dip in the sea at the famous beach of Ristinge Strand, located on the very tip of South Langeland.