Don't miss these six events at Aarhus Festuge!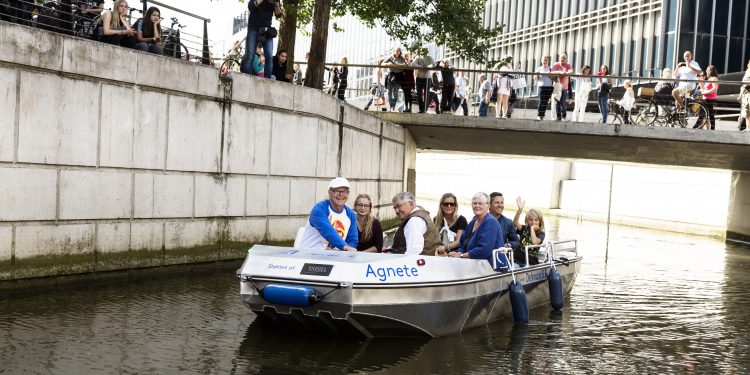 Whether a newcomer to Aarhus Festuge, the festival running this year from 25 August until 3 September, or a returning guest, we have selected SIX tips to help you start, rethink and be surprised in Aarhus!
By Inger Stokkink    Pictures: Aarhus Festuge/ Martin Dam Kristensen
TIP 1
Board the mini-train(seriously you will be sitting on its roof!) for a ride on the model railway. Electric and steam locomotives give both children and adults a ride between Musikhuset and Aros.
TIP 2
Join the Expat Reception on Saturday 26 August from 15.00 to 17.00 hrs. Meet other expats for networking and 'hygge', and sample the delicious food of the Festival restaurant at FO Aarhus, Vester Allé 8, 8000 Aarhus arranged by Aarhus Festival and International Community.ersity
TIP 3
The Blue Bridge –experience the hear of Aarhus from the waterfront as you duck under the low bridges while experiencing Aarhus from the river. Solar-powered boats are sailing up and down Aarhus Å. If you're not a kayaker, you'll never see Aarhus this way, so take your chance while you can!
TIP 4
Nibble your way through Aarhus and try out tasty delicacies or hearty home food from all over the world in Aarhus Streetfood in the Garage – and outdoors if the sun is shining. Enjoy the splendid streetfood from all over the world, live music, coloured lights, DJ´s, and of course the cold beers or check out the Mess Hall – a selection of stands from local restaurants are ready to serve you small dishes to go or to enjoy in a cosy setting.
TIP 5
Go "home to Ireland" – visit the IRISH music tent with free entry and Irish live music on stage with  different musicians performing live every day – playing all the classic Irish songs. And of course you must sample the wide selection of different Irish beer and whisky. Located in a classic beer tent at Banegårdspladsen – you are safe from the Danish summer!
TIP 6
Do you feel like dancing swing and Rock&Roll – then join the party on 25 august from 16:00 to 18:00 at Byparken Vester Allé 3, Officersbygningen when a group of young people dance to the great music from the 1950s and 1960s. If you don't know how to – you can easily learn – the event is FREE and open to all.
Finally,
download the Aarhus Festuge app
and choose 'English events' in the bottom right-hand corner
For Apple 
  or  
 For Android