Drastic measures to curb spread but Denmark is NOT closing down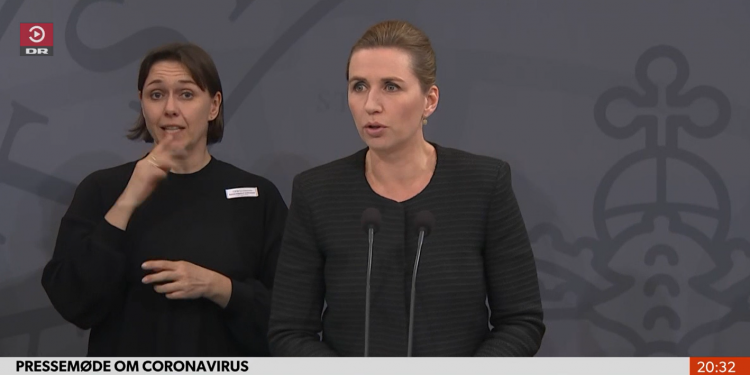 You will still be able to take public transport but avoid rush hour, take your bicycle if you can. Supermarkets and all stores will remain open so you can still shop, so don't hoard.
The article continues below.
By Bente D. Knudsen
Danish Prime Minister appealed to the citizens of Denmark to understand the huge efforts that will be asked of them the next two weeks. All public employees who can work from home will be sent home from Friday with full pay.
All schools, universities, preschools and kindergartens are to send home their pupils starting tomorrow for the universities, for schools and preschool facilities on Monday.
All preschools, kindergartens and schools are to put in place measures, which enable parents, who have no home care options (as they may be working in sectors that are not sending them home, such as the health care, police, and eldercare facilities) to still be able to send their children to schools and preschool institutions under safe conditions.
However, Prime Minister Mette Frederiksen said at the same time, that the private sector must remain open to the extent possible to be able to ensure the continued service and running of the society.
Therefore, the whole public sector will be sending those home who can be sent home, as this measure alone will help reduce spread, and the closing of schools and other childcare institutions is also an important measure.
The article continues below.
The measures do NOT mean that Denmark is in the same situation as Italy but is taken as a precautionary measure to avoid getting there.
Denmark is sending home its children at a much earlier stage of the epidemic than what Italy did, as the coronavirus outbreak hit them only two weeks after the outbreak in China became public knowledge.
Also, from Monday, all events and gatherings of more than 100 people will be prohibited, and all bars, pubs and night clubs are asked to stay closed for the next two weeks.
CEO of the Danish Health Board, Søren Brostrøm, stressed that the measures taken now are due to the dramatic increase in those taken ill with the coronavirus over the past few days even if all of the present cases are still related to Danes bringing the illness to Denmark from their travels to the rest of Europe, notably the Tyrol area in Austria and Northern Italy.
However, with such a large number of confirmed cases, the present containment strategy of finding all the contacts of those cases becomes increasingly difficult and it is expected that a large dark number of people who can spread the coronavirus in the society are already present and therefore that containment strategy is no longer the right one, and a rise in spread within the Danish society will now start to be seen.
The article continues below.
The new strategy with the dramatic measures is taken to limit and spread out the epidemic as long as possible, i.e. that people will become ill over a longer period rather than everyone all at once.
By asking people not to spend time together with many other people, spread will take a longer time, thus reducing the strain on the medical sector and ensuring the capacity is there for those who really need it.
The legislation enabling the Danish Government to enforce all of these measures, and for instance to pay compensation to those affected by cancellations, will be heard in parliament tomorrow and be treated as a matter of urgency to get the legislation approved. All political parties have in advance given their agreement to the need for these drastic measures, the Danish Prime Minister said.
Concerning travel, the borders are not being sealed, however more countries will become orange or red as the epidemic spreads within Europe and world wide, also those countries that are yellow will start to be dark yellow as Erik Brøgger Rasmussen, director of the Foreign Office's Citizen Service expressed it.
"We cannot tell people not to travel to the areas that are yellow in our travel guidelines, but for sure, it is worthwhile to consider if you really need to travel now and in the coming weeks and at Easter," was the response to questions.
The travel guidelines have been updated to include regions in Germany and France as well as all of Tyrol in Austria that are now red which means travel to them is not advised. You can find them here.
Your Danish Life will publish more updates tomorrow.
The article continues below.