Easter Baking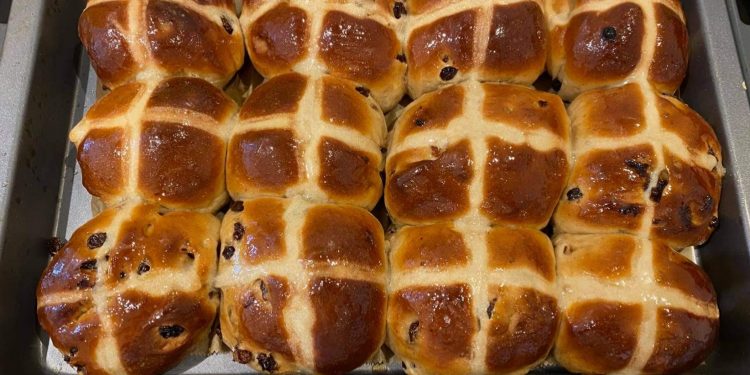 Find here our expat baker's insights on baking for Easter while living away from her home.
The article continues below.
Text and pictures by Claire Sinclair
With the approaching Holy Week thoughts turn to chocolate eggs and roast lamb on Easter Sunday. At least, that's what the British traditionally eat during this season.
Every culture has its culinary traditions which, in our expatriate life, can be some of the things most missed from home.
So, I imagine that in many homes around Denmark this week there will be families who cook dishes from recipes that will bring absent loved ones closer.
When you enter a bakery or supermarket in the UK during the two or even three weeks leading up to Easter you are assailed by the almost overwhelming aroma of sweet, spiced Hot Cross Buns.
These are small cakes made of enriched yeast dough, flavoured with cinnamon, nutmeg and cardamom, sweetened with dried fruit and decorated with the sign of the cross. They are baked, then given a sugar glaze to make them shine tantalisingly, and these gorgeous beauties are irresistible toasted and spread with good salted butter.
Hot Cross Buns are eaten traditionally for breakfast on Good Friday to mark the end of Lent, the cross representing the crucifixion of Christ and the spices signifying the spices used to embalm His body.
Like most seasonal foods, they are all the more enjoyable for the waiting, and when the first buns appear in the shops in early March, I always feel a little gleeful at the thought of a spiced, buttery mouthful.
Baking, and cooking generally, in a new country presents a few challenges, both in the interpretation of the language and in finding ingredients that, while not the same, will do.
Here I have shared my favourite recipe for Hot Cross Buns which is from Nigella Lawson's Feast: Food that Celebrates Life but have made a few changes to suit what is available in the shops here in Denmark. It takes a little time but it's worth it. I hope you enjoy them!
Note: 15g of fresh yeast found in the fridge cabinet in stores in Denmark is equivalent to 7g dried easy-blend yeast in packets. Crumble the yeast into a small bowl and mix it with a teaspoon of sugar to make thin paste – it's alchemy!
The article continues below.
Hot Cross Buns (makes 16)
The Dough
150ml milk
50g butter
Grated zest of 1 orange
1 egg
400g white bread flour (hvedemel)
15g fresh yeast (gær) mixed with 1 tsp sugar to form a liquid
125g dried fruit – I used sultanas (sultanas rosiner), raisins (rosiner), chopped apricots
1 tsp ground cinnamon (kanel)
½ tsp ground nutmeg (muskatnød)
½ tsp ground ginger (ingefær)
¼ tsp ground cardamom (kardamomme)
1 pinch ground cloves (nellike)
Egg Wash – beat 1 egg with a little milk
Crosses – mix to a smooth thick paste 3 tbsp flour, ½ tbsp caster sugar (bagesugar) and 2 tbsp water
Glaze – mix 1 tbsp caster sugar with 1 tbsp boiling water
Heat the milk, butter and zest of the orange in a pan until the butter melts. Take off the heat and allow to cool a little.
Weigh the dry ingredients into a large bowl and combine with a wooden spoon so that the spices and fruit are well mixed. When the milk has cooled to blood temperature whisk in the egg and yeast then add the enriched milk to the flour mixture. Stir well and, if it seems dry, add a little more milk.
Either knead the dough with an electric mixer or put it on a floured worksurface and knead by hand until it is smooth and elastic. It won't be perfectly smooth because of the fruit.
Wash the bowl, oil it and put the ball of dough in the bottom and cover with plastic wrap. Place the bowl in a warm place and leave to rise for 1-1/2 hours.
Pre-heat the oven to 220C. Knock the dough down and knead again. Divide the dough into sixteen equal pieces, roll them into bun shapes and place on a baking sheet lined with baking paper, close together but not touching.
Mark a cross on the top of each bun with a tea knife or similar, to make an indentation but not a cut. Cover with a clean tea towel and leave to rise again for 45 minutes by which time your buns will have risen again.
Brush the buns with the egg wash, then paint the flour and sugar paste on each indentation to make a white cross. Bake for 15-20 minutes, by which time they will be golden brown and touching.
Take them out and paint with the sugar glaze to make them shine.
Happy Easter!
Support our magazine with a contribution of any size
We hope that you enjoy the information, insights and inspiration that we provide. We are a small team and we would like to keep delivering high quality, interesting articles for you to enjoy and your support will help Your Danish Life to continue to produce relevant content for expats in Denmark.
We do not want to put up a pay-wall, so we need your support and if you find our content relevant and worthwhile, we would value any contribution, however big or small, as a token of your appreciation of our efforts.
How to support:
Transfer any contribution to our bank account at: Your Danish Life/ Danish Expat Media Aps
Danske Bank account number: 3409 11405673
IBAN: DK68 3000 0011 4056 73
or MobilePay to 2144 1224
Message: Support