Election Posters – Placards – a race against time and political adversaries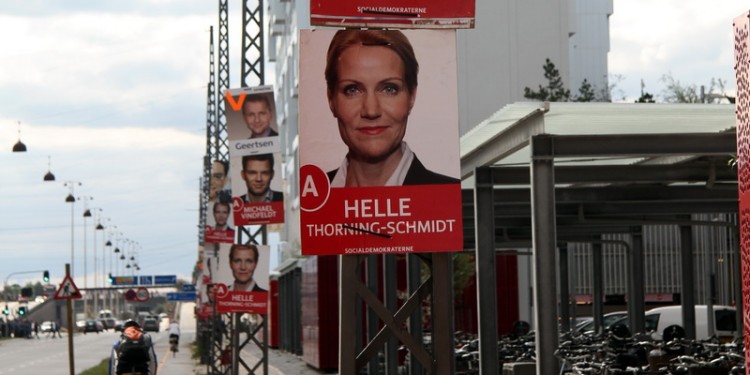 The moment Statsminister Helle Throning Schmidt announces the next election, Astrid Aller will drop what she is doing and join her comrades in the race to hang up placards (small posters) of the four SF candidates in Aarhus. Ladders? Check. Gloves? Check. Tie-rips? Check. Passion and conviction? Check. She has got them all.
By Inger Stokkink         Picture: Kolding Kommune
Astrid chairs SF Ungdom Aarhus, the youth organisation of SF. "Right now we're busy gluing the last posters to hardboard, but otherwise we are ready," she confirms. And it is all painstakingly planned: which places to go to first, which placards are being hung up in which lamppost at which crossing." And she underlines: " For it is a race, a race against time and against the other political youth organisations."
The most popular places in Aarhus are in Strøget (Aarhus' main shopping street) and the main crossings with the 'Ringgade' (Aarhus Ring Road). Of course there are rules. It is forbidden to hang placards lower than 2.10 meters, or to hang them so that they cover official (traffic) signs or lights.
This careful planning, including routes, also serves another purpose: all placards have to be taken down within ten days of the elections so running the initial routes, but then in reverse, makes sense. Every placard that is still hanging after that date costs the party about DKK 500 each.
According to Rune Stubager, professor of political science at Aarhus University, and a frequent commentator in Danish media,the placards do not have decisive importance for the elections themselves. "But they do have great significance within the political parties: the highest number of personal votes is decisive for winning a seat in Folketinget. So it's not only a competition between parties, it is to a large degree a competition within parties as well."