Emblematic picture: Danish Queen Margrethe and two future queens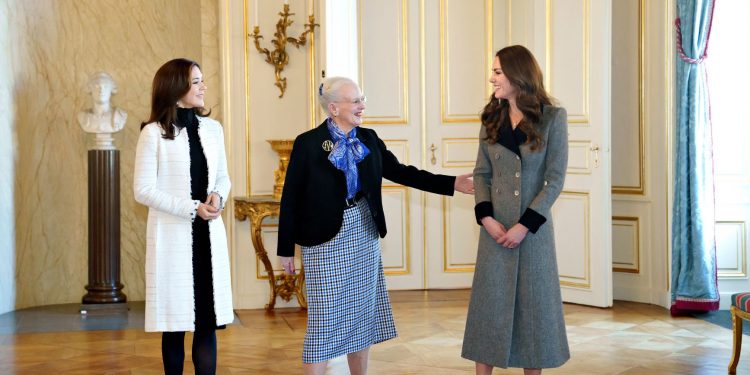 Historic reception and picture in Christian IX's palace at Amalienborg Palace.
The article continues below.

By Bente D. Knudsen Picture: Keld Navntofte, Kongehuset
Much mediatised royal visit today as the Duchess of Cambridge began her second day in Copenhagen with amongst other a visit to a Danish "skovbørnehave, one of those Danish pre-school institutions with a very different approach to children's education with amongst other the making of bonfires, climbing in trees, cutting with knives and other risky activities which anyone with a pre-school experience in Denmark find quite normal.
Read more about an expat mom's experience here.
The British Duchess is on a two-day working visit in Copenhagen, where she is visiting a number of institutions.
The purpose is to gain greater insight into how better conditions are created for children and young people in vulnerable positions in Denmark and how good results for children's well-being and mental health have been achieved with early intervention.
She was also received by the Danish Queen and Crown Princess Mary at Amalienborg in Christian IX's Palace, where The Danish Queen resides.
The article continues below.

The palace is named after Christian IX, who is the great-great grandfather of both Queen Margrethe and of British Queen Elizabeth II.
The king resided in the palace during his 42-year reign, and the familial bond between the two royal families thus goes back many years.
This year, both Queens celebrate jubilees of their reigns, with 50 and 70 years on the throne respectively, and the day's visit at Amalienborg was thus also a celebration of the two anniversaries.
Afterwards the Duchess had lunch with Crown Princess Mary and in the afternoon visited the Mary Foundation to learn more about the Danish Crown Princess's project for the well-being of children.
Support our magazine with a contribution of any size
We do not want to put up a pay-wall, so if you find our content relevant and worthwhile, we would value any contribution as a token of your appreciation.
How to support:
Transfer any contribution to our bank account at:
Your Danish Life
Danske Bank
Account Number: 3409 11405673
If you need our IBAN number it is: DK68 3000 0011 4056 73
SWIFT/BIC: DABADKKK
or MobilePay to 2144 1224
Message: Support