Everyone has frost – but not all have snow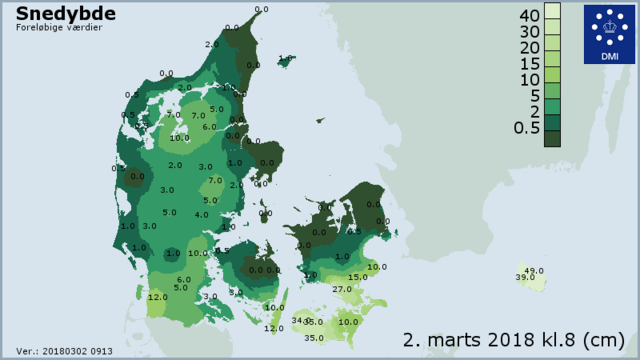 You might have looked forward to a couple of weeks of wintry weather, however, contrary to most of Europe, large parts of Denmark are snow-less.
The article continues below.
By Bente D. Knudsen
The Danish Meteorological Institute published a picture this morning in their news release, showing how Denmark is divided in two.
A northern part without snow and a southern with. The sunny island of Bornholm has received the bulk of it.
According to the weather institute, the difference is due to the warm waters of Østersøen and Kattegat.
When the cold wind passes the warm water,, snow is formed, and with the wind, the snow clouds blow inland. The result is that even while being cold over the entire country, the snow is unevenly distributed.
The article continues below.
Bornholm with its location in the middle of the Baltic sea has so far received 1/2 a meter of snow, and the snow from the Baltic also has reached Lolland, Falster and Møn.
In Jutland large parts have been covered by snow formed over Kattegat.
So if you are in Copenhagen, and looking for white powder, this weekend you could choose to drive south. Even if DMI is promising some snow to the capital region, they are not certain how much the area will get, and with warmer day temperatures promised for next week, it may not stay for long.