Exceptionally high sea levels in the internal Danish waters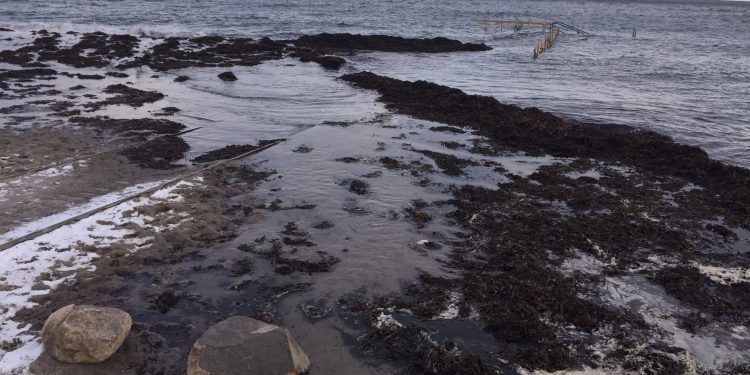 DMI has issued a warning of up to 100 to 130 cm higher sea levels along Danish coastlines and in the fjords.
The article continues below.
By Bente D. Knudsen
If you are driving on a coastline road along the northern coast of Zealand, take note of the risk of flooded roads, this is also the case for the Northern coastline of Funen, the western coast along Storebælt, all the internal waters around Funen, Lillebælt and on Lolland and Falster as well as Roskilde Fjord.
The warning has been issued from this afternoon until 23:00. The high sea-level poses a risk of flooding for coastal roads, harbours etc.
The reason for the extreme sea levels lies in a twofold situation.
Water is being pushed into Kattegat from the north by the high-pressure system coming from the north-western parts of the Atlantic, at the same time a strong and very windy weather system is pushing water from the southern parts of Finland and the Bothnic Bay into the Baltic east of Bornholm.
The warning also includes a warning of very windy weather with strong winds with gusts of storm strength.
The article continues below.
This may lead to closure of bridges to wind sensitive vehicles – if you need to cross a bridge such as Øresundsbroen, Storebælt or Vejlefjord with a wind sensitive vehicle, check the status with the online sites of the bridges for traffic information.
Temperatures will be at around plus 2 degrees Celsius with some white showers, mostly on Zealand. Night temperatures will bring frost and cold, down to minus 5 degrees Celsius.
Wind will blow from the north and northwest, up to gale strength but should lessen during the night.