Experience Copenhagen through a pair of architectural glasses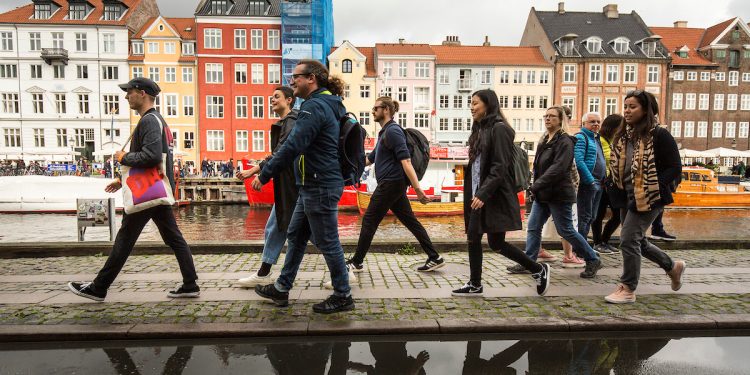 New this summer are DAC's architectural walking tours in English; a delightful way to get to know Copenhagen, enjoy the fresh air and experience the city with friends. Find out more here.
The article continues below.
New this summer are the experiences offered by the Danish Architecture Center (DAC). Here expats and visitors will see Denmark, the Danes and everyday life in Denmark through a whole new view as seen through an architectural lens.
Buildings are like time capsules
Architecture holds clues that can provide a deeper understanding of Denmark and the Danes.
Looking at buildings helps us discover what was fashionable, who was in power, what the economy was like, which technology was available, how people lived and even how world events shaped local decisions.
The 90-minute A Walk Through Time Tour is almost like a time machine. Of course, you've seen the brightly coloured houses at Nyhavn. But why do they resemble those in Amsterdam?
Are you curious as to why the Royal Danish Theatre looks as if it was copied from ancient Rome? And did you know that the designer of the world's most famous chair also designed Denmark's National Bank? The tour visits these and other buildings.
DAC's young, enthusiastic and expert architectural guides explain how the city (and the country) grew to become a maritime power, was rebuilt after historic fires, found a new identity as a modern democracy and flourished in a Golden Age of Danish Design.
A Walk Through Time tour starts and ends at BLOX, DAC's home along the harbour, where visitors learn about – surprise! – the building's Dutch architect.
The article continues below.
What's new in Copenhagen?
If you're curious about the city's future, DAC's two-hour Capital of Cool walking + Metro tour provides a different view.
The Capital of Cool tour visits some of the newest buildings by the rock stars of Danish architecture. Travel by Metro to Ørestad, a new district south of Copenhagen, to explore some of the most talked-about buildings in Scandinavia.
DAC's guides share the design stories behind the apartments, a day-care centre, a school, and an arena – designed by companies such as Dorthe Mandrup, 3XN, Lundgaard & Tranberg, Lendager Group and Bjarke Ingels Group (BIG).
Discover how these contemporary buildings reflect Denmark's focus on sharing common spaces and designing spaces to live in while having the impact on the surrounding nature in mind.
DAC's exhibitions are free with a tour ticket
All walking tour tickets are DKK 150 and the ticket includes the free entrance to DAC's exhibitions (can be used up to 24 hours after purchase).
DAC's new HELLO DENMARK exhibition provides a glimpse into six fundamentals of everyday Danish life and explores the ways these highly-valued ideas impact architecture and design.
Kids' City and Seven Homes with a Purpose also give visitors a new set of architectural 'glasses' to discover Denmark.
And for the adventurous; try the fastest and wildest art installation in Copenhagen, artist Carsten Höller's unique 40-meter, 4-story spiral slide for the young and young at heart.
Pack the sunscreen, grab your sunglasses, and see Copenhagen – a city you thought you knew – through a whole new lens this summer.
More information? Find it here. 
This article was developed in cooperation with DAC as a sponsored content article.