Finding other expats in Denmark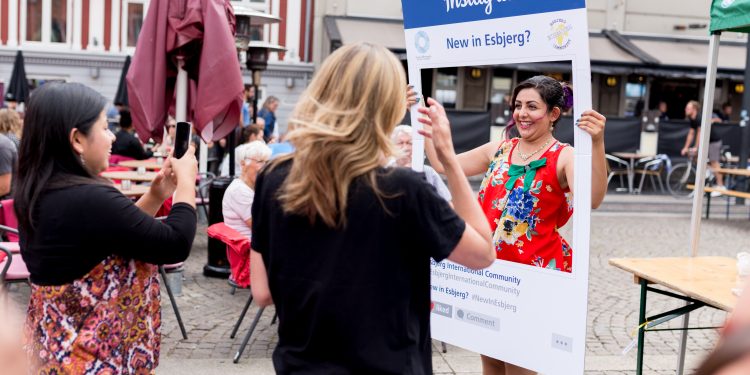 You've (just) arrived in your new country and you've stacked the last pile of clothes in the wardrobe. In other words, you're settled – or as settled as you can be right now. Now it's time to get out the door and start discovering the place where you've landed, and more specifically, the people in it. But where to begin?
The article continues below.
By Inger Stokkink    Picture: Energy Metropolis Esbjerg/Samantha Gabriel
Well, it could be worthwhile to start out by looking for those fellow expats who have already built up their lives here in Denmark, as they can be your first linking point with your new country.
Here you can find expats to chat with, to do things together with, exchange tips and tricks to help you navigate the Danish Experience, to commiserate, or to get things done.
They are not difficult to find, as there are many groups of all nationalities in Denmark and a lot of them use Facebook for planning and arranging events.
The article continues below.
Real life starts with social media
So let's start at the bottom, with small informal groups, usually found on Facebook. Use a search engine such as Google. If you type in the name of your country, or your nationality, something will come up. These groups vary greatly in size, purpose and meeting frequency.
The Bulgarian community in Denmark, for example, has almost 2,000 members and is open to all. The Facebook page for the Bulgarian community in Aarhus is a closed group with about 150 members.
When you use the search function, the algorithms of Facebook work in such a way that it will suggest groups of which your friends are already a member. Also, if you have changed your Facebook place of residence to your new Danish home town, it will also suggest groups near you.
There are also groups aimed at expats in general. The group, Expats in Aarhus, for example, is a big, lively Facebook group where you can find posts about furniture for sale and rooms to let, but also self-organised events, anything from Bulgarian folklore dancing to beach parties.
Online expat groups exist in many other cities as well, such as Expats in Copenhagen, or Connect Billund.
So a good way to start is with the name of the place where you are living. Take Aalborg, for example. American Sarah Holsen started a blog and a Facebook page called Life in Aalborg with news and information for expats in the Northern Jutland area, her blog has now been running for three years.
New groups start all the time – such as the new group recently started in January 2019 in North Zealand to cater for the many expats living in the northern parts of greater Copenhagen such as in Hørsholm and Lyngby. Look for Nordsjælland International Community (NIC).
If you have already learned a little bit of Danish, it makes sense to join a local Facebook group for your street, neighbourhood or village.
It's always nice to know in advance whether there will be a big, loud party going on, whether the farmer next door is going to spread manure tomorrow, or when the next flea market or city festival takes place, etc.
The article continues below.
Get up and do something!
There are also international expat forums or platforms that are active in Denmark, like InterNations and MeetUp. What they have in common is that they are organised around events. This can be anything from weekly knitting clubs to individual expats wanting to meet others at a bigger event.
InterNations, at internations.org, is focused on expats and global minds, as its tagline says. The platform gives you the opportunity to make a profile and points you towards people around you and towards people you share an interest with. They are active all over the world and, somewhat like Facebook, people can follow you wherever you go.
Meetup, at meetup.com, is a digital 'hub' for local events, and you can subscribe to fields of interests, such as sports or arts, so you can receive notifications if an event comes up. It has a worldwide concept, and often the posts will be in English, but it is also used by young, internationally-oriented locals. This makes it easy to widen your social circle to include Danes, too.
The article continues below.
Exploit your children, exploit your spouse
If you have children, you have excellent opportunities for meeting people: other parents, that is – Danes and expats alike. To meet other expats, the obvious spot is the international school, if your children go there. But outside the school environment you can search on Facebook for (informal) playgroups. Often, the municipality will organise them, too.
Also, good news for mothers-to-be: the phenomenon of the mothers' group offers lots of opportunities, too. Midwives and doctors organise these groups of expecting mothers in their neighbourhoods, and more often than not, these become starting points for informal child care networks and life-long friendships. In some cities, there are also expat mothers' groups.
Danish cities and Danish employers have discovered that in order to make expats happy, the expat's family has to be happy, too. And people are happy if they feel connected. So that's why Danish officials are so involved with children's groups and buddy programs, and also with spouse networks.
These networks tend to be geared towards finding work, and that is a logical thing from the viewpoint of Denmark, since it has one of the highest women's employment rates in Europe.
Finding work can be an uphill battle, but it certainly helps to have a network of spouses around you – if only for meeting people with whom you can share experiences!
The article continues below.
In the company of strangers
Not only the government, but also large companies see the need for expats to connect with Denmark and the Danes. So do the universities. There are social clubs, buddy programs that are socially oriented, like at Aalborg University, or more language oriented, like at Aarhus University.
In Copenhagen, the Danish Technical University (DTU) and Copenhagen University run similar programs.
The international Danish company Grundfos in Bjerringbro has a Global Mobility Team that helps its employees along the way. Arla has a Resourcing and Mobility Department. Vestas has an International Mobility Development section.
In short, every big company worth its salt makes a point of lending a helping hand to the employees they have invited to come to Denmark.
So, if you, or your spouse, work for a big organisation or company, you must have heard about these, and it pays to explore what more they have on offer.
The article continues below.
Go local – the international way
As mentioned above, the Danish government sees the need for expats to connect and adapt to their new surroundings as fast as possible. The three largest cities in Denmark: Copenhagen, Aarhus and Odense, co-operate in iCitizen – an English-speaking, one-stop shop for getting your official stuff done.
They also have websites and organisations set up to help out with practicalities and they organise events about all things Danish. These events are also a good opportunity to meet fellow expats. Odense municipality, for example, has a host programme, not unlike the buddy programmes, where an expat is matched with a local.
The smaller cities have set up organisations of their own, such as the Vejle Facebook group Spousehouse Vejle, or they may have a settling-in coordinator, in Danish, a Bosætningskoordinator such as in Esbjerg.
This is an official person whose job it is to help people settle in, in their new town. It's a service for Danes, too, actually – another opportunity to meet Danes.
In the South Jutland Region, 19 out of its 22 cities have this kind of coordinator, and other regions in Denmark are setting them up as well.
The article continues below.
Do what you did at home/your most recent port of call
It makes sense to use the network you already have.
If you are a member of service clubs like Rotary and Lions, these also have groups in Denmark – Rotary Aarhus even has an International, English-speaking group, as does Copenhagen's.
Churches, temples or mosques are other great opportunities to meet people in the same spirit that inspires you and they serve as social hotspots, too.
Although it can be hard to find a church that is not Lutheran, they are there: Catholic churches often have mass for Eastern Europeans, for example. And there are Lutheran churches that cater to expats, too. Gellerup Church in Aarhus has its website in English and Arabic.
In Copenhagen, there is both an English church and a Swedish church, as well as an independent church with services in English, called Copenhagen Christian Center,part of Kirken i Kulturcentret in Nørrebro.
The article continues below.
Finding them – here a few links:
Some of the public organisations are linked to the municipality website, which means you have to get on the Danish site to find them; others have strange names and can be difficult to find, here are their exact addresses:
International Community Odense: http://subsites.odense.dk/subsites5/english/topmenu/living/international-community-odense
International Community Aarhus: http://internationalcommunity.dk/
Energy Metropolis Esbjerg: http://www.energymetropolis.com/international-community/
International House North Denmark – Aalborg: http://ihnd.dk/
International House, Copenhagen: http://international.kk.dk/
On Facebook search for Aarhus International Rotary Club and Copenhagen International Rotary Club
The Catholic community in Aarhus has a an new web address called https://www.katolsk-aarhus.dk/
The Copenhagen Christian Center ( Kirken i Kulturcentret) is located on Nørrebro and their address is http://copenhagenchristiancenter.dk/
You can also find it via Kirken i Kulturcentret but then it opens with the above new site