Frederiksberg Cycle Tour – explore this lovely place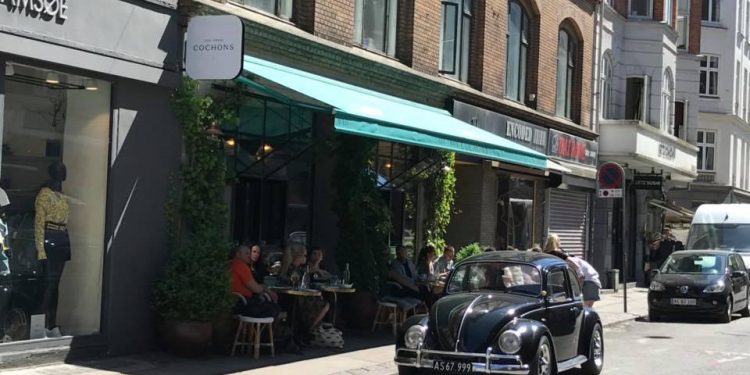 If you have never really ventured into the prestigious enclave of Frederiksberg, find inspiration in our guide to a cycling tour following our reporter's favourite route, perfect for a one-day tour of this enticing neighbourhood.
The article continues below.
By Emily Bartosiewicz, updated by Kate Fletcher     Pictures: Kim Wyong, VisitDenmark, Bettina Jansen
Most people's first idea of Frederiksberg presents it as a place where wealthy elders or established families tend to live.
It carries a reputation as being ritzy; considering the expensive shops lining Gammel Kongevej, the big houses tucked away in the residential side streets and the regal architecture throughout, it's no wonder Frederiksberg maintains this status.
Simply crossing the borders from the charmingly edgy neighbour districts of Nørrebro and Vesterbro, you immediately recognise this social shift.
Frederiksberg is an independent municipality with its own town hall and city service, an enclave in the middle of Copenhagen, so it's no wonder there is a sense of prestige circling around this lovely place.
The article continues below.
However, despite what could be mistaken as a seemingly pretentious image, Frederiksberg has plenty of charm, making it a wonderful place to visit and explore.
With plenty of cafes, restaurants, boutiques and green spaces, one can easily spend an entire day, discovering the nooks and crannies whilst riding around on your bike.
So that's exactly what we'll do.
An ideal place to start would be at Vesterport Station. Despite sounding like it would be a place to begin a journey into Vesterbro, this station actually lies right along Gammel Kongevej.
Upon exiting the station, you'll see the historic and vibrant cinema, Palads to your left. But unless you're desperate to go see the latest film, your best option is to turn right and away from it.
As you ride the first stretch you will pass the Planetarium. Opened in 1989 and run by the Urania Foundation, its iconic building graces the borders of the "last lake"; here you can experience the beauty of the starry sky and the fascinating universe of astronomy. Maybe select an entire day for such a visit and not this cycling tour.
Gammel Kongevej is a long and very exciting street, you might find yourself stopping your bike a few times to visit all the shops and cafes along this stretch.
At the first part of the street, you'll come across several design and kitchen furniture stores.
Be wary of the fact that you can't really buy anything that will fit in your bike basket for the rest of your journey, but it's worth a look nevertheless.
Further along on your right, you may have the chance to stop into Letz Shop, a gourmet food store by Daniel Letz, the mastermind behind the Michelin starred restaurant Le Saint Jacques. Here you can find speciality products from France as well as a tasty croissant to fuel you for the rest of your cycle tour.
Up ahead to your left, in the side street of Tullinsgade, you'll find Central Hotel and Café.
Despite it's outward appearance of a tiny building, it is, in fact, a hotel. And with only a single room available for booking, it's Copenhagen's smallest hotel at that.
Here you can also enjoy a coffee and pastry at the bottom part of the building, which goes along with the building's general premise of being small.
Don't get too sidetracked with this tiny and inviting street, because you still have quite a lot to see on Gammel Kongevej!
However, if you do have the time, make a small detour down Tullinsgade but turn back before being lured into Værnedamsvej as you will come back this way later on in the tour.
Along with Central Hotel and Cafe, there is a really funky, place called 11 o. It is a little library, gallery and design cafe.
Also Thiemers Boghandel is an amazing bookshop, where you can immerse yourself in an oasis of literature with a good cup of tea of coffee.
Østerberg Ice Cream is Catherine Østerberg's second shop,  she is passionate about developing ice cream around the world and also has a shop in Thailand where she gathers inspiration, with different types of produce to use.
There are also a number of really lovely individual shops.
Remember to head back to Gammel Kongvej before you reach Værnedamsvej.
The article continues below.
As you ride along this next stretch, you will find shops like Soulland, Wood Wood, Ganni, and Stig P just waiting for your thick wallets!
Or perhaps you'd rather take your chance at the designer secondhand shop, 2nd Rag, where many of these brands are also available, lightly used and at a reduced price.
Naturligvis and Endurance Sport carry athletic wear and products.
Whilst in this part of the street it is worth mentioning Hart Bageri.
This delightful bakery was set up by British Born Richard Hart, who moved here from America, and opened the bakery in collaboration with Rene Redzepi from Noma, who was looking for a bakery to invest in.
If you're hitting lunch hour, consider stopping at Meyers. But if you want to build up your appetite a little more, there's still plenty for your stomach up ahead.
When you reach Alhambravej intersecting Gammel Kongevej, you may notice mega health food store Helsam's.
This is a great place to stock up on all of your superfoods, but also a sensible location to grab a healthy juice or snack in their cafe.
In contrast to that ultimate health, Social Foodies is worth a visit for their chocolates and delicious ice cream.
Ipsen & Co., is a cozy little corner nook for great brunch and coffee. Henckell is also a good stop, especially if you're in the mood for a delicious avocado sandwich.
The article continues below.
Across the street you'll see Sans Souci, and perpendicular to that you have Wok Shop and Sticks'n'Sushi, quite varying but delicious options for a sit down meal.
Past this point, you'll begin to notice some smaller boutiques, carrying many speciality items.
There's Bak, a nifty shop for soaps, knick-knacks, notebooks and the sorts, but with a secret garden room in the back of the shop.
Alternatively, you also have Ostespecialisten, the ideal place for all the cheese lovers out there, and Kodan Fisk, where you can pick up fresh fish for sale.
If you see some beautiful pottery along one of the windows, you must be passing Creative Space! Here you're able to select your ceramic, be it a mug or cookie jar, and then paint it yourself.
It's a fun place for your children, but it shouldn't be ruled out for adults – it also makes an optimal activity for a date!
Not too far away, you have Maude's Salon, a terrific spot, decorated like a cosy living room, for a coffee and very delicious cake.
It's also open conveniently late in the night.
The article continues below.
Once you approach the street Falkoner Alle, you have a few compelling directions of travel.
If you turn right on Falkoner Alle, you have a few more shops, restaurants and cafés. You also have the very contemporary shopping centre, Frederiksberg Centret, where you have a collection of great stores to look through. But don't take too long shopping away indoors – your bike ride isn't over yet!
Retrace your steps and return to Gammel Kongvej. Just past this intersection, you're at the Frederiksberg City Hall, where on Saturdays  you can find the parking lot occupied entirely by an antique market.
Just beyond this you will find a secret path, called Andebakkesti, taking you south into Frederiksberg Have.
Along this path, you'll pass Bon Bon Ice. It might be a good idea to get an ice cream cone as you enjoy the Frederiksberg Gardens.
If you turn left when you enter the park there is an amazing new play area worth going there with children of all ages.
Within the park, you can go to the Copenhagen Zoo or Frederiksberg Palace or simply wander around the large green space, with hedges trimmed to perfection.
When you have finished with your time in the park (and with your ice cream cone), try to find your way back to Falkoner Alle, look for the big yellow entrance (or in this case, exit) of Frederiksberg Have.
This will take you to your next long street of the neighbourhood, Frederiksberg Alle.
The best part about taking this route is that cycling down Frederiksberg Alle from the park is quite down hill, which we all know is the easiest way to cycle.
It also is a beautiful street, with tall trees similar to the ones seen in the gardens on both sides of the road, framing your view elegantly.
While you cruise downwards, you'll pass the Betty Nansen Teatret, Frederiksberg Chokolade, Te Amo Kaffe and Den Goe Kaffebar.
The article continues below.
At the end of Frederiksberg Alle you will hit Vesterbrogade. At this intersection you will notice a Lagkagehuset to your left. Taking this left turn will bring you into Værnedamsvej, close to where you were at the beginning of the journey.
Sometimes referred to as "the French street", this is a charming little street that acts like a bridge from Vesterbro to Frederiksberg. Some claim it has a very Parisian feel to it, with speciality cheese and wine shops, delis, cafes and restaurants.
Roughly halfway down the road you will find Copenhagen's first Aesop store.  Just opposite is a lovely shop called Dora selling interesting interior decorations. The wine bar Falernum is an excellent place to enjoy a drink or two.
Continue along the street until you find yourself back on Gammel Kongevej. Turn right here and head towards Vesterport Station, where your journey began.
Take the train home and enjoy a nice long rest after your day of exploring Frederiksberg.
Hopefully, after this, you'll consider it as more than the stereotype it carries and realise just how lovely a neighbourhood it is.
Support our magazine with a contribution of any size
We hope that you enjoy the information, insights and inspiration that we provide. We are a small team and we would like to keep delivering high quality, interesting articles for you to enjoy and your support will help Your Danish Life to continue to produce relevant content for expats in Denmark.
We do not want to put up a pay-wall, so we need your support and if you find our content relevant and worthwhile, we would value any contribution, however big or small, as a token of your appreciation of our efforts.
How to support:
Transfer any contribution to our bank account at: Your Danish Life/ Danish Expat Media Aps
Danske Bank Account number: 3409 11405673
IBAN: DK68 3000 0011 4056 73
or MobilePay to 2144 1224
Message: Support
Enjoy cycling in Copenhagen?
Be inspired by our other tour from Østerbro crossing to lslands Brygge and back –
read more here
.