Fresh and Raw. Musling's Menu Ignites Passion for Purity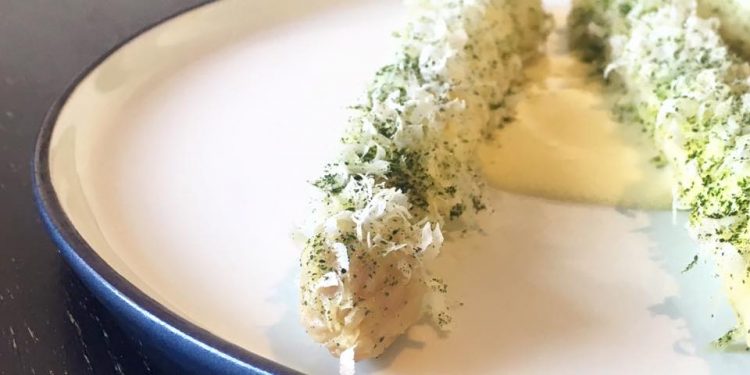 Tired of the over-crowded picnic tables and street traffic of Norreport cafes but always end up there anyway? Salvation comes just across the street and one floor up. It's called Musling, the little sister to local seafood favourite, Fiskebaren. We went spur-of-the-moment and were seated quickly on a Thursday evening. We didn't know how lucky we were.
By Karen Covington
Our waiter, a Danish Jason Sudeikis doppelgänger, (American actor/comedian from SNL fame) was all-knowing without a hint of snoot or smugness. As it was a last-minute outing we knew nothing about the restaurant or concept other than oysters took up sizeable real estate on the menu. Not fans of the oyster, we chose the green peaches with lemon and toasted pepper as our starter. As soon as it hit the table I was calling for Jason.
"These aren't peaches…they're olives."
I'm glad I held my tongue and took a bite instead. Sweet, heaven. The dish begs to be slowly digested to be fully understood. Same can be said for the radish sesame, rose-hip and smoked creme cheese my companion nibbled on. Fresh from a garden in nirvana.
Next course was raw. We shared the marinated brill 'ceviche' cilantro and the raw halibut 'sashimi' teriyaki with mild horseradish. Both dishes were crisp, light, fresh but deeply soul satisfying. We clashed utensils over the last vestiges of matter left on the plate.
Moving on to the warm side we went with the baked cod ramson and white asparagus with salted lemon olive oil blanquette. The asparagus was an experience—best coveted slowly and intimately. Crunchy, but not hard, delicate yet bold. The blanquette? Undeniably lust worthy.
Usually not big dessert lovers, (we go for more wine instead) we thought the better of it and asked Jason for his favourite. "The blackcurrant sorbet, biscuit and burned white chocolate," he smiled. "It's so popular we can't take it off the menu."
And there it went. Until we meet again. Sweet dreams.