Going Christmas shopping? Don't forget your BYTTEMÆRKE!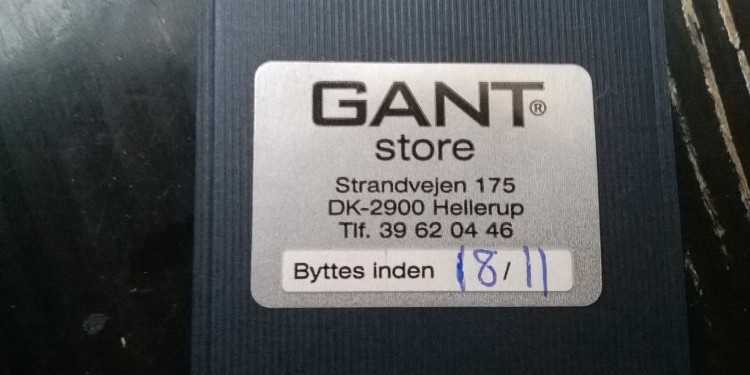 It's that time of the year when homes, shops and streets are beautifully decorated; and many of you are planning your Christmas gift shopping. If you never heard of the byttemærke find out more about this very Danish tradition.
By Sarita Rajiv
The article continues below.
If you are in Denmark at this time, shopping for gifts, then you will hear this question a lot:
"Vil du have byttemærke på?" Loosely translated, this means: Would you like an exchange stamp/sticker on the gift? 
The byttemærke is an exchange sticker placed on gifts purchased at a store. While you can request one all year it is more widely used in the month leading up to Christmas.
The exchange concept in Danish gifting is rather different from the gifting traditions in other cultures. For example, the United States has a bigger culture of re-gifting duplicate presents or gifts the recipients don't have a use for.
In Asian countries like India, exchanging or returning gifts you have received is considered discourteous and unappreciative.
The article continues below.
In Denmark, of course, the bytte concept is more in keeping with Danish practical mindedness.
December 27 is the store byttedag (big exchange day) when, every year, presents received during Christmas are exchanged for something else.
If you're wondering just how big this exchange day is, consider this: according to a study by the Danish Chamber of Commerce, approximately DKK 220 million worth of gifts were expected to be exchanged last Christmas.
The article continues below.
As per the Danish Sale of Goods Act (Købeloven), when you buy a product from a store in Denmark, you enter into a binding agreement with the seller. While the Act provides for a warranty on products, it doesn't automatically allow for an exchange or return.
The byttemærke is an additional exchange service that stores provide.
While it is symbolic of good customer service, it is also a win-win situation for both the customer and the store; in addition to being the big exchange day, December 27 is also the start of the major sales in department stores and retail chains.
If you walk in to exchange your gift with another, it is likely that something else on sale may catch your eye and you spend more money than you intended.
The article continues below.
Not your legal right though
And remember, there is no standard exchange policy. It can vary from store to store.
Always check with the respective store what their policy is and you will know exactly what your byttemærke entitles you too.
Basic Byttemærke facts
The exchange sticker entitles you to exchange your gift in favour of another one from the same store. If you don't find anything to your liking, the store will give you a voucher or credit note (tilgodebevis) that can be used at a later date.
When exchanging, make sure the products are in their original condition i.e. with the tags on and in their original, sealed packaging if any.
Make a note of the time-frame within which the gift can be exchanged.
The return policy is different from the exchange policy. To return a gift and get money back, you need to provide the original sales receipt, not just the exchange sticker.
The article continues below.
Some of the popular stores and their policies
Kop & Kande: exchanges up to January 31st 2019 and returns up to Jan 10th, 2019 in any branch nationwide. All products should be in their original packaging. Take note that for returns, you need a receipt, byttemærke is not enough.
Magasin: exchange and return until January 24th, 2019 in any branch nationwide. If buying from their webshop, all items already have byttemærke stamps.
Matas: exchange and return until January 31st, 2019, in any branch nationwide. All sealed items must be in their original packing. Also here the returns are with original receipt only.
So go ahead and shop without worries – byttemærke and the possibility to exchange gifts, has you covered!