Go back in time for a day at an OPEN-AIR MUSEUM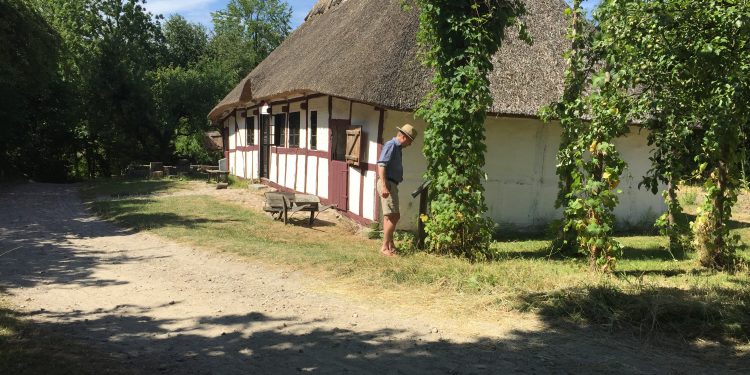 If you have never been – it is a highly recommended excursion for all ages, adults and children alike. Find an overview of three different open air museums below.
The article continues below.
Pictures and text by Bente D. Knudsen
If you are a fan of going back in time to study life in the "good" old days- then the Danish open-air museums are an excellent place to start.
They are also a great way to get a look back in time to see who the Danes were before they became one of the world's wealthiest societies.
The museums have collected items from old watermills, utensils and clothing, right up to to the local grocery store, in order to portray Danish life through hundreds of years.
They are also extremely good at creating family friendly activities. Here, adults and children can spend a day having a fun, relaxing time together while learning more about the daily life of the Northern Europeans 100 to 200 years ago.
They give an amazing insight into how the 20 and 21st centuries' modern technology revolutionised the way people lived and greatly improved their quality of life.
The article continues below.
Danish open-air museum lay dormant during the cold winter months, which is why they are a must to visit during the warm season.
However, if  you are here during the Danish autumn break, week 42 in October, this is also a really good time to visit, as there are numerous interesting activities going on the whole week.
The most famous is of course Den Gamle By in Aarhus, but we have chosen three others, equally worth visiting with your family.
They all focus on living history, and strive to be buzzing with life and activities, involving people and animals to make their buildings come alive and communicate important aspects of the history of the village, the farm, the blacksmith, or the old grocery shop you might just have entered into.
The article continues below.
North of Copenhagen, in Lyngby, you find Frilandsmuseet.
Here you can see impressive and atmospheric buildings, old breeds of domestic animals in the fields and attractive, historic gardens.
The museum is one of the oldest and largest open-air museums in the world. It contains over 50 farms, houses, smallholdings and mills from the period 1650 to 1940.
Take a ride in the horse-drawn carriage, or put on good walking shoes and walk around, and don't forget to gain inspiration in the museum shop.
Frilandsmuseet
Kongevejen 100, 2800 Lyngby
website for more info here 
Phone: 4120 6455
Open every day (except Mondays – however open on the 16 October 2023) from 10:00 to 16:00
Entrance: Adults DKK 110, Children under 18 free.
The article continues below.
Near Holbæk (West Zealand) visit Andelslandsbyen Nyvang
Discover life at a co-operative village.
You will come across men working the fields with horses and women washing clothes on washboards.
You will meet farmers' wives offering you samples of their cooking, and you will hear the ringing sound of the blacksmith shaping red-hot iron into horseshoes in the background.
At the co-operative village, 24 houses and buildings create the framework for how life was lived in Denmark 100 years ago.
The village is a museum of cultural history covering the period from 1870 to-1950. These were the years when the co-operative movement had its prime time in Denmark.
The spreading of the movement was of great importance to the democratic development in Denmark and despite its heydays being over, the co-operative movement is still a strong part of Danish society today.
The cooperative mindset can be found in everything from the production and distribution of dairy products to co-housing and the use of windmills.
Andelslandsbyen Nyvang
Oldvejen 25,4300 Holbæk
website for more info here
Phone: 5943 4030
The museum is open from 4 August until 22 October on Tuesdays, Wednesdays, Thursdays, Saturdays and Sundays from 10:00 to 16:00.
Open every day during week 42 the schools' autumn break from 10:00 to 16:00
Children aged 7 to 15 DKK 50. Adults DKK 120.
The article continues below.
Near Odense on Funen, Den Fynske Landsby
This is an open-air museum that presents a Funen village milieu as it could have appeared in the time of Hans Christian Andersen.
The village includes some 30 buildings dating from the 17th to the 19th century, all of which were moved to the museum from various sites in the region.
A village has been created here comprising half-timbered houses, flower gardens, fenced enclosures, livestock and animals, a village pond and a village street – all surrounded by cultivated fields.
Den Fynske Landsby
Sejerskovvej 20,5260 Odense S
website for more info here
Phone: 6551 4601
Open every day from 10:00 to 16:00 and during week 42 the schools' autumn break from 10:00 to 17:00
Adults DKK 75 – children aged 0 – 17 :Free
Support our magazine with a contribution of any size
We hope that you enjoy the information, insights and inspiration that we provide. We are a small team and we would like to keep delivering high quality, interesting articles for you to enjoy and your support will help Your Danish Life to continue to produce relevant content for expats in Denmark.
We do not want to put up a pay-wall, so we need your support and if you find our content relevant and worthwhile, we would value any contribution, however big or small, as a token of your appreciation of our efforts.
How to support:
Transfer any contribution to our bank account at: Your Danish Life/ Danish Expat Media Aps
Danske Bank Account number: 3409 11405673
IBAN: DK68 3000 0011 4056 73
or MobilePay to 2144 1224
Message: Support