HRH Prince Christian leaves home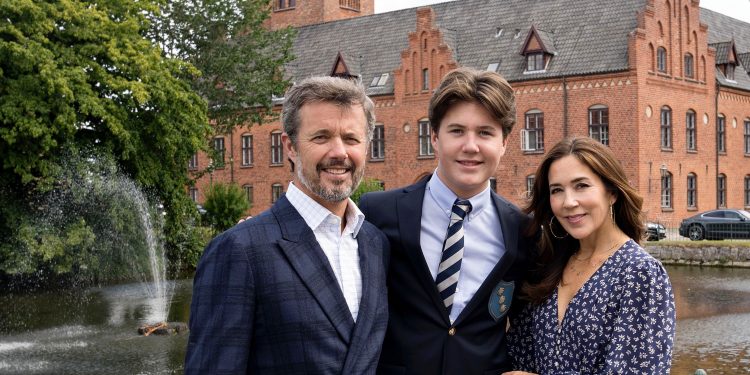 The Danish Crown Prince Couple's son will spend the next three years at the boarding school Herlufsholm in Næstved.
The article continues below.
By Bente D. Knudsen
The Danish Royal Family issued pictures from Prince Christian's first day at his new school together with a brief press release.
It held an appeal to the Danish and international media to let the young prince enjoy his life at the elite boarding school without too much surveillance and scrutiny, appeals which the Danish media to a large extent usually respect.
The boarding school is located in the city of Næstved approximately one hours' drive from Copenhagen, appart from a standard Danish curriculum, it is one of several schools in Denmark to also offer the international IB programme.
The article continues below.
HRH Prince Christian will only be the second member of the royal family to attend the school, following in the footsteps of his cousin Prince Nikolai, who was the first member of the royal family  to take his Danish high school exam from the school.
The boarding school is a private school and the oldest school in Denmark, it was founded in 1565 and has traditionally been used by the Danish elite and nobility. However for high school students, it also serves as a day school for residents in the Næstved area.
Prince Christian's father, Crown Prince Frederik, attended Øregård Gymnasium in Hellerup during the late 1980s together with his brother Prince Joachim. Whether  Herlufsholm will be used by Prince Christians three siblings when they reach high schoool is not known at present.
According to the royal house, the choice of high school was made by Prince Christian.
Support our magazine with a contribution of any size
We hope that you enjoy the information, insights and inspiration that we provide. We are a small team and we would like to keep delivering high quality, interesting articles for you to enjoy and your support will help Your Danish Life to continue to produce relevant content for expats in Denmark.
We do not want to put up a pay-wall, so we need your support and if you find our content relevant and worthwhile, we would value any contribution, however big or small, as a token of your appreciation of our efforts.
How to support:
Transfer any contribution to our bank account at: Your Danish Life/ Danish Expat Media Aps
Danske Bank Account number: 3409 11405673
IBAN: DK68 3000 0011 4056 73
or MobilePay to 2144 1224
Message: Support