Ice skating – a fun and popular winter activity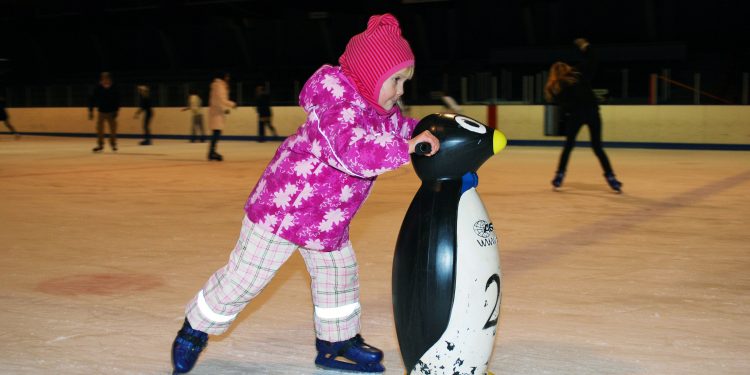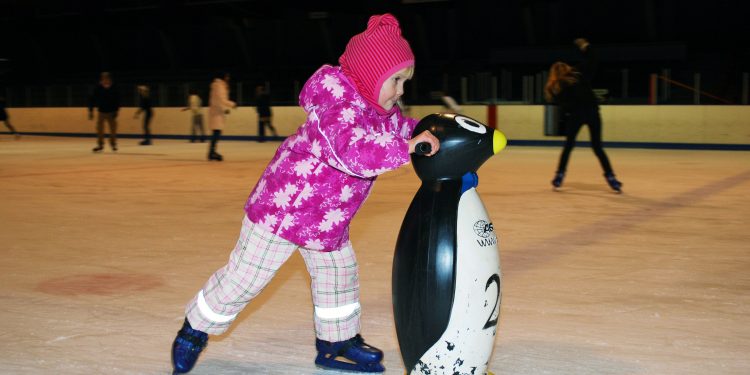 Even while being far in the north, Danish winters don't seem to offer many traditional winter activities. However, ice-skating is no longer subject to the weather, and with the numerous indoor and outdoor opportunities, it is a great leisure activity both young and old can enjoy.
The article continues below.
By Bente D. Knudsen     Pictures: Aarhus Skøjtehal/Viborg Kommune
Normally, the weather has to be cold and wintry with several days of glacial frost before lakes and ponds freeze over, something the traditional grey and rainy Danish winter cannot really guarantee.
Up until 1959, ice-skating was a unique winter time activity, as opportunities could be rare from one winter to the next. Thankfully, this changed in 1959, when the first two indoor skating rinks were opened.
Today there are 16 indoor skating rinks open to the public during the winter season. You can bring your own skates or rent good quality equipment by the hour.
Of course there are also some outdoor options. Find more information below.
The article continues below.
Outdoor ice-rinks
Thanks to new technology, a number of outdoor ones also open in the winter, though not on lakes and ponds. Instead, public/private partnerships in the local municipalities finance the necessary outdoor ice-rink equipment.
To build them there is no need for ice-cold weather. However, the temperature has to be below 15 degrees Celsius. Special equipment freezes water to ice making it possible to build the ice-rinks on selected squares and other public venues.
Often the outdoor rinks are rebuilt each winter at the same location, and every year adults and children have a wonderful time gliding more or less swiftly over the ice.
These rinks are very sought after, and even smaller towns, such as Sønderborg or Skive in Jutland, can boast more than 30,000 visitors during the three to four months they stay open.
Of course, if the winter weather later becomes cold and frosty  (February is traditionally the coldest month) and it stays that way for a longer period, lakes and ponds freeze over and can also be turned into outdoor ice-skating rinks.
HOWEVER, do not venture out on unless you can see a sign put up by the local municipalities notifying the public of their safety.
Find lists of outdoor and indoor ice-skating rinks below.
Outdoor ice-skating rinks are open from around 29 November until the end of February. They are free to use. You can bring your own skates or rent them on site.
Zealand/Copenhagen
Skøjtebanen Frederiksberg Runddel, 2000 Frederiksberg C
NEW: Broens Skøjtebane Strandgade 95, 1401 Copenhagen ( Part of Broens Street Kitchen across the bridge from the end of Nyhavn).
NEW: Enghaveparken in Vesterbro The newly opened ( 14 December) remodeled park called Enghaveparken, located not far from Carlsberg in Vesterbro now also boasts an ice-skating rink open during the winter.
Only for ice hockey the outdoor rink at Lindevangsparken, Dalgas Boulevard 1, 2000 Frederiksberg. No skate rentals available here – and until 17:00, the rink is reserved for clubs and after hour school services.
Skøjtebanen IsRosen, Markedspladsen, Holbæk (Northwest Zealand)
Unfortunately the large outdoor ice rink on Genforeningspladsen in Copenhagen will not open this winter 2019/2020.
The municipality of Copenhagen informs that if there is a long cold period – then the lakes will open for ice-skating. Lookout for signs saying the ice is thick enough.
Jutland:
Skøjtebanen i Viborg ved Borgvold, Viborg
Skøjtebanen Esbjerg ved torvet, Esbjerg
Skøjtebanen C.W. Obels Plads, Aalborg
Skive Skøjtebane, Posthustorvet, Skive
Skøjtebanen, Stemannsgade/Jens Otto Krags plads, Randers
Skøjtebanen ved MariaParken, Vejle
Sønderborg Skøjtebane på havnen, Sønderborg
They all have Facebook pages with information, just put in the name of the city and skøjtebane or the full name as indicated above and their Facebook page should appear)
Ice-skating clubs
If you want to learn more about ice-skating and take lessons, all of the indoor skating rinks have clubs with classic ice-dance classes as well as ice hockey. Most of them are listed under their local municipality's website.
Here you can find links to the ice-skating rink's websites and clubs. You do not have to live in the municipality where the club is located as they are all open to anyone wanting to join.
Opening hours of the skøjtehal
The public opening hours can be found on the ice rink, skøjtehal, website. Most are open to the general public for ice-skating fun a couple of evenings during the week and some hours on either Saturday or Sunday (or both) on the weekend.
As the same facilities are used for competitions, they may be closed for public access on selected days also on the weekend.
Therefore, before promising the family a day on the ice, call to make sure the skating rink is open the day you want to go.
The article continues below.
Nightclubs on ICE
An activity offered by Esbjerg Granly Hockey, Aarhus Skøjtehal, Odense Skøjtehal, Gladsaxe Skøjtehal, Kastrup Skøjtehal and Gentofte Skøjtehal (see below for more details).
There is usually an affordable entry fee of about DKK 40, and of course rental costs for skates if you do not bring your own.
It is just as the name says, a disco on ice. The traditional lighting and music from the disco/nightclub is transferred onto the ice rink for an evening of dancing fun. The music is loud, but it's great fun to dance around (or just try to keep your balance) while listening to the latest hits.
Esbjerg, there are several yearly IsDisco events,–in Granly Hockey Arena, arranged by Sport & Event Park Esbjerg. They are great for anyone who loves gliding on the ice accompanied by music and an awesome lightshow.
Most often younger children come during the start of the evening, while the older ones join in later. No alcohol is allowed and you are not allowed to bring you own food or drinks in the rink.
Open from 19:00 to 23:00.  More info click here
Aarhus Skøjtehal has an Isdisco once a month on a Friday. They do it nicely – in the late afternoon for younger children and in the evening for anyone above the age of 12.
Be careful though, your teenagers might not be so thrilled if you insist on going with them! Smoking and drinking alcohol is banned and you are also not allowed to bring your own food and drinks, but the café is open.
From 17:00 to 19:00: Børne-isdisko or children's ice disco for all children up to 12 years of age (parents are welcome too). From 20:00 to 23:00: Isdisco for everyone above the age of 12.
Odense Skøjtehal has a SkøjteDiskotek every Friday from 18:30 to 22:00. Although no age limit is imposed, it can be too loud and crowed for younger children. Alcohol is banned here as well and their café is open for the evening. More information on their website www.odense-idraetspark.dk and look for Odense SkøjteDiskotek
Gladsaxe Skøjtehal has their Isdisco on selected days. More information can be found on their website under Kom til Isdisco i Gladsaxe Skøjtehal (www.gladsaxe.dk).
Gentofte Skøjtehal has their IsDisco on Saturdays from 18:30 to 22:00. Again, alcohol is banned and you have to bring your social security card- sygesikringskort– to be registered at the entrance.
They also recommend that younger children come early as the activity attracts many children aged 13 to 16. They have a Facebook page with more information at Isdisco Gentofte Sportspark or go to www.sportspark.gentofte.dk  
The club Amar Jets runs Kastrup Skøjtehal's activity. The ice-disco is on selected Saturdays from 20:00 to 22:30. You can read more on their website and check the dates on www.amar-jets.dk or on the municipalities site www.taarnby.dk and look for kastrup-skoejtehal. 
The article continues below.
FIND an indoor ice-rink near you on our MAP
We have made a map of Denmark with all the 16 indoor rinks listed with name and address – just
click on the link
and it will open in a new page.
Locations and adresses here:
Jutland
Esbjerg Skøjtehal, Gl. Vardevej 82, phone: 7545 9499 www.sepe.dk
Aalborg Gigantium Isarena, Olympiaparken, phone: 9635 0700 www.gigantium.dk
Herning Isstadion, Holingknuden 1, phone: 9721 3700  hsf-herning.dk
Silkeborg Skøjtehal,  Århusvej 45, phone: 8770 8600  www.silkeborgsportscenter.dk
Vojens Skøjtehal, Stadion Alle 12, phone: 7454 2170 www.vojenshallerne.dk
Aarhus Skøjtehal, Gøteborg Alle 9, phone: 8610 4219  www.vigirbyenpuls.dk/da/Aarhus-Skoejtehal
Funen
Odense Skøjtehal, Højstrupvej 5, phone: 6613 1372  www.odense.dk/odenseidraetspark/
Zealand
Ørestad Skøjtehal, Hannemanns Allé 14A+B, 2300 København S.
Gentofte Skøjtehal, Ved Stadion 10, phone: 3965 4142  www.sportspark.gentofte.dk
Gladsaxe Skøjtehal, Isbanevej 3, phone: 3967 2729  www.gladsaxe.dk
Herlev Skøjtehal, Tvedvangen 204, phone: 4452 5835  www.herlev.dk
Hvidovre Isstadion, Hvidovrevej 446, phone: 3678 7977  www.fic.hvidovre.dk/skoejtehallen
Hørsholm Skøjtehal, Stadion Alle 11, phone: 4849 5561 idraetsparken.horsholm.dk
Kastrup Skøjtehal, Røllikevej 1, phone: 3250 8081  www.taarnby.dk
Rødovre Skøjtearena, Rødovre Parkvej 425, phone: 3637 0707  www.rsik-kunst.dk
Østerbro – Østre Skøjtehal, Sionsgade 15, phone: 8610 4219 www.kulturogfritid.kk.dk