Increased security at the annual hunt Hubertusjagten after accident in 2017.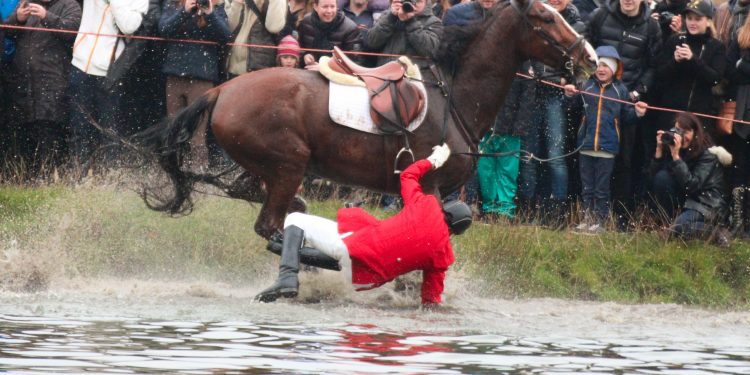 The annual hunt in Dyrehaven, north of Copenhagen, attracted more than 30,000 spectators all waiting to see 100 magnificent horses jump 32 obstacles. Only one landed in the pond at Magasindammen.
The article continues below.
By Bente D. Knudsen  Picture: Hisham Ammar
With more than 100 horses arriving at full speed, it is important that the security officials can instruct the audience about any danger from the arriving horses,  and get out of the way quickly themselves as well.
Last year one of the officials was knocked over by a horse with the royal family as spectators. A dramatic incident, which luckily ended happily with just a slight concussion for the official involved.
Therefore, the organisers decided to reinforce security this year, by, amongst other measures, equipping all security officials with a whistle they could use to warn spectators of danger (approaching horses), also a new official was put in charge of security, and more written information was distributed, Danish TV 2 Lorry reports.
The security officials are all volunteers helping the organiser's create one of the most popular events in the Copenhagen area.
The article continues below.
If you were not one of the 30,000 spectators enjoying Hubertusjagten last Sunday,  you can find out more about what goes on in this video made by the royal house showing the arrival of the royal family by horse carriage and the handover of the cups to the winners by Crown Princess Mary and the royal children.
The award of honour, Ærespræmien has always been handed out by the spouse of the regent, such as the Queen's mother, Queen Ingrid, HRH Prince Henrik and named after them. This year it was by HRH Crown Princess Mary who handed out her Crown Princess Mary Ærespræmie for the first time.
Click on the arrow in the picture below – it will take you to YouTube where you can start the video.