Interview: Why We Wrote a Book about Danish Food: Carol's Danish Cook Book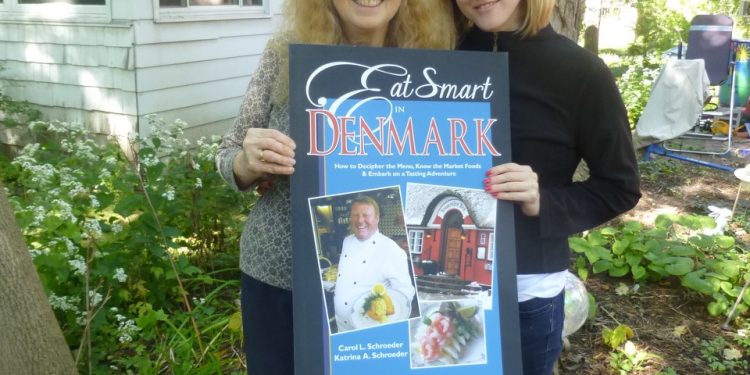 A native-born American – with no long time family ties to Denmark – writes a cookbook on Danish Food. It was a chance meeting that set off a lifelong friendship and love of all things Danish – particularly the food.
By Carol L. Schroeder
The article continues below.
It's been some 50 years since I passed a note to the girl sitting next to me in a freshman high school class in Pennington, New Jersey (USA). I had heard that this 14-year old newcomer was from Denmark, and after surreptitiously introducing myself during class, I asked if she'd like to join our Girl Scout troop.
I had no idea that she had actually brought her spejder uniform with her, including a wide-brimmed hat like the one worn by the Canadian Mounties, a real knife in a leather sheath, and a belt with a buckle that could open beer bottles.
Needless to say, my fellow Girl Scouts were very impressed.
The article continues below.
Annette became a valued member of our troop that year, and before she returned to Denmark, she made me promise to come visit. I told her that I had been saving since I was 9 years old to go to England, and that my dream was do take that trip when I turned 16.
Annette's family took up the challenge and found a tour company willing to take two unaccompanied teens on a guided tour of England, Scotland and Wales. The trip even included a week on our own in London, which my mother would never have allowed if the brochure had been in English.
I arrived in Denmark on Annette's birthday, so my first introduction to Danish food was a big celebratory dinner in her honour.
I was too jet lagged to appreciate it to the fullest (I actually fell asleep at the table), but I remember waking up in time to see a huge bowl of fresh strawberries with cream land at my place. I thought they were for the whole table, and was amazed to realise that they were actually all for me.
I'm sure that my first taste of smørrebrød and wienerbrød followed in the next few days.
How could two dishes with "bread" in their name be so different, and yet both so delightful? There hardly seemed to be a Danish dish that I didn't love from the start, and our sojourn to England – still a land of mushy peas and overcooked mutton at that time – reinforced my appreciation for Danish cuisine.
My Danish summer flew by, and I had to return to the US to finish high school.
The article continues below.
As soon as I got to college, I started taking Danish lessons, and arranged to spend my junior year abroad at the University of Copenhagen. I faced a few challenges during that time, in part because I'd met my husband-to-be before I left – and also because there wasn't much campus life, which made it a bit lonely for a foreign student.
But I was lucky to be living with Annette and her family, and they welcomed me like one of their own.
Happily, my husband Dean is from the state of Wisconsin, which at the time was one of the five states in the country where you could get a graduate degree in Danish literature. The next two years were spent immersed in the Scandinavian Studies Department at the University of Wisconsin, and during the summer break, we got married and took our honeymoon to Denmark.
If you imagine that an MA in Danish literature is not the most useful degree, you would be right. But I had visited a lot of shops in Copenhagen during my free hours in the city, and decided to put that experience to good use by opening a shop.
Annette meanwhile became a doctor, which had always been her dream, and her husband Søren for a time was also a store owner.
The article continues below.
We both had children, and traded visits back and forth every couple of years. Erik and Katrina always enjoyed our trips to Denmark (especially Legoland), and when they grew up we made it a point to introduce their fiancés to our Danish "family."
It was right before one of these trips that Joan Peterson, editor of the Eat Smart culinary guide series, stopped in our shop to say that Eat Smart in Norway had just been published. I casually suggested that Katrina and I could write Eat Smart in Denmark. Much to our surprise, Joan loved the idea.
I should mention that despite the title, the Eat Smart series has nothing to do with a lifestyle that involves avoiding fat, sugar or carbs. (Although as a registered dietician, Katrina couldn't resist adding the "healthy choice" designation next to a few of the dishes.)
The idea behind the guides is to help readers learn about the traditional cuisine of a country, as well as the regional specialities. We added holiday favourites to this section for Eat Smart in Denmark, realising how much the Danes love to celebrate with food at Christmas, Easter and every other time of the year.
There is an extensive Danish and English menu guide, as well as a bilingual glossary of foods and flavours for English-speakers living in Denmark and trying to shop in a grocery store.
The article continues below.
Our book includes about 30 key recipes translated into English (with American measurements), all of which were tested by Danes for authenticity, and a few other sections including one on helpful phrases.
The two of us took a wonderful trip to Denmark to learn more about Danish cuisine, and to source the recipes.
We started off at the National Museum with a behind-the-scenes tour that included the exhibit of Danish cultural history, and during our visit we met with chefs in a number of Denmark's top restaurants.
We also visited smaller, local restaurants as well as ice cream shops and hot dog stands – we've heard that the sections on how to order an old-fashioned ice cream cone and how to eat Danish pølser are very helpful.
We cover the range of traditional Danish food and New Nordic cuisine, but no, we did not eat at Noma.
Happily, Noma co-founder Claus Meyer now has a restaurant and food hall in New York, so we can try it out there instead.
Find Claus Meyer's take on the Danish hot mulled wine: GLØGG – reprinted with permission from Eat Smart in Denmark
here
.