Outdoor winter training despite the weather is good for your mental health. Find our tips here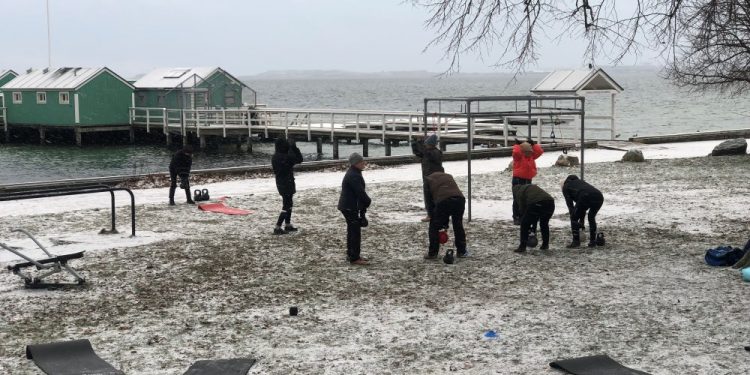 Research shows that outdoor physical activity is really important to the health of body and mind – even more so than training indoors. In Denmark there are, despite the weather, ample opportunities.
The article continues below.
Alright, we agree, the Danish winter weather is not really that enticing but according to research it can have a very beneficial de-stressing effect to be physically active and surrounded by nature or  any other green environment whatever the weather.
And right in the middle of  the continued coronavirus epidemic, there is plenty to be stressed about.
Interestingly, Swedish doctor and PhD, Mathilda Van Den Bosch, found in her research that women who both exercise and live in natural surroundings significantly decrease their risk of developing a mental illness.
It is the body's parasympathetic nervous system that reacts to these natural surroundings, to such an extent that going for a walk or run in the forest activates the parasympathetic nervous system's ability to generate feelings of inner calm, mental reloading and balance.
Being physically active outdoors during the winter season in Denmark may seem a bigger challenge than it actually is and outdoor training or running all year round is growing in popularity.
The article continues below.
Using the outdoor spaces available to get people to exercise more makes  a lot of sense and in many municipalities, it is a priority to create more outdoor spaces to help people be active outdoors.
So why not give it a try?
You can easily find an outdoor facility near your home to start on your own, or you can join an outdoor fitness club or a running club.
When you exercise outside it is important to have the right training gear; below you can find our tips for what to wear at what time during your outdoor exercise session.
TIPS for the best winter training gear
1.   Dress so that  your gear takes into account that when you start it is a little cold; once you warm up from the exercise it should fit with the training
2.  Layering is important; make sure that your inner layer is sweat absorbent and leads the sweat away from your body. This is important to diminish the humidity and cooling of the skin
3.  Use a running vest or jacket; they will help keep out the wind and rain, running gloves can be a good investment for the cold days. If you get to warm you can easily take them off and put them in your pocket
4.  Remember to go indoors immediately or put on more clothes if you get wet(sweaty) from any hard exercise as during the cold season the body cools down quickly
Where to do outdoor winter training?
Outdoor training opportunities are growing.
However, if you cannot find a group to join, but still want to get all the benefits of outdoor training, then take advantage of the training facilities many municipalities have built in their parks and other outdoor locations to encourage adults and children to play and exercise more outdoors.
Aarhus has created more than 24 activity locations together with local organisations, while Odense has recently refurbished their first one at Munke Mosen (out of a total of four).
To find a municipal outdoor training location you can try to search with the words "fitness i det fri", "udendørs fitness anlæg" or "træning i det fri" and add your local municipality's name.
When doing so for Aarhus the site www.friluftslivaarhus.dk appears with locations shown on a map with a little fitness symbol.
If you do so for Copenhagen in this link here you can find some of them.
Another place to look is at the homepage of one of the biggest constructors of outdoor training sites; here a map of Denmark is shown with all the locations they have built in Denmark.
Follow this link to the map here.
All outdoor training facilities are free to use and at present open 24/7 to the public.
The article continues below.
Outdoor cross fit running
Maybe running alone in the dark on paths full of ice and snow, or as these days that are just wet and muddy, is not something you fancy?
Then try one of the many cross-fit runs organised from November to February.  Cross-fit runs often take place during the daytime in the  weekend while there is still daylight.
They are always on forest-paths through different terrain and organised so that every level of running proficiency, both the novice and the more experienced, can join.
In Denmark the association, Motionløb,  motionslob.dk has been renamed and is now  ramed to runagain.com but the site motionsløb is still up and running.
On the site those interested in joining can find a calendar covering all runs with details of their length and location. Danish only so you will need to translate. Cost of participation is a fee of DKK 25 per run.
Join the running club with the unlikely name "The Hash House Harriers". Participation is free apart from small contributions for drinks. The club is run on a voluntary basis. Find more information in our article
here
Other opportunities are regular indoor fitness centres that also offer outdoor training options such as Seier Fitness in Aarhus, who do outdoor running sessions.
The article continues below.
Even regular outdoor fitness clubs are on the rise for instance in the Copenhagen area.
"I think we were among the very first when we developed our outdoor training concept more than eight years ago," says Susanne Evers Thomsen, who runs the company TwinSpirit together with Annette Sørensen in the Copenhagen area.
Others include former fitness centre trainers who felt like going outside but still wanted to offer training sessions.
In the Aarhus area, Philip T runs his own outdoor training business, which he developed because he felt being outdoors gave more to the mind and he wanted to share this with his customers.
"When I run in the forest or park, my mind relaxes in a different way, compared to being in a fitness centre with music and noise from the machines and other people.
Outdoors, the mind concentrates on the training task ahead and even though a lot of thoughts still go through my head, I feel more uplifted and in good spirits after being outside.
Even in the wintertime, when it's cold and rainy, I sometimes think "am I really going out now?", but afterwards
it just feels so good," Philip explains passionately.
I enjoy sharing this with my customers and I have tried to develop some flexible training options in different outdoor locations. At the moment they are only in the afternoons, but I also have in mind to start something in the mornings, maybe for an elderly group or others with a more flexible schedule".
The article continues below.
Start your own outdoor training group
A group of expat spouses join in the weekly Fartlek session every Wednesday morning (during school term) at Charlottenlund Fort North of Copenhagen.
Fartlek is a Swedish concept of outdoor interval training. Sonia Varey joined the Fartlek when she moved to Denmark and became so passionate about it that she took over running the sessions when the original founder left.
The sessions are free, take place around a huge hawthorn hedge next to the beach all year round, and are run on a voluntary basis.
The idea originated when an accompanying spouse started it ten years ago, gathering other spouses from her children's international school.
"I can only recommend other expat groups to start their own if they are too far away from Charlottenlund to join in," Sonia says.
She believes that anyone who has done fitness training could start it and she recommneds finding more information about the concept on the internet to combine being outdoors with exercise, not forgetting that the social gathering is an essential part too.
"I tell people that I don't have a professional training degree, but I have been doing a lot of training myself, I have done fitness courses, so I feel confident about putting together the lessons," she explains.
Everyone can join in, no previous training or running requirements are needed. "Since we do interval training, running around the hawthorn hedge a number of times and then stopping to do some exercises, beginners can walk around when they get tired, there is no competition between advanced and beginners," Sonia states.
"We could just meet for coffee and not train, that would be easier, but the training boosts endorphins in the body and literally lifts your spirits. Being outside is an extra bonus somehow, and I always leave the group session feeling great (if not a little out of breath) and ready to tackle the day ahead," Sonia laughs.
Sonia left Denmark after this interview and another expat spouse has taken over running the sessions.
Support our magazine with a contribution of any size
We hope that you enjoy the information, insights and inspiration that we provide. We are a small team and we would like to keep delivering high quality, interesting articles for you to enjoy and your support will help Your Danish Life to continue to produce relevant content for expats in Denmark.
We do not want to put up a pay-wall, so we need your support and if you find our content relevant and worthwhile, we would value any contribution, however big or small, as a token of your appreciation of our efforts.
How to support:
Transfer any contribution to our bank account at: Your Danish Life/ Danish Expat Media Aps
Danske Bank Account number: 3409 11405673
IBAN: DK68 3000 0011 4056 73
or MobilePay to 2144 1224
Message: Support