It's Yuletide sweater time again – is yours ready?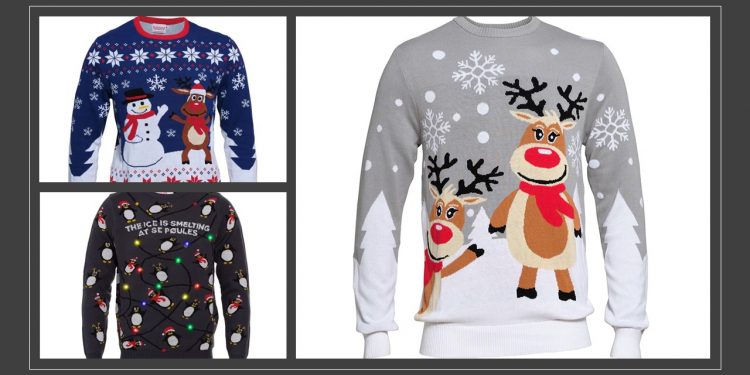 It's beginning to look (and feel) a lot like sweater weather in Denmark, pretty much everywhere you go…not that we're complaining. Did you know that the notorious Ugly Christmas sweater has become a huge item also in Denmark?
The article continues below.
by Tina Jimmy Dastur Picture: PR jule-sweaters.dk
The most wonderful time of the year deserves nothing but the most wonderful celebrations, complete with impeccably decorated Christmas trees, warm spirits and wholesome meals, familiar family traditions and, not least, your favourite Ugly Christmas Sweater.
That's right—those jingling bells, blankets of snow, curtains of fairy lights, and echoes of carolling are ready reminders that it's time to rummage through your wardrobe and fish out that one sweater to rule them all.
Nothing gets you into the Yuletide spirit quite like slipping on an Ugly Christmas Sweater does. Gone are the days of elegant holiday get-togethers, with family and friends decked in their sparkly, sophisticated best.
Today, it's all about getting your sweater on, in the best possible way.
Just ask the guys over at www.jule-sweaters.dk, and they'll tell you that a Christmas sweater is the new black.
Founded in 2015, this Danish brand saw four sweater enthusiasts buy 400 of these knits to sell to like-minded individuals, just for fun.
Fast-forward seven years, and the brand has become a great destination for finding this year's Christmas Sweater, selling over 400,000 garments yearly across not just Denmark, but all of Europe.
Inspired by the Danish concept of hygge, the brand's holiday knits cleverly combine a Nordic sense of humour with quintessentially funny Christmas prints and embellishments.
While Jule Sweaters Denmark is putting its own cosy "hyggelige" spin on the Ugly Christmas Sweater, it's worth delving into this fashion icon's backstory to understand how it went from being a wardrobe pariah to a festive favourite.
The article continues below.
The Ugly Christmas Sweater: A timeline
The history of the Ugly Christmas Sweater dates back to the 1950s, when they went by a more polished term— 'Jingle Bell Sweaters'. Back in the day, these sweaters were nowhere near as kitschy or outlandish as some of today's iterations, which are as over-the-top as they come.
Think diverse fabrics in a spectrum of shades that almost always feature some hue of red, white, or green, with bold Christmas-inspired motifs that include (but are not limited to) snowmen, reindeer, bells, candy canes, and Christmas trees, finished off with exaggerated bows, 3D pom-poms, some sort of felt applique, and (oftentimes) embedded lights.
Going back a few decades, the first stirrings of this 'ugly' version of the Christmas sweater could be attributed to musicians and Andy Williams, who really embraced this quirky article of holiday clothing.
But the Ugly Christmas Sweater stepped firmly into the limelight in the 1980s, when actor Chevy Chase's character, Clark Griswold, confidently flaunted one in the 1989 hit film, National Lampoon's Christmas Vacation.
Even so, its popularity was short-lived, and this yule tide clothing was out-of-sight, out-of-mind for the better half of a decade until the coming of Colin Firth's Mark Darcy in 2001's Bridget Jones's Diary.
That image of the uptight Mr. Darcy donning a knitted number emblazoned with the face of red-nosed Rudolph was meant to be a disarming and endearing moment, which it absolutely was. But more than that, it laid the groundwork for a major fashion moment, which turned the tide back in favour of this piece of festive attire that up until then many were on the fence about.
The Ugly Christmas Sweater had Firth to thank yet again three years hence, when his character flaunted yet another cosy knit (this time with a snowman) in the second instalment of the series, Bridget Jones: The Edge Of Reason.
Somewhere in between, momentum was gathering and, in 2002, the first themed get-together was organised in Vancouver, British Columbia.
Since the turn of the century, the fan-following for the Ugly Christmas Sweater trend has snowballed, and this piece of clothing has today amassed a merry band of proud patrons and become a holiday wardrobe staple.
According to Brian Miller, co-author of Ugly Christmas Sweater Party Book: The Definitive Guide To Getting Your Ugly On and founder of online shop, www.uglychristmassweaterparty.com, the transition to acceptance has largely been because people have started to see the humour in it, not to mention the potential it holds to set in motion an all-new holiday tradition.
The article continues below.
A place among the stars
From being a dusty old garment wedged into some long-forgotten corner of your grandmother's closet, the Ugly Christmas Sweater soon made its presence felt on runways and in the ateliers of some of fashion's biggest names in America and the UK, including Nordstrom, Givenchy, Dolce & Gabbana, Stella McCartney, and Victoria Beckham.
In the age of social media, it's impossible for such trends to not go 'viral', and soon enough, charities were organising fundraising events christened 'Christmas Jumper Day', e-tailers dedicated to stocking-up the cringiest and tackiest knits were mushrooming, and pubs were hosting Christmas sweater parties.
Thanks to globalisation, the adoration for the Ugly Christmas Sweater has spilled over, across US borders, infiltrating Europe and parts of the East too.
A new age 21st century icon, the Ugly Christmas Sweater is now an inextricable part of Christmas celebrations for many, blurring the lines of gender and age.
If you've been agonising over whether to throw on your notorious knit this holiday season, this article is the sign you've been waiting for.
Conversely, if you're an Ugly Christmas Sweater noob who has been sufficiently inspired to jump on the bandwagon, get in the spirit of the season by choosing from an array of funny Christmas fits or surprise loved ones with a Christmas Sweater, which also makes for an excellent (if unexpected) holiday gift.
There are ample retailers out there from retail shops such as Flying Tiger to more Danish design versions at  www.jule-sweaters.dk and www.sillysanta.dk.
What better way to celebrate Christmas than with a good chuckle…or two?
On that note, Your Danish Life wishes you a Glædelig Jul and the happiest of holidays!
Support our magazine with a contribution of any size
We hope that you enjoy the information, insights and inspiration that we provide. We are a small team and we would like to keep delivering high quality, interesting articles for you to enjoy and your support will help Your Danish Life to continue to produce relevant content for expats in Denmark.
We do not want to put up a pay-wall, so we need your support and if you find our content relevant and worthwhile, we would value any contribution, however big or small, as a token of your appreciation of our efforts.
How to support:
Transfer any contribution to our bank account at: Your Danish Life/ Danish Expat Media Aps
Danske Bank Account number: 3409 11405673
IBAN: DK68 3000 0011 4056 73
or MobilePay to 2144 1224
Message: Support