"Kærlig talt", or Speak Lovingly, is a new programme launched by Crown Princess Mary focusing on teenage abuse and violence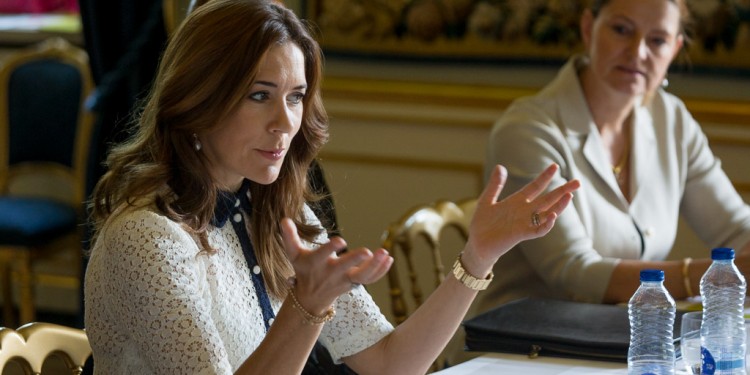 Tuesday morning Crown Princess Mary was the centre of attention among the students at Guldberg School on Nørrebro in Copenhagen where she was to launch her foundation's latest project focusing on teaching teenagers the importance of speaking about their feelings and emotions in order to prevent violent relationships.
By Bente D. Knudsen   Pictures: The Mary Foundation, Steen Brogaard
Research shows that in any given classroom with 25 students, on average one to two of them will experience violence from a loved one before they are 25 years old the Crown princess said in her opening speech. She underlined the recent statistics, which found that for young people aged 16 – 24 who have had a boy or girlfriend, 7. 4 percent of the girls and 4. 8 percent of the boys have experienced one or the other form of violence in their romatic relationships.
Crown Princess Mary pointed out that violence in a relationship can take many forms, physical as well as psychological: "A common denominator for all types of violence is that they are about control, and often the violence starts out as a small thing and slowly just gets worse and worse."
Speak Lovingly is a programme established by the Mary Foundation and Center for Familieudvikling ( Centre for Family Development) with economic support from Ole Kirk's Foundation. It seeks to support young people in building relationships were they can feel safe and secure. During the course students are given the opportunity to voice the difficult feelings and practice handling them with respect for their own and other's limits.
"The ambition of Speak Lovingly is that the students learn to speak out and say stop in a good way, in order to prevent violence in their relationships. By starting with eight and ninth graders we catch the students at a time where they have experienced the difficult feelings and emotions connected with being in love, but where many haven't yet had a romantic relationship. We give them a loving nudge in the right direction to help them develop sound relations with both intimate friends and friends in general throughout life," says Helle Østergaard, managing director of the Mary Foundation.
For young people experiencing being in love for the first time it can be difficult to talk about the negative feelings of jealousy and disappointment involved in a romantic relationship.
"If we are to help young people build heathy relationships it is important that we give them some tools to tackle all the feelings they will encounter such as sadness, anger and jealousy. These feelings are natural and many will experience them as well as all the wonderful ones in their first romantic relationship. But for some the feelings will overwhelm them to such an extent that they don't know what to do with them, which can lead to violent behavior," says Mattias Stølen Due,psychologist and team leader at Centre for Family Development .
Focus areas
The Mary foundation was funded originally by the national gift of DKK 1.1 million raised in Denmark and Greenland at the occasion of the Crown Prince Couple's wedding in 2004. Today the many projects are funded with the help of the capital stock provided by a group of eight co-founders and other foundations in Denmark. They have ensured a solid economic foundation and the capital stock now stands at around DKK 150 million. This capital stock has been set aside and remains untouched, while the full annual return is used to combat social isolation within The Mary Foundation's three focus areas: Bullying & Well-being, Domestic Violence and Loneliness.
Hear HRH Crown Princess Mary speak about the way the Mary Foundation works, and how they work with strategic partners in order to reach their goals, at the Copenhagen Business School Partnership NGO + Business 2012 conference.
HRH Crown Princess Mary speach about how her foundation works
In many interviews Crown Princess Mary has emphasized that she has always been particularly conscious of people who are not part of a group, who are all alone and unable to understand why they are excluded from the community. Through the Mary Foundation her desire to do something for the socially isolated has been realised.