Learn Danish at SPEAK – School of Danish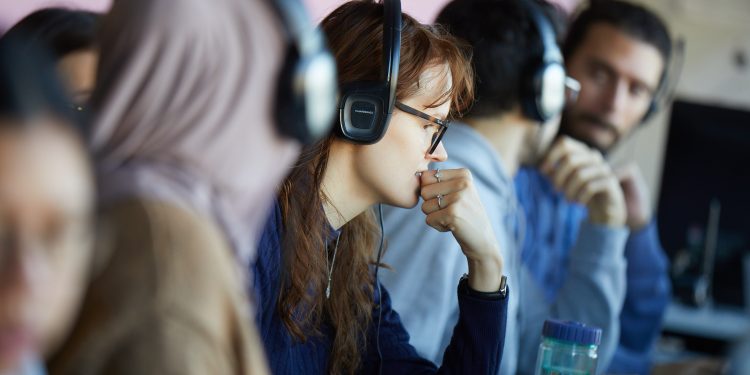 What is the point of learning Danish? Everybody speaks English anyway. Danish sounds really strange and it is probably difficult to learn. If you are having doubts about whether learning Danish is worthwhile, find inspiration here as to why it certainly is worth the effort.
Undoubtedly, Denmark is one of the countries where you can "survive" in your daily life by only speaking English. However, in doing this, do you really learn about the country, Danes, and Danish culture?
Culture and language are inextricably linked. Trying to understand Danish culture without studying Danish is like trying to understand what is hidden in a box without unwrapping it.
"Learning Danish is expanding your horizon" are the words that greet you at the main entrance at Speak's department in Hellerup.
"We believe that learning the Danish language is the key to understanding Danish society and the Danes better. Speaking Danish makes it easier for you to participate in all kinds of social networks and helps you get the best out of your career in Denmark. And despite what you might have heard, it is easy to learn Danish," says principal Lisbet Winther.
Last, but not least, learning Danish is also a chance to meet other expats who are in a similar situation and thereby expand your network and make new friends.
Why choose SPEAK?
Expats of more than 120 nationalities are learning Danish every week at Speak, School of Danish.
The language school, formerly known as Hellerup Language Centre, has departments centrally located in Hellerup, Frederiksberg and Lyngby. It is one of the biggest language schools in Denmark with more than 2,600 students.
Speak has been teaching Danish for more than 25 years and the teachers have an average of over 13 years of experience. All teachers hold a university degree and have supplemented their qualification with the programme "Danish as a Second Language" (as required by the Ministry of Education).
Many of the teachers are also working with the Ministry of Education and have produced a large part of the learning material as well as the digital platform modultest.dk, a digital learning tool that helps Danish language students prepare for the module tests.
The Danish courses at Speak are official courses (Danskuddannelse) approved by the Danish government.
The courses are composed of modules and each module is concluded with a module test. The final module is concluded with a state approved Danish exam (Danskprøve).
Flexible courses
There is a wide range of courses which should make them compatible with your busy calendar as Speak has both day, evening, blended and purely online classes on weekdays or weekends.
You can choose between classes centrally located in Hellerup, Frederiksberg or Lyngby.
With three locations in the Copenhagen area, Speak offers a very flexible set-up. If at some point you need to change your schedule or the location of your classes due to work, travel, leisure activities or for any other reason, you can easily switch class.
Excellent and modern facilities
Besides the scheduled Danish lessons, Speak offers the opportunity to use well-equipped study centres and language laboratories. These are good options if you want help with a specific assignment or work intensively on your pronunciation. The school also offers extra workshops without any additional costs.
A career in Denmark?
If you are looking for a job or career in Denmark, Speak can help you accomplish this as the school also offers mentoring programmes, CV workshops and excursions to Danish companies.
You can also talk to some of the many Danish volunteers who are weekly visitors at Speak and benefit from their tips and advice.
The article continues below.
Getting started
Speak offers intensive Danish classes at all levels and new classes start every month. This ensures that you can get started quickly no matter what level you are at.
Before you start your Danish classes, you are required to come for an assessment interview with a language consultant.
You might consider this a strange measure if you are a beginner, but even beginners learn differently and at different speeds.
The interview ensures that you start at the right level with classmates who have the same prerequisites as you. The school does this to make sure that you can maximize the output of your Danish classes.
The interview is also a chance to see the school's facilities. You can easily book an interview online.
Danish language education for foreigners is subsidised by the Danish government. This means that if you hold a Danish CPR number, the cost is DKK 2,000 per module + a one-off deposit of DKK 1,250. The price includes all teaching material and the final exam fee.
"I was sitting next to a Dane and we started talking about life in Denmark. As soon as I told him that I was studying Danish, he was willing to continue talking in Danish even though I was only at a beginner's level. However, it was the first time that my choice and my insistence that I learn Danish came into good use – and it made me feel proud of my decision.
From that moment on, I started studying more since I realised that it is truly amazing to be able to communicate in the language of your conversation partner, and in that way feel closer and more intimate with that person and his or her country," says Evmorfia Tsakiri from Greece who found it hugely satisfying when she was able to speak Danish on a flight from Copenhagen to her hometown of Athens.
So why not start learning Danish and experience the satisfaction of not having to change into English the next time you interact with a Dane?
This article was written in cooperation with Speak Language school as a sponsored content article.
Highly recommended tips
Study every day even if it is only for one hour.
Use every new word or phrase you learn in your daily life.
Watch Danish TV programs or movies with Danish subtitles.
Read Danish newspapers or magazines, even if you don't understand every single word. Attend the events the language schools organise. They often have very interesting topics.
Start talking with your classmates in Danish – even if you meet them outside of school.
Try to start up a conversation with your neighbours. Danes love hearing foreigners speak their language.
Use applications such as Duolingo to practice more.
Don't feel embarrassed about your pronunciation; be proud of the effort you make.
Always keep in mind the fundamental cognitive benefits you gain from learning Danish or any other language.