Life Is A Cabaret! Enjoy this great performance now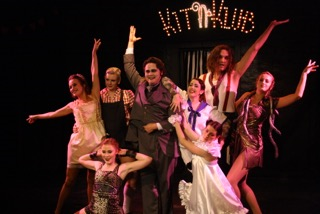 The Copenhagen Theatre Circle take on Kander and Ebb's classic musical is a must see this October. Find our review here.
The article continues below.
By Louise Chamberlain  Pictures: PR
Cabaret is set in Berlin in the late 1920s and early 1930s as the Nazis are rising to power, but the themes of the growth of nationalism and the divisions it causes between friends and neighbours is just as relevant today.
Clifford Bradshaw (Kat Nicholas) is a struggling American writer looking for inspiration for his next novel. On his first night in Berlin, he finds himself in the rather seedy Kit Kat Klub where he meets British cabaret performer Sally Bowles (Antonia Pipaluk Stahnke).
Sally decides that Clifford will be the next in a long line of men passing through her life and moves into his room in the lodging house run by Fräulein Schneider (Bente Frederiksen).
The first part of the show is upbeat and humorous with outstanding performances by all the cast, but Kristian Husted as Emcee stole the show with his incredible stage presence.
The article continues below.
The mood suddenly changes as the first act comes to an end when Herr Schultz (veteran CTC member Frank Theakston), Fräulein Schneider's fiancée, is the victim of an Anti-Semitic hate crime.
Act Two is much darker as the Nazi Party becomes more powerful turning friends and neighbours against each other.
It's a big task to take on one of Broadway's greatest musicals but the CTC was more than up to the job. The whole performance, directed by Christina Hildebrant, was slick and professional.
The musical score features songs that have become musical theatre classics and they were all flawlessly performed. The band, led by musical director Ulrik Spinkel Thomsen, deserve a special mention for their rousing performance.
Poignant, thought-provoking and thoroughly entertaining, Cabaret is being performed at the Krudttønden Theatre from 3-6 and 10-13 October.
More information here
Tickets are available here