Live Music – Experience the entertainment side of Denmark's NIGHTLIFE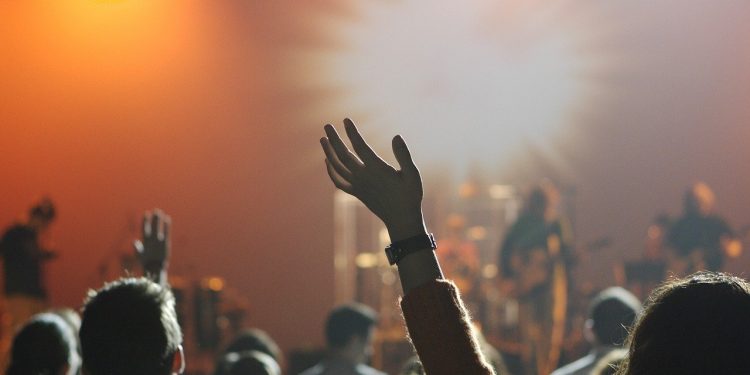 You don't need to be a night owl or a party animal to enjoy Danish nightlife. If the idea of chilling out in a bar while listening to live music seduces you, but you don't know where to start, we can help you stay tuned.
This winter take advantage of the quality live music events (some free of charge), as well as cultural and other fun entertainment activities that will enrich your nightlife experiences.
In Copenhagen you can explore music genres spanning from jazz to classical but also outside of the capital there are some great places to recommend.
Check out our mini guide here with some of the trendiest spots to go out in Denmark's major cities.
The article continues below.
Copenhagen
Café Intime
A gay bar and jazz club, it is probably Denmark's smallest place with Denmark's biggest personalities.
In a corner of Frederiksberg lies a tavern from 1922 with small tinted windows, red walls, old paintings, paraffin lamps and carpets on the floor. Here, there are frequent music events of all sorts and at least once a week there is jazz on site.
It also happens that a pianist and an opera singer pass by and do a number. Not because they were commissioned to do so, but because they feel like it.
It is also your typical tavern with a lot of regular customers, and according to the owner, not a place the whole world needs to know exists. However, it does exist, and it's a real Copenhagen-gem where one should not be sensitive to smoke as here smoking inside is still permitted.
Location: Allégade 25, Frederiksberg (Copenhagen area)
Hours: 16:00 to 02:00
Concerts: Every Sunday from 20:00
Facebook: Cafe Intime (check for concerts and other events)
Avenue Hotel Live Music Fridays with Beats and Bubbles
Have a drink or your evening coffee and lean back sitting in the comfy furniture in front of the fireplace in the lounge at Avenue Hotel – here they provide a great atmosphere with some of the country's great DJ's.
The concerts and DJ sets are open for all – and it is a free event.  Check for the 2020 program on their site here.
Location: Åboulevard 29, Frederiksberg C (Copenhagen area)
Hours:  18:00 – 23:00
Concerts: Fridays from 18:00 to 20:00
Facebook: Avenue Hotel (check for concerts and other events)
Hotel Ottilia: Sunday Selections
Every last Sunday of the months you will find DJ Katrine Ring mixing classical tune with different soundtracks from 16:00 to 18:00, end the weekend with relaxing music and a drink. Free entrance and everyone is welcome.
Location: Bryggernes Plads 7, 1799 Copenhagen V
Hours: 16:00 – 18:00
Concerts: Sundays from 16:00 to 18:00
Facebook: Hotel Ottilia (check for concerts and other events)
More tips for music spots in Copenhagen below.
Mogens Dahl Concert hall
In a backyard on Islands Brygge in the old Copenhagen, lies a well-hidden concert hall. It is the Mogens Dahl Concert Hall. Housed in an old building from 1901 which in its former life served as stables, garages, and an auto repair shop.
The site is now used as a conference centre, for lectures, and as a concert venue.
Since 2005, it has attracted classical world stars and ensembles. It is also the home to the Mogens Dahl Chamber Choir, who has recorded several CDs, primarily Nordic music.
There are frequent concerts, song evenings, and lectures, so I recommend that you keep an eye on the site calendar to get an overview of the many offerings coming up.
Location: Snorresgade 22, 2300 Copenhagen S
Web: mogensdahl.dk
The article continues below.
Vega – House of Music
Here you will find one of the most popular and respected venues. It is a signature building, located at the end of Istedgade in Copenhagen on Vesterbro.
The building was designed in 1956, and, since 1996, has been used as a music venue, housing mostly rhythmic music, but also electronic and hip/hop.
When you enter Store Vega or Lille Vega, the two music halls in the building (depending on which concert you are going to), you will notice the dark wooden panelling, mahogany floors, friezes, and many other original details, such as the railings and lamps.
All contribute to making the house an architectural gem in a typical Scandinavian style.
It is in this environment that you can experience up-coming and established bands.
You will also find the Ideal Bar here, where you can hang out either before or after the concert and enjoy music, drinks and conversation.
Location: Enghavevej 40, 1674 Copenhagen
Web: vega.dk
Price: subject to the concert
Outside of Copenhagen find a few tips below.
Music Venues in Aarhus,Aalborg, Vejle
Fair bar – Aarhus:
Fairbar is a not-for-profit café located in the heart of Aarhus. The concept behind it is based on sustainability and creativity, so the bar often hosts exhibitions of inspiring art from innovative artists.
Live music is played almost every night, with mostly melodic folk music from local Danish bands. It also occasionally has international musicians, and funky, swinging jazz sessions.
The bar has a laid-back and lively character, attracting customers of all ages. They often hold special events such as singing nights, and the first Wednesday of the month they have an open songwriter event. This is organised by the volunteer platform of Aarhus Songwriter workshop, which has more than 100 affiliated songwriters.
All coffee served is organic and fair trade, and since all the bartenders are volunteers, the bar's profits go to a humanitarian aid project in India.  In addition, there is a range of artisan microbrews and some light food, and the service is friendly. Stay tuned for their next music events at www.fairbar.dk
Location: Nørre Alle 66, 8000 Aarhus
Waxies Irish Pub – Aarhus:
A popular spot, particularly among young crowds, this established pub has been around for over ten years and offers a great selection of fun and entertainment.
From live sports and English quizzes to concerts, Irish jam sessions, and even karaoke, Waxies Irish Pub is in the spotlight for the city's nightlife scene. The casual and friendly attitudes, plus the large assortment of drinks, with reasonable prices, makes it a popular place to hang out, socialise, and enjoy good music.
Thanks to its high capacity, it is quite easy to find a table to accommodate all your buddies. Special parties and private events are sometimes arranged.
Every Friday and Saturday night you can attend free concerts with all kinds of music genres, from Irish folk, to rock, to pop hits. To check out the latest music performances, go to their website www.waxies.dk
Location:Frederiksgade 16, 8000 Aarhus
V58 – Aarhus:
Considered a music Mecca by many locals, V58 is a beloved venue with reminiscences of the 70s, 80s and 90s and a hectic atmosphere. Last year, the new owner has divided the venue into three areas: the café, music venue and the bar.
The café is open throughout the day, and it often hosts interesting cultural and family events.
The vibrant music venue has a capacity for around 300 guests, featuring a wide range of gigs, from reggae to rock, electronic and hip-hop. Its premises used to be the home of the old merchant's house, until it was reconverted into a jazz venue, a theatre and a gallery back in 1966. For information on upcoming events, go to www.nyv58.dk
Location: Vestergade 58, 8000 Aarhus
Lumskebugten – Vejle:
Lumskebugten, meaning "a treacherous bay", is a typical Danish bodega-style tavern whose décor is inspired by its nautical surroundings in Vejle's harbour. This unpretentious pub is a local favourite among sport fans, containing a pool table and party room in the basement.
Every Friday and Saturday evening there is live music from 21:00 to 01:30, with room for approximately 50 guests. The staff are friendly and the drinks menu is rather basic, but cheap. Smoking is allowed inside. Check their Facebook page for upcoming events.
Location: Havnegade 33, 7100 Vejle
KUL Café  -Aalborg :
Featuring numerous interesting events such as exhibitions, lectures and concerts, all free of charge, Kul is a treasured venue among Aalborg's young crowd. Located in Nordkraft, this funky café and music venue is supported by the local municipality.
It serves as a cultural platform for emerging musicians and genuine artists, here they can play and present their artistic work in front of an audience.
Kul has two floors; on the ground level lies the café and downstairs is the concert hall, where upcoming music bands can use the space for rehearsal. Information with their updated event programme can be found at www.kulnordkraft.dk
Location: Kjellerups Torv 5, 9000 Aalborg
By Adriana Alcina