Look for the 19th century masterpiece: Østerport Station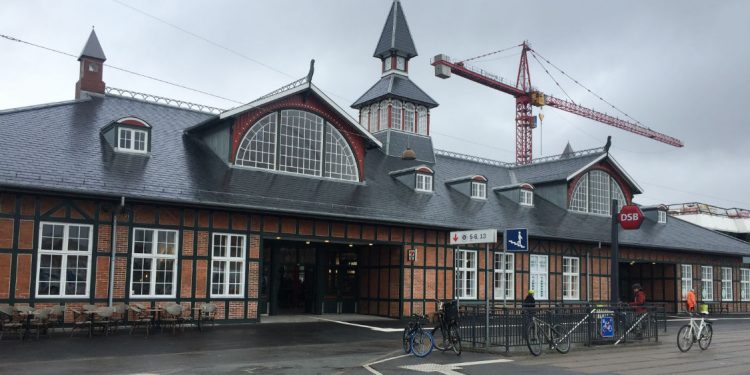 If you have been here less than three years, this is an unknown gem to you, and one certainly worth a visit.
The article continues below.
Pictures and Text by Susanne Kee
An iconic piece of Østerbro architecture, finally, after over two and a half years of renovations, Østerport Station has now officially reopened.
The station is set between downtown Copenhagen and and the well to do district of Østerbro and it is host to intercity, regional, and S trains.
The renovations have allowed the addition of another set of tracks as the station will shortly offer the Circle Line Metro Lines, M3 and M4 (from 2020) as well.
The article continues below.
Originally built as part of the coastal line Kystbanen, which stretches all the way to Helsingør, the main station building was built in 1887 by Heinwrich Wenck and was extensively restored once previously in the 1980s.
It is one of several iconic old station buildings along the Kystbane line, and if you have time, visiting the smaller ones along the line at for instance Skodsborg, Vedbæk, or Rungsted Kyst will take you back in time to the beginning of the train era in Denmark.
The new refurbishments of Østerport Station have kept the old charm, while fixing and repairing any underlying issues and making room for modernization.
The present paint colours are a match for the past ones, and the original chandeliers have been refurbished, with LED bulbs added.
The article continues below.
The "new" Østerport station has ample amenities and space, with elevators, escalators, and ticket machines available. It houses a dentist office, Joe and the Juice, Expresso Cafe, a 7-Eleven, and includes some outdoor seating. There is also an Irma and Fitness DK adjacent to the Station.
While construction appears to have finished on the old station building station itself, Metro construction still continues besides the station to get ready for the Metro line opening on 29 September 2019.
From that date the M3 Circle Line Metro opens for passengers.