Look up this afternoon as fighter jets fly over Copenhagen and Zealand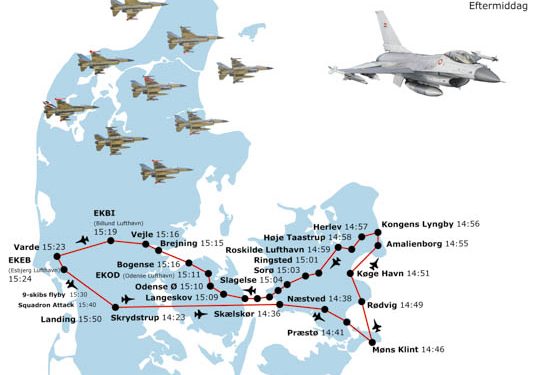 The Danish air force celebrates the 40th anniversary of its F-16 fighter jets in the sky above Denmark.
The article continues below.
By Bente D. Knudsen
If you have time this afternoon, 17 January, you will be able to catch the sight of a 10-formation flight, as 10 F-16 fighter jets fly over Zealand and Copenhagen between 13:30 and 15:50 in a set route.
Notably the fly over of Copenhagen and Amalienborg Castle is bound to create some attention, as they normally do no come that close to the capital.
The Danish Airforce's F-16 Fighter Wing is based in Skrydstup in Jutland, where the celebrations started early this morning.
You can follow the jetfighters' route if you have a flight tracker such as Flight Radar, look for"F1640″ or find the route below.
The article continues below.
Facts:
Denmark has 44, F-16 fighter jets ready for operation, they have flown ( as of 12 January 2020) 335,080 hours, and been deployed for peacekeeping missions and in the fight against ISIS, during the last four months of 2019 they were deployed to the Baltic states to ensure the sovereignty of the Baltic airspace as part of a NATO Mission.
See the full route below.