March entertainment – here a few reading (and painting) tips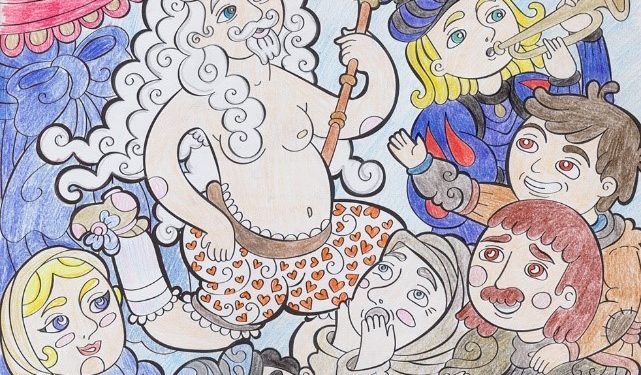 If you are looking for alternative ways to spend your time while waiting for the weather to get more spring like – maybe our three book reviews can inspire you.
By  Cristina Buftea
1.MAL Aarhus – Review
Talking about Denmark and its beautiful cities, I would like to mention one in particular, which caught my eye the very first time I travelled in Denmark: the beautiful city of Aarhus.
As you might know, Aarhus is the European Capital of Culture this year. I recently came across this narrative colouring book, which gave me a larger perspective on Aarhus' cultural, historical and artistic values: Mal Aarhus, Paint Aarhus.
My experience, while trying to figure out this book, was great because it basically describes and tells the story about some of the greatest places of the city's rich background.
What I mostly liked were the beautiful illustrations of the architecture, the inspiring views and sights from the city as well as the compositions, which follow each one. I like the fact that so many authors were involved in the creation of the book.
The illustrations are made in such descriptive details, they made me wonder how much work was behind the whole process.
Also, the idea of collaborating with different Danish authors for the texts and presentations of the city's values is admirable. For example, Thomas Bloch Ravn wrote a few thoughts on Borgmestergården (The Mayor's Farm) – the very first building from Den Gamle By (The Old Town).
Another great one, Lissa Ladefoged, gave a beautiful description of the street, Møllestien, a  street right in the centre of Aarhus where most of the houses were built in the 18th century. The mesmerising sight of hollyhock and rambling roses,which grow against the colourful old half-timbered houses, made me think that, indeed, in some places, time stops for a while. Oh, I almost forgot to mention that you are able to colour each sight from the book as you feel like or simply admire it as it is.
I was also fond of reading about the chocolate factory , Chocolade Fabriken Elvirasminde, designed by local architect Christian Frühstück. The chocolate factory is well-preserved and is a representation of Aarhus' early industrial history.
And there is so much more to find out about Aarhus in this book. The only struggle I had, as I am still learning Danish, was to figure out some of the text, but in the end, it was totally worth it. I also found out that an English version might come out this year. 
I recommend this book to people, who, like me, are interested in learning more about this year's Danish European Capital of Culture and in fact to everyone who decides to visit this beautiful city.
Useful Information:
Name: Mal Aarhus
Issued by: Detegn
Language: Danish
ISBN: 9788-87-993925-6-8
Price: DKK 200
2.Italian Shoes – Review
I like reading but sometimes I do not finish the books, as I get distracted or easily bored. However, some books totally capture my senses and make me breathlessly shuffle through the pages.
A book of this kind is called Italian Shoes, written by Henning Mankell. He is a Swedish author mostly known for his mystery novels. You might know him for his most valuable and popular creation, "Inspector Kurt Wallander", which is also a TV series.
I read "Italian Shoes" a while ago, during the summer of 2015 and I can honestly tell you that my decision to start reading it was due to the first paragraph of the first chapter:
"I always feel more lonely when it's cold. The cold outside my window reminds me of the cold emanating from my body. I'm being attacked from two directions. But I'm constantly resisting. That's why I cut a hole in the ice every morning. If someone were to stand with a telescope on the ice in the frozen bay and see what I was doing, he would think that I was crazy and was about to arrange my own death. A naked man in the freezing cold, with an axe in his hand, making a hole in the ice?"
I don't know whether it was the theme of the loneliness, or simply the way the author put it into words, but it certainly drew my interest and compassion, and made me wonder at the reasons and thoughts behind the character's mind.
The story follows the journey of Fredrick Welin, a now-retired surgeon, who decided to live on a tiny island in Sweden, surrounded by ice in the wintertime.
The idea of isolation appealed to me for I am also a lonely spirit – but for different reasons than Frederick Welin. You see, his decision to live all by himself was the result of an unfortunate event that happened to him long ago during his career.
The reason is only revealed much later in the book, something that made me constantly wonder how bad could it have been to make him run away from his life. He could have had a successful career and kept going on with his life but he decided not to.
I remember he had a cat and a dog, whom he cared much for; it is odd I recall these details. In his living room, there was an anthill but he never bothered to destroy it, allowing them to live with him.
I think the solitude conquered his soul, which is why he valued any kind of company. I recall he had a friend, the postman, who was bringing his mail by helicopter. Their friendship is a key symbol in this book.
When an unexpected "representative from the past" appears on the lonely island, Frederick Welin's life takes a turn, as he must enrol on a challenging journey in order to confront his past.
It would be a pity to describe more of the narrative, but to me, as a hard-to-impress reader, his journey symbolised a dissection of the soul and an escape from the comfort zone, something many of us have struggled to do.
I believe Frederick Welin needed that impulse to make the first step because he was trapped in the past, which is why he felt the need to "punish" himself by throwing himself down that hole in the ice. Anyway, the appearance of this particular person plays a key- role in his journey.
I truly believe this book shows the author's amazing ability to connect with his readers. I recommend it to the loner in you, the wanderer and the lost souls out there – who maybe struggle with the process of self -forgiveness or of finding yourselves. I truly hope this one book will help you and inspire you – as it did for me.
Useful information:
Hardcover, 247 pages
Original title:
Italienska skor
ISBN:1595584366
Edition Language: English "Italian Shoes"
Series:Fredrik Welin series #1
3. Colouring the Fairy Tales of Hans Christian Andersen – Review
Whenever I hear the name Hans Christian Andersen, I cannot help thinking of my favourite fairy tale, The Little Mermaid; this is the one my dad used to read to me, when I was just a little girl. It was enough to capture my heart and make me want to hear more fairy-tale stories.
Thankfully, I was lucky enough to hear many more of Hans Christian Andersen's fairy-tales during my childhood, and later on, whenever I felt the need to escape the small troubles of the world, I would read them myself.
Recently, I discovered the book, Colouring the Fairy Tales of Hans Christian Andersen, and I couldn't help myself, I had to take a peek back into the good old times. Apart from the beautiful design of the cover, which totally caught my eye, I was very pleased to read again the fairy tales that meant so much to me as a child. So once again, I returned under the sea with The little Mermaid and followed her journey to the shore and her visit to the prince's castle. I travelled with the merchant's son to the exotic lands in The flying trunk, listened to The Nightingale's breath-taking song for China's emperor and had a great laugh with Jack the Dullard in his attempt to win the princess' heart and marry her.  Those are just a few of the tales, which made me smile again.
I got mesmerised by the beautiful illustrations that Milana Samarskaya made for each fairy-tale.
The good part is that the fairy-tales are written in a shorter version, making the stories easily readable and understandable. I had a great time reading and colouring some of the illustrations. There are currently two books: one in Danish and one in English – and the good part is that you can colour it – however your heart pleases.
I gladly recommend this book to all the parents, grandparents, aunties, and whoever has children in their care, they can have a great time colouring the book together. Or to anyone who simply wants to delight him or herself, and escape for a little while into the realm of Hans Christian Andersen's fairy-tales.
Useful Information:
Issued by: Detegn
In English its title is: Colouring the Fairy Tales of Hans Christian Andersen
ISBN: 978-87-993925-5-1
Price: DKK 150