Meet Amadeus at the Royal Theatre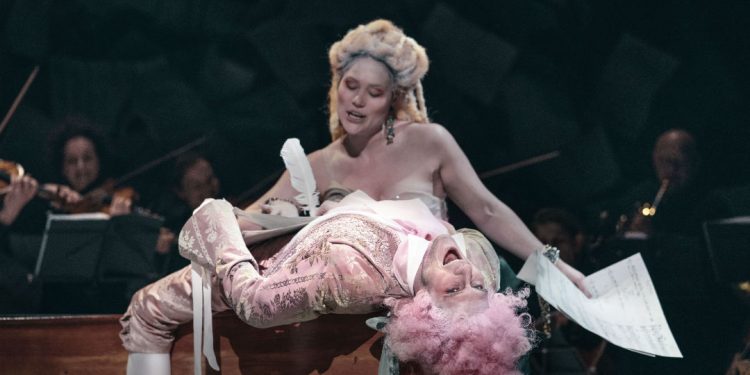 A magnificent and mesmerising play performed with eloquence at Copenhagen's Royal Theatre. Peter Shaffer's modern classic, Amadeus is being staged by the Director of the Royal Danish Theatre, Kasper Holten, and is a marvellous introduction to Mozart's life, talent, music and tragic death.
The article continues below.
By Bente D. Knudsen   Picture: Camilla Winther
With an incredibly effective but simple stage setting, combined with great robes and magnificent music, Kasper Holten has created his version of the classic play by combining the arts performed by the royal theatre.
You will watch the royal orchestra as they walk around ON the stage rather than sitting in the orchestra pit, playing Mozart's pieces by heart. Ballet dancers and opera singers will enchant you as they perform in selected scenes as part of the play.
And yes, the speak is in Danish, so you will need at least some knowledge of the Danish language, and the plot and storyline, however, the voices are loud and clear, and there is a great deal of monologue.
The article continues below.
The story begins in Vienna in 1781, where the court composer Salieri first meets young Wolfgang Amadeus Mozart.
Despite Mozart's infantile, obscene and shocking behaviour, splendidly performed by young star Simon Bennebjerg, Salieri realises that Mozart is gifted with the unique musical talent of a true genius.
Salieri is enraged that God (to whom Salieri in his youth prayed for help to become a famous musician) has bestowed upon Mozart the talent he has so desperately desired. He vows to supress and even destroy Mozart to save himself.
And thus, the plot unfolds.
Performed at the Old Stage on Kongens Nytorv in Copenhagen until the end of February 2019.