Meet an amazingly talented Danish Painter: Anna Ancher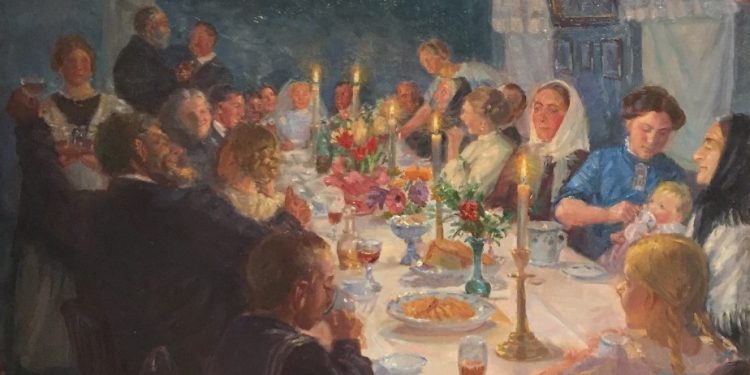 She was a member of the famous group of painters "Skagensmalerne" in the 19th century. For the first time her works of art are presented in a huge retrospective exhibition; not to miss this winter.
The article continues below.
By Bente D. Knudsen and Lene Terp Knutzen, art historian
You may have heard of or seen works of art by the famous Nordic painters who, inspired by French impressionism, broke away from romantic landscape paintings.
In Denmark, they are just known as Skagensmalerne.
Anna Ancher (1859 – 1935) belonged to this group of avant-garde French-inspired artists in Denmark and throughout her career she experimented with light, colour, materials and new elements of style spreading from the rest of Europe.
Especially, she was fascinated by play of bright tones of pink, purple and yellow and this palette was a different choice from her colleagues in the Nordic group.
They were actually a surprisingly modern group of both male and female painters whose two famous painters, P.S. Krøyer (1851 – 1909) and Michael Ancher (1849 – 1927), founded the group that also included other Scandinavian painters.
Anna Ancher played a central role in the artists' colony in Skagen around the year 1900, but the scope of her oeuvre went far beyond that. In her paintings, Anna represented daily life and she drew on experiences from friends and family.
Her favourite subjects were found in her near surroundings, the home, the world of women, and children.
The article continues below.
Amongst the group, Anna Ancher was the only one who grew up in Skagen. Before Anna got married, she found a private teacher in Copenhagen, who believed she was truly talented.
At that time, it was not possible to gain access to the Danish Academy of Art as a female artist.
She spent six months in Paris to learn about more complex ways of painting. Some of her paintings can be compared to the work of the French impressionists in the way she puts light into her colours.
But her experiments with colour and traditional shades of peasant interiors in ochre and burnt Siena sat her indeed apart from her contemporaries.
In 1880 she married Michael Ancher. They stayed in Skagen until their death, Michael and Anna's only child, Helga, was born in 1883. Her most famous work is of Mrs Ane Brøndum painted in the blue room, 1913.
The article continues below.
Amazing light in her paintings
Almost 100 years after her death this retrospective exhibition is the largest presentation ever of her work and for once the focus of her story is not one of the myths and colourful anecdotes connected to her role as the wife of Michael Ancher and thus one of the principal figures amongst the Skagen painters.
Instead, and finally one could add, this exhibition focuses on her line of work in a larger international context and rightfully shows her amazing talent of catching everyday situations and how she, by adding light to her motives, virtually drags her viewers into the paintings.
In such a way that it seems as if the scene was taking place live right in front of them instead of being attached to a canvas.
The focus in the many works of art exhibited is to show how Anna Ancher explores light; different motifs and themes range from her early try-outs to her later more radical and self-assured use of it in her paintings.
It's a delightful exhibition, full of all aspects of life but in an optimistic way.
Don't miss a good point by hurrying through the exhibition hall. Give your visit time. Stop for a moment and take a closer look at Anna's figures.
Guess yet another of her favourite motifs. Light. Sometimes light became even more important than other notable figures. Then think beyond the visible.
Can this light mean something? What could it have meant to her? Does light have a special meaning to you?
In art there is often more than meets the eye!
Pictures: SMK and private from the Anna Ancher Exhibition at Skagens Museum
The article continues below.
Exhibition facts:
The exhibition was put up during the outbreak of COVID-19 in the spring 2020 when it eventually had to close.
During July and August 2020 it was on show in Skagen at the Skagen Museum and now Statens Museum for Kunst (SMK) in Copenhagen has managed to get it back, enabling all those disappointed in the spring to get a chance to see it.
It is hugely popular and therefore SMK recommends that visitors book a timeslot, this can be done online at the same time as buying tickets. The time slot is free and only sets limits for entry to the Anna Ancher exhibit, not on the time spent inside.
Opening hours to Anna Ancher: Tuesday to Thursday from 10:00 to 20:00 and Friday to Sunday from 10:00 to 18:00 until 31 January 2021.
About Skagenmalerne
In the 1870s, the French Impressionists were known for their spontaneous brushstrokes and for completing their paintings in the open, outdoors. In the late 1870s, the artists´ colony that emerged in Skagen followed the new fashion to complete paintings in front of the subject.
The French called it: en plein air, meaning in the open air. This kind of authentic representation and choice of natural scenery became part of an uprising against the traditional European landscape painting.
Skagensmalerne had their heydays around the 1880s and settled in Skagen were they found themselves amazed by the colour of the sky as well as the light that changed throughout the day.
Greatly inspired by the Naturalism and Realism in French painting, they freed themselves from the academic traditions of the past.
Their common aim was to eternalise the spectacular scenery as seen through their eyes and instead of romanticising landscapes like the old masters did, they decided to depict real nature.
Support our magazine with a contribution of any size
We hope that you enjoy the information, insights and inspiration that we provide. We are a small team and we would like to keep delivering high quality, interesting articles for you to enjoy and your support will help Your Danish Life to continue to produce relevant content for expats in Denmark.
We do not want to put up a pay-wall, so we need your support and if you find our content relevant and worthwhile, we would value any contribution, however big or small, as a token of your appreciation of our efforts.
How to support:
Transfer any contribution to our bank account at: Your Danish Life/ Danish Expat Media Aps
Danske Bank Account number: 3409 11405673
IBAN: DK68 3000 0011 4056 73
or MobilePay to 2144 1224
Message: Support