Meet the Queen when she officially ends the royal yacht sailing season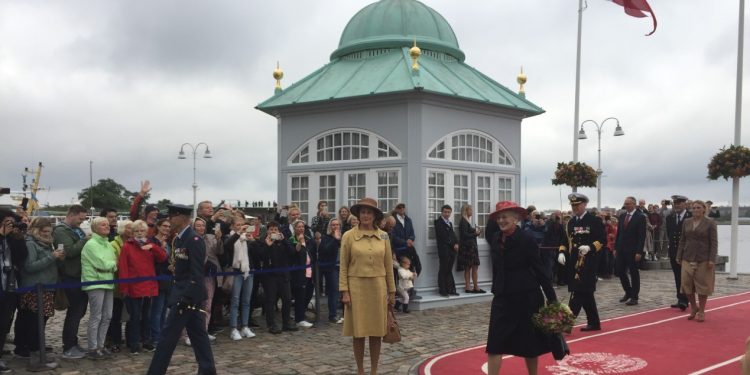 The beginning, and end, of the royals' sailing season with their yacht Dannebrog is a festive moment. On 14 September at 15:00, the Queen will officially "leave ship" to mark the end of the 2022 sailing season.
The article continues below.
By Bente D. Knudsen
Queen Margrethe will take a small motorboat out to Dannebrog from Nordre Toldbod at 12:00, this is the area with the cute small round houses standing on Langelinie, next to the HQ of the Danish shipping company Maersk.
On board Dannebrog she will meet with staff and officers to take official leave of the crew, thus ending the season's sailing.
At around 15:00 she will leave again, and be taken back to Nordre Toldbod by the small motorboat.
As she leaves Dannebrog she will be saluted with canons fired from the naval base at Sixtus Batteri on Holmen.
If you are standing at Nordre Toldbod, you will be able to see and hear them, even all over Copenhagen the canon shots can be heard.
From here she will be driven by car to Fredensborg Slot, where she has taken up residence for the time being.
Fredensborg Slot is the Queen's favourite residence, and she stays there for several months of the year during spring and autumn. You can still visit the park at Fredensborg castle even while the Queen stays there.
The royal yacht Dannebrog officially belongs to the navy but is put at the royal family's disposal for six months every year.
The article continues below.
Dannebrog was built in 1932 at the then existing shipyards of Copenhagen (Orlogsværftet), this more modern ship replaced the former one in service until then – the old Dannebrog dated back to 1879.
The yacht has a crew of 55, all of them naval personnel as the ship is officially part of the Danish naval fleet. When in official use, a further staff of 27 from the Royal household and up to 14 passengers are added to the crew.
The yacht is 78m long and 10m wide. Dannebrog has visited most Danish seaside towns and harbours, and sailed to Greenland, the Faroe Islands, Britain, Norway, Sweden and even Greece to act as royal residence for the Danish royal family's many trips around Denmark and abroad.
Dannebrog will be back in service again in April 2023.