More coronavirus restrictions in the Copenhagen Area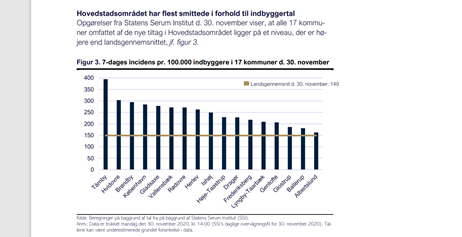 Copenhagen City and 16 surrounding municipalities face more measures starting on the 7 December to curb spread.
The article continues below.
By Bente D. Knudsen
Danish Health Minister, Magnus Heunicke, said at the press meeting on 1 December that the rise in spread in the 17 municipalities around Copenhagen was cause for concern.
The municipalities are:
Albertslund, Ballerup, Brøndby, Gladsaxe, Glostrup, Herlev, Hvidovre, Høje-Taastrup, Ishøj, Rødovre, Vallensbæk, Dragør, Frederiksberg, Gentofte, Copenhagen, Lyngby-Taarbæk and Tårnby.
In all of them the rise was seen amongst the youth and young adults; age groups 10 to 29 accounting for 50 percent of the new infections.
The article continues below.
To halt spread before the Christmas festivities with all of its many family events it is therefore the ambition of the public health authorities to test more than 200,000 citizens aged 15 to 25 in order to find those infected and to ensure they are isolated before they can spread the virus further.
Mobile test units from other parts of the country will help the Capital Region reinforce its present testing capacity.
Also, at sports and leisure activities for young people (those under the age of 21), which so far have not had any restrictions imposed, from 7 December and until the 2 January, only 10 can take part in the same sports activity. Music and sports classes from high school level are to be cancelled.
Schools will remain open until the Christmas holiday, however, all cross activities between classes are to be cancelled, classes are to eat int their classrooms.
The article continues below.
For high schools, other youth education institutions and universities, online classes and online exams are to take place wherever possible.
Working from home in general whenever possible is encouraged. The restrictions will run from 7 December until 2 January 2021.
In the whole country the retail sector will be asked to ensure safe Christmas shopping by having longer opening hours and ensuring that less people shop at the same time.
The article continues below.
No news concerning Christmas and the Christmas holiday restrictions was given, however, it is expected that more information will come as the end date of the gathering ban of 10 people on 13 December approaches.
The health authorities underline that the situation gives rise for concern but that it is still under control and the present testing especially focuses on finding those infected amongst the young age group in order to make sure they do not infect their older family members for Christmas.
Support our magazine with a contribution of any size
We hope that you enjoy the information, insights and inspiration that we provide. We are a small team and we would like to keep delivering high quality, interesting articles for you to enjoy and your support will help Your Danish Life to continue to produce relevant content for expats in Denmark.
We do not want to put up a pay-wall, so we need your support and if you find our content relevant and worthwhile, we would value any contribution, however big or small, as a token of your appreciation of our efforts.
How to support:
Transfer any contribution to our bank account at: Your Danish Life/ Danish Expat Media Aps
Danske Bank Account number: 3409 11405673
IBAN: DK68 3000 0011 4056 73
or MobilePay to 2144 1224
Message: Support