Much needed PPE, personal protective equipment on the way to Denmark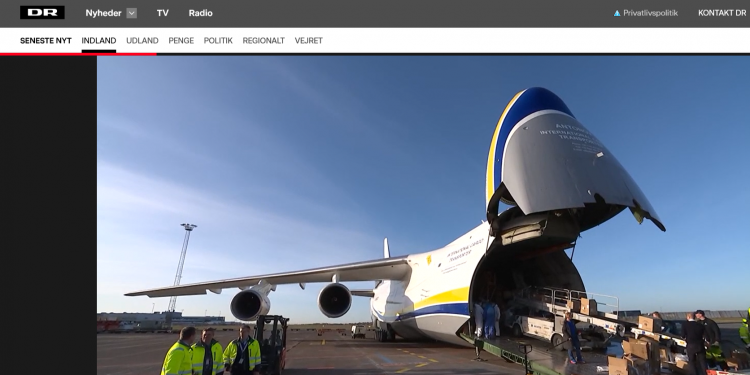 This morning one of the world's largest cargo planes landed with 1,000,000 facemasks and 20 ventilators for the Danish hospitals and medical system.
The article continues below.
By Bente D. Knudsen
In a unique cooperation, the Danish company Maersk has used all of its logistic and other business connections in China to be able to help supply the Danish hospital sector and medical staff with the much-needed PPE (personal protective equipment) as well as ventilators for patients in intensive care units. The 20 ventilators add to the already 950 available in Danish hospitals.
The second, of a total of 24 shipments planned so far, arrived at Copenhagen Airport this morning. The equipment will be taken to the stocks of Region Hovedstaden and from there be distributed to the four other regions in Denmark.
This morning 1,000,000 face masks and other protective equipment arrived, adding to the 100,000 visors and 20 respirators which arrived on 5 April.
The second delivery brought a 70-meter-long Antonov AN-124 cargo flight, one of the world's largest cargo planes to Denmark.
The cooperation between the A.P Møller Foundation and the Danish Regions, named Maersk Bridge, is funded with DKK 20 million by the foundation and DKK 15 million by the Danish Regions.
CEO of A.P.M Holding (they own a majority share in the shipping and transport company Maersk), Robert M. Uggla, says in a press release that he is pleased with this opportunity to use the Maersk network and its distribution and transport competences to help bring about the much needed equipment .
"I have the greatest respect for the work done by the hospitals and when we heard that the medical staff and others working in the hospital sector were running out of personal protective equipment, we felt that we had to do our utmost to use our extensive business network and our purchasing and distribution knowledge to help provide solutions."
The world's largest shipping company by market share, Maersk, has been present in China since 1923 and has extensive business connections within the country.
The article continues below.
Support our magazine with a contribution of any size
We hope that you enjoy the information, insights and inspiration that we provide. We are a small team and we would like to keep delivering high quality, interesting articles for you to enjoy and your support will help Your Danish Life to continue to produce relevant content for expats in Denmark.
We do not want to put up a pay-wall, so we need your support and if you find our content relevant and worthwhile, we would value any contribution, however big or small, as a token of your appreciation of our efforts.
How to support:
Transfer any contribution to our bank account at: Your Danish Life/ Danish Expat Media Aps
Danske Bank Account number: 3409 11405673
IBAN: DK68 3000 0011 4056 73
or MobilePay to 2144 1224
Message: Support
In this video by DR1, you can see the huge airplane land at Kastrup Airport, Copenhagen.