My BEST TIPS for daytrips outside Copenhagen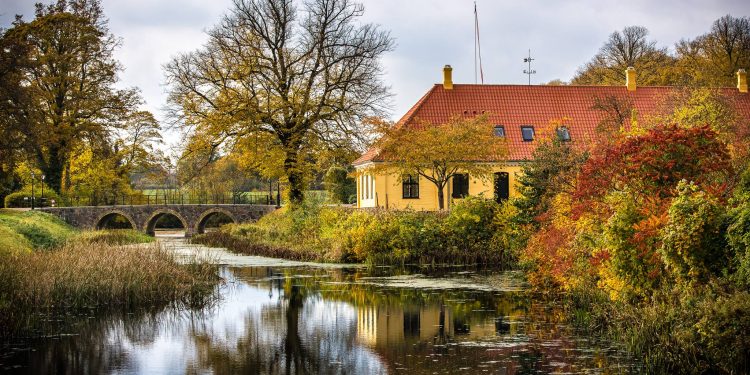 If you are looking for ideas on what to do outside of Copenhagen – find inspiration in our writer's personal experiences in her travels to the delightful towns of Roskilde, Køge and Dragør.
The article continues below.
By Evmorfia Tsakiri   Pictures: Vallø Stift, Evmorfia Tsakiri, Gitte Nielsen, Visitdenmark, Niels Henrik Lindegaard
Are you tired of city life? Would you like to fill yourself with energy, calmness, pleasure, and knowledge, simultaneously, and escape a little bit from your daily life?
I always thought that if you really want to get to know a country and learn about its history, you have to "walk outside" of its capital and discover what lies beyond it.
Undoubtedly, Copenhagen is a "fairy-tale" city, but believe me, the surrounding countryside "hides" a lot of beauty and history not to be missed!
Here are my three top choices for towns and sights to visit, all of them less than an hour from Copenhagen. Will you follow me on these day-trips?
The article continues below.
Roskilde: The Viking city
I must admit, I knew Roskilde from its famous festival, held annually, which attracts many visitors from all over the world. It is one of the biggest rock music festivals in Europe, created by two students in 1971 and starts every year, end of June. But, what about the rest of the year?
Roskilde is a picturesque city, worth a visit all year round. It is located on Zealand, 35km northwest of Copenhagen.
It was the capital of Denmark until 1443, and due to its geographical position, it became the Vikings' hub. For centuries, the town and location played an important part in sea trade. This makes Roskilde one of the oldest cities in Denmark, with a rich history, ready to be discovered.
Once you arrive at Roskilde, you can go by car or train, start your daytrip by walking around the old streets to explore the historical city centre, with its many shops and interesting buildings, including the Roskilde Palace, which hosts the museum of Contemporary Art.
However, my advice would be to invest most of your time in visiting the two important historical attractions.
First of all the unique Cathedral, which since 1995 has been included in UNESCO's World Heritage Sites list and stands as the landmark of Roskilde.
The Cathedral took its impressive form after several reconstructions, starting from Harold Bluetooth – the Viking king – who built the first wooden church. Its present brick shape, which took form after more than 100 years of changes, subsequently became a remarkable inspiration for the constructors' community in Scandinavia.
The interior of the Cathedral is marvellous and astonishing, with a macabre beauty, since more than 40 Danish kings and queens are buried there, even Queen Margrethe's tomb has been prepared.
Her late husband HRH Prince Henrik was to have been buried here as well, however, he chose to be cremated and have his ashes split in two and spread over the Danish sea and in the royal familie's private garden at Fredensborg Slot.
Ticket prices: DKK 60 for adults, free for children up to 17 years old. For opening hours and other information, check the website visit.roskildedomkirke.dk.
Leave the Cathedral and walk down to the harbour; here you will be attracted to the famous Viking Ship Museum.
The museum houses five different kinds of original Viking ships; all of them have been dug out of the mud, they were buried at the bottom of Roskilde Fjord.
They date back to the 11th century. Recent dating shows one of them was buildt with timber that came from Ireland, others from Norway, showing the range of the Viking's many trips. They were sunk on purpose to close off the entrance to Roskilde Fjord, for years they lay there until it was decided to build the museum to preserve them.
You will also have the chance to visit the boatyard, where you can admire the exceptional art of reconstruction of prehistoric ships using only Viking tools and methods.
Furthermore, the awesome exhibitions on maritime history, the large collection of boats and the many activities the museum offers, will complete this beautiful journey through the Age of Vikings and their maritime life.
There are various entrance fees depending on the season, so check out www.vikingeskibsmuseet.dk for more information.
After the whole tour, do not forget to spoil yourself with a delicious meal at restaurant Snekken next to the Viking museum. The atmosphere is beautiful and the view to Roskilde Fjord spectacular, rewarding you with tranquillity and relaxation.
You can find more details, the menu, or make your reservations at www.snekken.dk. 
Unfortunately, at this date of posting ( the 27 October 2022)  the restaurant is closed due to water damages, check on their website if they have been able to open again before you go.
The article continues below.
Køge: The oldest market town
Located 39km southwest from Copenhagen, Køge is an ideal "daytrip" choice for those who love history, architecture as well as those who just want to breathe fresh air and relax. You can either drive to Køge or take the S-train, line E, which connects it with downtown Copenhagen. You could even take your bicycle with the train and cycle around.
Køge is also one of the oldest towns in Denmark as it dates back to 1288. Due to the location of the town and its harbour, it was the most important market town during the middle ages. That you are visiting, what used to be an important trade centre, becomes immediately perceptible as you start wandering through the old town with its buildings and exquisite architecture.
In Køge, you will find the some of the most well preserved half-timbered buildings, with even the oldest one in Denmark – dating back to 1527.
As you walk down to Nørregade, your attention will fall on a very old house from 1619, different from those you have seen so far. This is the Køge Museum, which invites you to step inside and discover what hidden treasure from the past its exhibitions presents.
"Gifts from the Past" tries to give answers to key questions about past life and the way societies were formed. Answers, which are revealed by studying the clothes, the architecture of the buildings and even more the way people were buried and the graves used. Ticket price for adults: DKK 90 including iPad guide. For Children (Under 18): DKK 40 Go to website of the museum at www.koegemuseum.dk to plan your visit.
Close to Køge Museum and in the same street, if you are fond of artwork in public spaces, you can visit KØS museum. This museum gives you the opportunity to learn about the whole preparation of these pieces of art.
It includes a large collection of 10,000 sketches, models and preliminary artworks before the final artwork makes its official appearance in the public location. Check out www.koes.dk for more information about opening hours and ticket fees.
If you are tired enough, then you can relax and enjoy your meal or coffee in one of the coffee houses and restaurants located on Køge Torv, the main square, one of the largest in Denmark. You will be in good company with King Frederick VII, whose statue dominates the centre of the square!
The article continues below.
If you have more energy – you should certainly explore the beautiful castle, park and castle inn of Vallø Slot.
The old renaissance castle used to be a foundation supporting unmarried noblewomen, who could live for a modest sum in one of the castle's apartments.
In modern times, the apartments and former workers' houses can be rented and constitute unique locations. The whole area is beautiful and set in green and picturesque surroundings.
The park is open to the public from morning until sundown – and a delicious meal can be enjoyed from Wednesday to Saturday (evening only) at Vallø Slotskro.
Nine recently refurbished rooms enable you to stay overnight too.
If you visit Køge from April to October, you could also combine this trip with a visit to the Cold War Museum located at Stevns (about 30 minutes from Køge by car or train to Rødvig). If you are interested in visiting the Koldkrigsmuseum Stevnsfort, you can find details and more information in our article here
The article continues below.
Dragør
It was my first day-trip here in Denmark, since Dragør is easily accessible from the capital, located only 12 km from Copenhagen, on the coast of Amager (the island with the airport right next to Copenhagen).
You can go by car, bus, or even bike if you are fit enough, to reach the lovely village. The village is actually one of the best-preserved villages in Denmark with 76 houses listed as historical heritage sites.
Dragør was founded by Dutch settlers in the 12th century and rapidly became one of the most important fishing ports at the time, especially for herring.
The old picturesque harbour, which was, in the past, the second – biggest one around Denmark, constitutes a highly recommended starting point for your trip.
You will be mesmerised by the historical buildings, exuding the good times and importance of the harbour in the olden days, and of course, you must visit Dragør museum.
At Dragør museum, located in a beautiful old house from 1753, you will have the opportunity to look inside the historic captains' houses and go on board the fishing vessels, making you fully understand the special history of the small village.
The admission price is 40DKK and free for children. For more information, visit www.museumamager.dk.
Get lost in the unique, impressive beauty of Dragør by walking through the lovely cobblestone paved streets and small cobblestone paths.
In these delightful alleys, full of yellow-painted houses with the traditional thatched roofs, built in that special Danish style, your mind will tell you that you are walking around in the midst of a fairy tale story.
Dragør offers alluring shops and restaurants, where you can relax and enjoy your coffee/meal before leaving this great little village.
[