My favourite cycling route through Copenhagen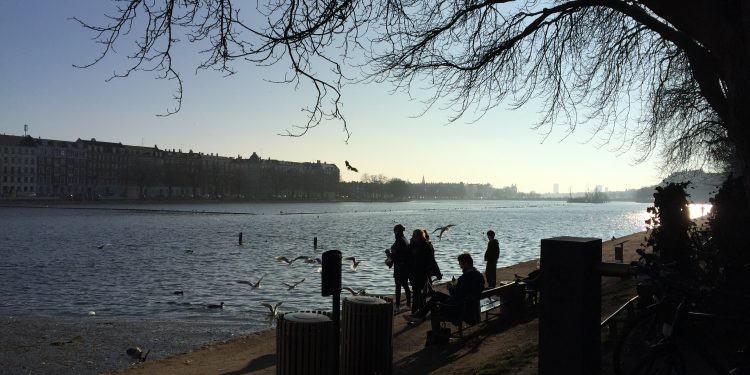 When I first moved to Copenhagen 30 years ago, cycling along the lakes, "Søerne", on the non-traffic side, was not allowed. We did it anyway, feeling guilty all the time, but still preferring to use this green ride.
Since then, all of the lanes along the lakes have been opened up for cyclists and today it is one of my preferred cycling routes when crossing from the Østerbro to the Vesterbro side of Copenhagen.
The article continues below.
By Bente D.Knudsen  Pictures: Private and Bettina Jansen
Beginning at the end of one of the lakes is actually a good starting point for a Copenhagen round trip on a nice sunny day. As most of the route is on cycling lanes it is quite safe for children (experienced cyclists from 10 years of age) or less experienced adults.
Start at Sortedam Dossering, the lake closest to Østerbrogade – maybe with brunch sitting outside under the chestnut trees at one of the coffee houses lying along the banks of the lake.
Continue along Sortedam Dossering and pass under Fredensgade and Nørrebrogade. If you have the time, make a stop and take a pedal boat on the lake Peblingesøen (subject to weather of course) and have a drink at one of the bars located along the lake here.
Continue until the end of Peblingesøen, cross over Åboulevarden and along the last lake, Skt. Jørgens Sø until you reach Gammel Kongevej. Now you are in Frederiksberg, an independent municipality and not part of Københavns Kommune.
The article continues below.
Y
ou turn right and stay on
Gammel Kongevej
until you have Svanholmsvej on your right hand side. Here you must cross to the other side of Gammel Kongevej and take
Værnedamsvej
.
Experience the French atmosphere here, influenced by the location of the French School in this street. Many of the cafés and restaurants have French speaking waiters and a very French menu.
Continue until the end of it where you reach Vesterbrogade. Here you have to cross Vesterbrogade and go back towards the city centre down Vesterbrogade until you reach Vesterbro's Torv. Turn right down Gasværksvej, continue along it until you reach Halmtorvet.
The article continues below.
Here you can choose to cycle through the old meat packing district, Kødbyen, and stop at one of the numerous bistros, bars and restaurants that have grown out of this area after the meatpackers left.
It used to be a toll free zone, where you could only pass through the gates if you had a business moms (VAT) registration.
Whichever way you go through, you will find Dybbølsbro/Dybbølsbro station and cross over it to Fisketorvet, the huge shopping mall located along the harbour.
Here you take your very own bridge, Cykelslangen, virtually the bike snake, named after the meandering bridge, which zigzags along office buildings and over the harbour canals.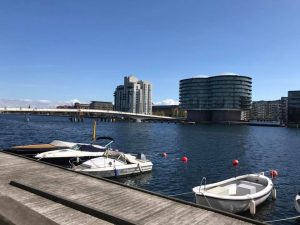 Take Bryggerbroen, also for cyclists and pedestrians, and reach Islands Brygge, a new, very fashionable urban district, which used to be full of small industries and a large corn silo.
The small industries are long gone and the corn silo has been transformed into a very trendy residence with luxurious apartments that have spectacular views of Copenhagen harbour and city.
Ride along the harbour canal past Havnebadet, you can take Langebro and cross over along H.C. Andersen's Boulevard, past Tivoli and at the end reach the lakes again and head back to your starting point.
Or you can cross under Langebro, still following the harbour canal, it will make a sharp right turn (or you can cross the bridge over the small canal), this will take you to Christiansbro Torv, passing the quaint half-timbered houses along Gaden Oven Vandet.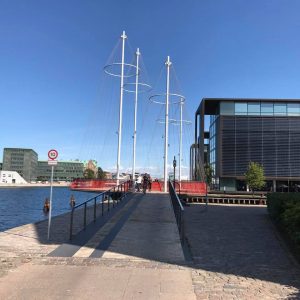 From Christiansbro Torv, head back toward the city centre, over Knippelsbro.
Turn right at Havnegade, you will have Børsen on your left hand side, continue past Danmarks Nationalbank (the Danish national bank), turn left up Niels Juhls gade to Kongens Nytorv and continue around it until you reach Bredgade.
If you are hungry or thirsty, have a snack at Nyhavn, before you continue along Bredgade. Here you can make a detour and have a look at Amalienborg Palace, cycling around the statue of King Frederik V in the middle of the square. At the end of Bredgade you reach Kastellet.
If you have any energy left, you can make a detour passing through Kastellet to Langelinie, past the little Mermaid and Langelinie Pavillionen, once a renowned restaurant and café, today only open for larger parties and conferences, and head back to Grønningen.
Go up along Grønningen to Østerport station, continue along Dag Hammerskjolds Alle, passing the American Embassy on your way, back to Østerbrogade and the lake of your departing point Sortedam Dossering.
The article continues below.
• On www.ibikecph.dk you can find a digital bike route planner. It can help you get from A to B in a faster way, as it also gives you shortcuts where you are allowed to ride against the traffic in the one way streets in the inner city. It is also available as an app for smartphones. You will have to put in several of my suggested way points, as my suggested route may not be the fastest and the route planner is set-up to take the fast one and not the "touristy" one.
• Remember You can take your own bike with you on the S trains for free (it's included with your train ticket), so you could also start from Østerport station.
• If you get tired an option could be to shorten the ride and take your bike with you on the harbour bus (your bicycle is included in your harbour bus ticket).
Support our magazine with a contribution of any size
We hope that you enjoy the information, insights and inspiration that we provide. We are a small team and we would like to keep delivering high quality, interesting articles for you to enjoy and your support will help Your Danish Life to continue to produce relevant content for expats in Denmark.
We do not want to put up a pay-wall, so we need your support and if you find our content relevant and worthwhile, we would value any contribution, however big or small, as a token of your appreciation of our efforts.
How to support:
Transfer any contribution to our bank account at: Your Danish Life/ Danish Expat Media Aps
Danske Bank Account number: 3409 11405673
IBAN: DK68 3000 0011 4056 73
or MobilePay to 2144 1224
Message: Support