New outdoor ice-skating rink in Winter Tivoli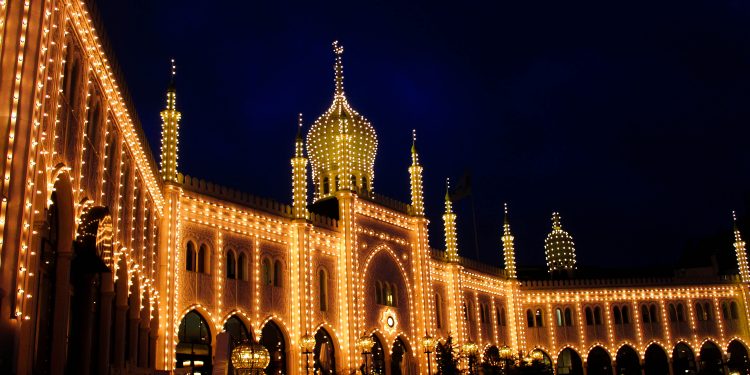 Copenhagen is sadly lacking in outdoor ice-skating rinks and with only the one in Frederiksberg opened this year, as the one on Genforeningspladsen never got ready for this season, Tivoli's addition is most welcome.
By Bente D. Knudsen
This is a first – the opening of Tivoli in February just in time for the schools' winter term holiday, and of course, Valentine's day. However, what will probably delight the most is the added ice-skating facility.
Tivoli has announced that visitors can bring their own skates or rent on site (sizes 29 to 46 are available) at DKK 30. The ice – rink is free to use once you have paid for the entrance to Tivoli.
They have announced a limited renting capacity – so if you have skates maybe bring them to be on the safe side.
On Friday nights you can even join in and dance to the delightful music when Party on Ice illuminates the ice rink to funky dance music.
On Friday 2 February you can learn some new steps or even get a few ice-dance lessons when Copenhagen's Skating Club launches the party.
A max number of 110 people on the ice at a time – as the rink is not maned – so better keep an eye on your younger children is recommended.
On Sunday's from 12:oo to 14:00 at the Polar Party, young children are invited to join in with the all their beloved and well-known children's songs being aired (take note they will most often be sung in Danish).
Many find it expensive to wine and dine in Tivoli – so the first week of the opening take advantage of the Tivoli Dining Week.
Here from the 2 to 8 February you can buy a meal in advance for DKK 215 + a fee of DKK 25 (why they don't just write the full price instead of adding a fee per ticket is incomprehensible) at selected restaurants.  You can get the entrance for DKK 60 when buying it a the same time.
Only by ordering in advance though – not directly at the restaurants!
Not all the rides are open, and a few are part of the off-season ones used also for Christmas.
However, the park will be beautifully illuminated, a delight during these dark months. Open 11:00 to 21:00 ( Friday to Sunday until 22:00).
Winter in Tivoli every day from 2 to 23 February 2018.