Beware of the trend amongst thieves- stealing from cyclists' bike baskets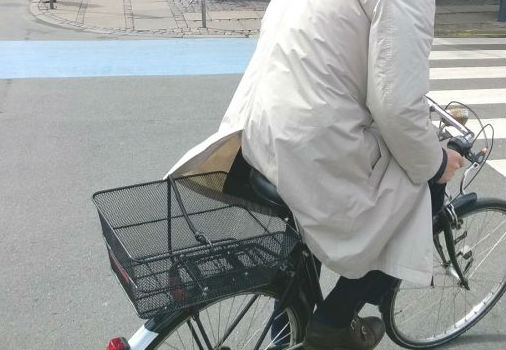 An unfortunate trend has hit Copenhagen and to some extent other larger cities in Denmark. Stealing from cyclist's basket while they are waiting at a red light crossing.
By Bente D. Knudsen
Despite the campaign launched in May to help increase cyclists awareness of these kinds of thefts, cyclist still need to take care to protect their belongings.
It is the the alarming new trend amongst thieves – stealing from cyclists' baskets or bags – while they are unaware and waiting for the traffic light to change.
Not a new phenomena, however, from a figure of 42 thefts from cyclists' bike basket in 2015, this has risen to 83 in 2016, which was the reason for the 2017 spring campaign, a cooperation between the Copenhagen Police, The Danish Cyclists' Federation and the Crime Prevention Council.
"What typically happens at the traffic lights in Copenhagen, is that here there is always a bit of stress or uneasiness around as people are waiting in a crowd, making cyclists lose focus on their possessions.
This makes it easier for thieves to extract your bag or your visible laptop from your bag- and then they are gone", says Jakob Søndergaard from the Copehagen Police department to Danish media TV2.
The article continues after the ad
Copenhagen Police  warns cyclists to protect their possessions by closing their bags so no values are visible, or even covering the bicycle's basket with a small net.
In general, pick pockets and petty theft is a much bigger problem in the large Danish cities compared to a few years ago.
The problem is now so big, that the Metro warns about the problem on their TV-screens and information boards.
One could say that was has been common practice in many other large European cities for many years has now reached peaceful Denmark.
As a travel experienced expat, you are probably used to taking protective measures when travelling, however now, you must also be aware when cycling in Copenhagen.
The latest figures show an increase between 4th quarter 2015 to 4th quarter 2016 of 47 percent for Copenhagen city, 39 percent for the Copenhagen Region and 22 percent for the whole country of general petty theft and pick pocket reports.
The article continues after the ad
Reports of petty theft/ pick-pockets from bags, pockets and luggage
Greater Copenhagen Region
Copenhagen
Total all of Denmark
January-March 2015
7,605
6,076
January  March 2016
10,569
8,946
Percentage increase
39 %
47 %
22 %
Police Advice on what to do to protect your belongings
A victim of petty theft is often someone who owns a possession of value to pick pockets – so do not flash/expose your valuables such as your purse, expensive watch or jewellery, smartphone or laptop.
Keep an eye on your valuable possessions – hide them somewhere difficult for others than your self to access.
Be suspicious :If a complete stranger wants to talk to you or touch you – keep an eye on your possessions unfortunately this person may not be what they seem.
In a crowded area always be attentive to your surroundings.
If someone is trying to rob you shout and make a noise immediately – this alerts others on site to what is going on and could scare of the thief.
If you are robbed, or are witness to a robbery, always call 114 (this number is to the local police) if urgent/acute you can also call 112.