No new three starred Michelin restaurants in Denmark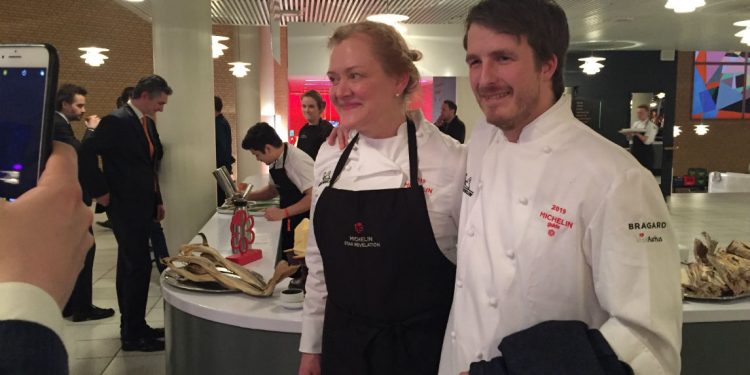 First time ever, the Nordic Michelin 2020 award ceremony took place far north in the small Norwegian town of Trondheim, who in 2019 appeared in the guide for the first time.
The article continues below.
By Bente D. Knudsen   Picture: Inger Stokkink
They were certainly delighted in Trondheim, being the 2020 award ceremony town has put this rather unknown (at least in the global sense) nordic town on the world map. Norway is getting more international attention, with the last Netflix Nordic series, Ragnarok, taking place in the hidden small town of a Norwegian Fjord.
The 2020 Michelin Nordic Guide is something like the Oscars to chefs around the Nordic area. In the past years a range of new restaurants gained their first star, something which has really benefited not only them but also their local suppliers.
This year Denmark did not progress at the Michelin ceremony, as a couple of restaurants lost their stars, and there were few surprises in those who got new ones.
One star means that it is a really good restaurant in its category, two stars means it is worth the detour, and three stars that it is worth the journey. A 'bib', is a mention for giving good value for money, and several restaurants were awarded a new bib.
The article continues below.
New in the Nordic Michelin 2020 Guide is however a new symbol where those at the forefront of a sustainable gastronomy highlighted.
At the launch event Gwendal Poullennec, International Director of the Michelin Guides said:
"Today, sustainability is moving increasingly to the forefront of people's mind, and nowhere more so than in the Nordic Countries, where they have really embraced sustainability as a way of life. Nordic chefs lead the way when it comes to focusing on local ingredients; taking on a zero-waste, nose-to-tail approach; and reducing both food and packaging waste. They are setting the standard for the rest of the world to follow."
If you are looking for outstanding meals around Denmark find here the 2020 selection:
3 stars:
Geranium (Copenhagen)
2 stars:
New Alchemist, Copenhagen
New ( 1 in 2019) Jordnær, Gentofte
Noma, Copenhagen
Restaurant AOC, Copenhagen
Henne Kirkeby Kro (South Jutland – located in Henne just 30 minutes from Esbjerg)
Kadeau, Copenhagen
The Faraoe Islands:
Koks, Thorshavn
1 star:
Copenhagen area
Aloutte
108
Clou
Formel B
Kiin Kiin
Kokkeriet
Kong Hans Kælder
D'Angleterre – Marchal
Relæ
Søllerød Kro (outside Copenhagen in Søllerød)
Studio at the Standard
Bornholm:
Kadeau (located in Åkirkeby )
South Jutland:
MeMu, Vejle
Ti Trin Ned,Fredericia
Zealand:
Hotel Frederiksminde (located in Præstø)
Slotskøkkenet located in Hørve/Dragsholm Slot
Aarhus:
Domestic
Frederikshøj
Gastromé