Nordhavn keeps growing and opens new leisure facilities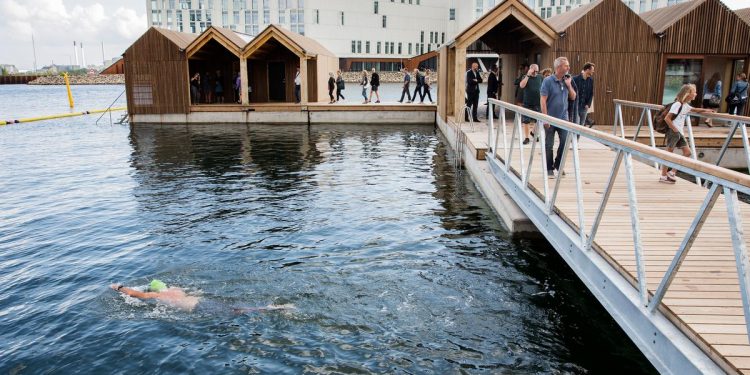 On Monday 19 August, a new floating activity house was inaugurated in Copenhagen's 2150 district of Nordhavn.
The article continues below.
By Bente D. Knudsen  Pictures: By & Havn
Nordhavn is being built in a huge harbour area, which formerly was restricted to public access as it was a toll-free area and housed a range of industrial and harbour activities.
Therefore, the new residential, office and shopping district is built with canals and "islands", never far from the water and a panoramic sea view.
The new activity house reflects this aspect; it is built as a floating construction and placed in the canal next to the area known as Sandkaj.
The house is to be home to the association Nordhavn IF (IF is short for idrætsforening, the Danish term for sports association). The ambition of the municipality of Copenhagen is that the new house will support the growing sports activities in the area.
The floating activity house will be home to total of 12 associations all established since 2016 under the name Nordhavn IF.
The article continues below.
The facilities include a sauna with sea view, a large terrace with access to the water, toilets and shower facilities, as well as locker rooms and changing facilities. The 152 m2 house also has room for a large meeting and activity room where the members of the associations can gather.
A large tree terrace runs along the side of the house to which there is public access and there is also a public toilet for the disabled.
"We are looking forward to getting for the first time an area or "home" for all the sports associations' activities, which can support the growing interest to be part of the sports and association life in Nordhavn. The inauguration of the floating activity house is the result of a strong and constructive teamwork. We have been involved from the very beginning (Editor's note: of the planning and construction process) and we hope that the great result can inspire to find other similar solutions at other locations in the area, as there will be more and more residents and associations in Nordhavn, "says chairman of Nordhavn IF Peder Nedergaard.
In connection with the establishment of the floating activity house, the adjacent bathing zone has been expanded to include a 50-meter swimming area as well as a small island/platform to which bathers can swim out for a rest or to play.
The floating activity house is owned by the City of Copenhagen who will run it together with Nordhavn IF.
If you are inspired to try a new water sport while living here, you can find more information here