Nordic whale watching – an amazing weekend break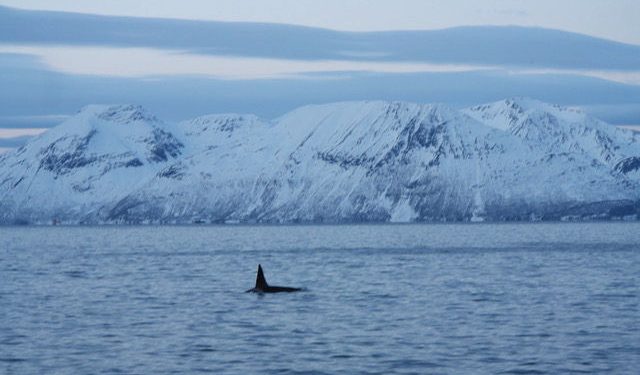 Spending a day out at sea in the Arctic in winter might sound crazy, but from the end of October through to the end of January, millions of herring swim in Northern Norway's fjords and with them, come whales. Orcas and humpbacks gather to feed, making one of nature's most amazing sights.
The article continues below.
Pictures and text by Pippa Thomsen
With two budding marine biologists for children, whale watching was at the top of our bucket list for our time living in Scandinavia. At the end of November, we flew up to Tromso for a weekend with the hope of seeing some whales.
You might think that Danish winters are dark but they're nothing compared with the Arctic where there's daylight for approximately four hours a day in late November. This means that timing is important for whale watching as you're not going to see anything in the dark!
This year, the whales are in fjords near Skjervoy, about four hours by road from Tromso.
We set off in the dark at 6:30 and arrived not long after daybreak. Then it was straight onto our boat for a briefing whilst we headed out into the fjord.
Within five minutes, the first orcas had been spotted – a pod of about ten, including males with their distinctive massive dorsal fins. We travelled alongside them for a while, whilst another pod swam along the other side of the boat.
Everyone on board was captivated by the grace and beauty of the animals set against the backdrop of the snowy Lyngen Alps.
The article continues below.
In the distance, we soon spotted the spouting of a group of humpbacks.
We were in luck. Humpbacks do not typically live in large groups but here was a group of more than ten, including a locally famous male known as Half-Fluke because he has only half his tail. These huge creatures let us travel with them along the fjord, cresting through the water and lifting their tails to dive.
As other boats raced after the humpbacks, we returned for a private view of the orcas. Several other pods were now travelling through the water, including two baby orcas, easily identifiable as they stuck right by their mothers and from their orange and black colouring. The famous white and black markings are found on adults, whilst babies are much more orange.
As it started to get dark, the boat headed back to Skjervoy.
We had seen over 50 whales and it was time to warm up with soup and sandwiches.
Everything about the trip was amazing: the sheer size of the whales and their speed and grace in the water; the majestic snow-covered mountains; the quality of the Arctic light and the pure, clear cold.
It's a day none of us will forget and our children are already planning other trips round the world to see more whales.
The article continues below.
Our top tips for a good experience
Environmental impact
We chose a boat that undertakes whale research, and which was hosting students from the University of Alaska, who are researching the impact of human whale watching on whale behaviour.
This meant that our captain maintained a slow, steady speed and kept his distance from the whales to reduce their stress. The researchers used a hydrophone to listen for whale song and we were lucky enough to hear the humpbacks singing but it was shocking to hear the volume of underwater noise caused particularly by RIBs.
Imagine spending four hours a day by a busy road and you have an idea of what these whales are exposed to daily during herring season.
Some companies are less concerned about the whales' well-being and focus on getting as close as possible to the animals, revving their engines and driving at top speed to get a prime view. Other companies offer snorkelling with orcas.
Those boats that race after the whales and drop the snorkellers right on top of a pod only succeed in scaring away the whales so that their customers get a great view of orcas disappearing into the distance.
This is in stark contrast with the boats that travel slowly and wait for the inquisitive whales to come to them.
Clothing
The average temperature in Skjervoy in December is -6 to 0 degrees. Out on the water it feels even colder. Even with a thermal floatation suit (NB these are not typically provided for children) you need to dress properly. Click here to read our guide to dressing for the cold 
Photography
Of course, everyone wants that photo of the orca raising her head ("skyhopping") or the humpback breaching but it's not easy to get a good photo from a moving boat.
Make sure you do your research before you go or better still, look for a boat with a photographer on board – often you receive the professional photos as part of the cost of your trip.
Getting there and getting around
Norwegian, Wideroe and SAS fly from Copenhagen to Tromso via Oslo (around 1h10 from Copenhagen to Oslo and around 2h from Oslo to Tromso). Getting to your accommodation in Tromso is simple: either take the Flygbussen direct from the airport to your hotel or a taxi. Neither needs to be pre-booked.
Whale watching tours can either be booked online in advance, or you can book them at the harbour or via your hotel in Tromso.
We travelled independently, however, there are many travel agents who can organise an itinerary for you.