On a trip to Jutland with your children? LEGO House is worth a visit.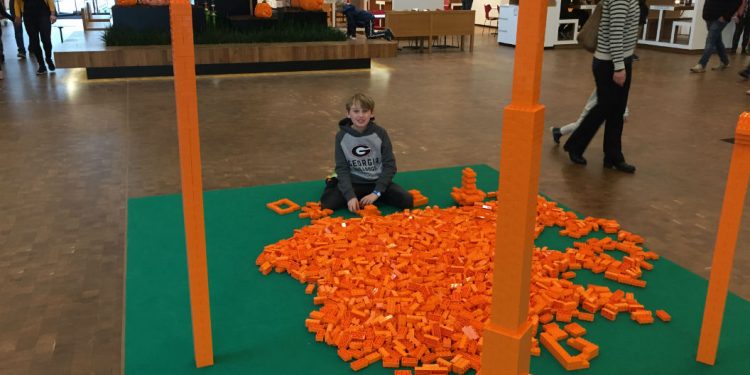 If you always wanted to go to Legoland during the winter, but found out that it was closed, there is a solution: LEGO House!
Pictures and text by Susanne Kee
LEGO House offers a Lego universe, just like Legoland.
But there are differences, which make it even better: it's indoors so you can escape the chilly Danish climate and, not least it is the Lego brick itself that is the focal point.
LEGO House is a gigantic Lego workshop, not an amusement park
Ole Kirk Christiansen created LEGO in 1932 in Billund and the iconic brick became the story of a world-wide successful family owned Danish company.
A few years ago, Lego created the 12,000 square metre Lego House, containing 25 million LEGO bricks next to the Lego HQ at Billund. Designed by the Danish star architect Bjarke Ingels, the building looks like a stack of LEGO bricks.
All the furniture inside is designed to resemble a LEGO brick. So are the tiles in the basement museum. You can't take them apart, though.
For these reasons of course, the house is known as "Home of the Brick", and LEGO House is an immersive experience, with multiple levels of play and "experience zones" for both children and adults.
The experience zones are a mix of simple LEGO building and integrated technology that allows you to explore city building, robots, the magic of movie making, and more.
Employees mill about, complimenting your work, replenishing LEGOs when necessary, and keeping everything tidy.
There are amazing detailed LEGO builds displayed throughout LEGO House, both to marvel at and to provide inspiration to young builders. The LEGO history museum is housed on the bottom floor and contains the story of LEGO.
You can also view an expansive range of historical LEGO sets.
When on a trip, the question is always; where to eat?
LEGO House offers three different dining options, the casual BRICKACCINO cafe, the fancy LE GOURMET, and the popular MINI CHEF.
At the family oriented MINI CHEF, orders are placed using LEGOS and delivered by robots. MINI CHEF does not take reservations, and the wait time can be long.
It is recommended to add your name to the waitlist early and you will be paged by a buzzer when your table is ready.
You may also bring your own food and drinks or visit one of the neighbourhood restaurants, as your wristband provides re-entry throughout the day.
Upon entering LEGO House, you get a personalized wristband.
The wristband functions as both entry ticket and memory saver.
Throughout LEGO House's experience zones there are multiple opportunities to save your work by scanning your wristband. The wristband allows you to take pictures with your Lego creations at selfie stations. When you arrive home after your visit to LEGO House, you can download your memories and videos onto your home computer.
Just remember to keep the wristband and original ticket, as it has the numbers you need to access your memories. There are free lockers, accessible with your wristband, and a gift shop onsite as well.
Practicalities:
Check the website for opening days and hours, as they vary monthly. It is recommended to buy your tickets in advance as you choose a specific entry time, and your desired time may not be available.
Tickets are 229 DKK for adults and children (0-2 is free), but are 30 DKK cheaper when purchased online.
If you go during the summer and plan on visiting Legoland, there is a combination ticket you can buy as well.
More information here.