Once a year Tuborg sends out Tuborg Christmas beer also known as the launch of the annual J-DAY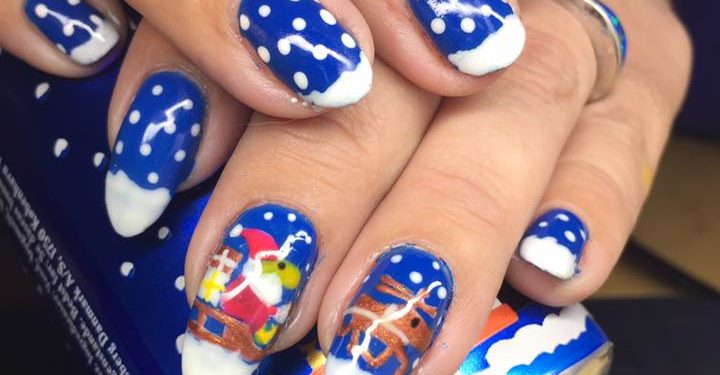 Friday 3 November is J-day, the Christmas beer day. At exactly 20:59, to be more precis, you can take part in this fun tradition, first launched by TUBORG in the 1990's.
The article continues below.
By Bente D. Knudsen    Picture:  Courtesy of Natalia Kure
The J-dag stands for Julebryg. Not just any Christmas beer, but the one from Tuborg.
It's a festive day, and all over the country, Tuborg's nissegirls and boys drive around and make sure that Tuborg Christmas beer is in abundant supply.
On this day, and until sold out (beginning of January), you can buy Julebryg and Christmas beer from other brands in all Danish retail outlets and in a large number of bars, restaurants and coffee houses normally serving beer.
When I was a student, the J-day was always the first Thursday in November – much to the annoyance of schools and universities. As you can imagine, Friday was not a good day to be a teacher!
In recent years, the breweries have been obliged to change it to the first Friday of November to reduce the public disturbance caused by the party day it is.
If you are going out on the 3 November, maybe select, or avoid, the outlets that participate in the special Tuborg J-day event (depending on your actual party mood).
And if you take any public transport late at night, be prepared for happy, maybe even tipsy passengers on their way home.
The article continues below.
Find below the official list of Tuborg participating J-day outlets for all of Denmark.
COPENHAGEN AND SUBURBS
Aloha Beach Bar CPH
Alpehytten
Andys Bar
BARkowski
Basement Bar
Bernies
Bli V
Cafe Guldhornene CPH
Cafe Katz
Cafe Nemoland Christiania
Cafe Sofiekælderen
Christian IV
Cph Downtown
Cucaracha Bar CPH
Da Vinci Bar CPH
Dahl & Dahl
Den Glade Gris CPH
Den Jyske Ambassade CPH
Det Elektriske Hjørne
Farfars Bodega CPH
Floss
Funchs Vinstue
Generator Hostel
Heidis Bier Bar CPH
Ibiza Beach Bar
Jagtstuen
Jailhouse
Kanal Bodega I/S
Kayak Bar
Kiss Kiss
Kongens Bar
Masken Bar og Cafe
McJoys Pub
Mojo
Natcafeen CPH
Never Mind Nightclub
Nørreport Bodega
Proud Mary CPH
Pub & Sport
Rabalder Bar CPH
Sjus Bar CPH
Social Pub
Sørens Værtshus
The Australian Bar CPH
The Dubliner
The Globe
Tyrolia Bier Klub CPH
Tørst Bar CPH
Wall Street Pub
Wessel Kro
Y's Cocktail bar
KØBENHAVN V:
Axelborg Bodega
Bar 42
Blomsten
Cafe Bryggeriet
Cafe Ludvigsen
Cafe Skammekrogen
Cafe Trold
Carls Øl og Spisehus
Grotten
Jernbanecafeen
Klubben
Larsens Plaz
Next House
Old Irish Pub Karaokebar CPH
Oscar Bar og Cafe
Studiecafeen Humlen
The Old English Pub
The Scottish Pub
The Old Irish Pub Vesterbrogade
The Shamrock Inn – The Irish Pub
Zeppelin Cph
København N + NV:
Cafe Heimdal
Baren RHK
Bip Bip Bar
Cafe Castro
Cafe Fuglereden
Cafe Klovnen
Cafe Tjili Pop
KEA – Lygten
Léanowski Bar
Mucki bar
Nørre Bodega
Stefanshus
Studenterhuset Sigurds Bar
Temple bar
Understellet
Western Bar Diligencen
København V:
Axelborg Bodega
Bar 42
Cafe 33
Cafe Bryggeriet
Cafe Ludvigsen
Cafe Skammekrogen
Café Trold
Carls Øl og Spisehus
GAY Cph
Grotten
Jernbanecafeen
Københavns Professionshøjskole
Larsens Plaz
Next House
OIP Karaoke Bar
Oscar Bar og Cafe
Proud Mary
Pub og Sport
The Old English Pub
The Old Irish Pub Vesterbrogade
The Scottish Pub
The Shamrock Inn – The Irish Pub
Zeppelin Cph
København Ø:
Cafe Hermod
Chevys
Lumskebuksen
København S + SV:
Amager Bio
Bullseye
Cafe Langebro
Cafe Engholm
Cafe Femøren
Jaguar Bodega
Kareten
Post Bodegaen
Restaurant Sundby Sejl
The Old Irish Pub Amager
Frederiksberg:
A.V.F. Landbohøjskolen
Alhambra
Alleenberg
Bartof Station
Cafe Viggo
Cafe Bartof
Cafe Domhuset
Cafe Moccador
Det Gamle Posthus
Frederik VI
London Pub
The Old Irish Pub Smallegade
Vintønden
Rødovre + Hvidovre + Brønshøj:
Albertslund Sport Pub
Cafe Bobby
Cafe Claudio
Hos Ramus
Munken Pub
Mac Donalds Pub
Vi ses hos Berg
Valby + Vanløse:
Cafe Cire
Cafe Ålholm Bodega
Hotel Fy & Bi
Nanok
Mølle Cafeen
Snoppy
Kastrup:
Air Pub
Beghuset
Cafe Bredager
Cafe Espersen
Fasan Pub
Papilone
Oksen Bodega
Hellerup + Kongens Lyngby + Gentofte:
Dillingensen
Bryggerhesten
Værtshuset Sankt Peder
Skovshoved Kro
Rungsted Kro
[/infobox]
Århus
Agners Bodega
Alkymia Kemisk institut
Annalises Bar
Apollon
Baren.dk
Bitterbar
Bro Cafeen
Cafe Jorden
Cafe Smagløs
Cafe Århus
Casino Bar
Cirkus Kroen
Den Gyldne Kro
Die Bierbar
Drudenfuss
El Loco
Flintstone Pub
Guldhornene, Århus
Harmonien
Heidis Bier Bar Aarhus
Hos Anders
Hunters Pub
Jacob Skomager
LA Tequila Bar Aarhus
Lava
London Bar
Merchant Room – Tir Na Nóg
Oops
Panenka
Peder Wessel
Pinds Cafe
Pubben
Rabalder Bar
Restaurant Den Hvide Hest
Sherlock Holmes
Studenternes Hus
Søren Bruun
Teaterkatten
The Golden Lion
The Old Irish Pub Århus
Theo's Bar
Tir Na Nóg – Tap Room
To Kolde
Vinstuen
Værtshuset
Waxies
Wilis
Højbjerg + Tranbjerg + Solbjerg + Trige + Tilst + Skødstrup
Bodega Posthuset
Bodega Værkstedet
Bowl n Fun Århus
Restaurant Smedien
Rundhøj Bodega
Tranbjerg Bodega
Aalborg
Cafe Buddha
Cafe Frederiksberg
Cafe Klostertorvet
Cafe Pollys
Cafe Victoria
Club Moonlight
Den Røde Lygte
Fast Eddies Pool Hall
Fregatten Aalborg
Gl. Aalborg
John Bull Pub
Kulturcenter Fjordbyen
London Pub
Mallorca Bar
Old Games Pub
Rocken
Skotten
Tempo
The Irish House
Ulla Terkelsen
Vejgaard Kroen
Whisky Baren Cafe Alpha
Østerport
Odense
Amy's bar & Winehouse
Askepot
Bar Rar
Bar Raa
Billard 93 Odense C
Boogie Dance Cafe Odense C
Cafe Kræz
Corner
Cuckoos
Den smagsløse
Froggys Cafe
Heidis Bier Bar Odense
Hjallese Puben Odense S
Lørups Vinstue
Marcellos
Mål og Skåål
Proud Mary Odense
Rabalder Bar
REKOM – LA Tequila Bar Odense
Restaurant Carlsens Kvarter
Restaurant Bondestuen
Restaurant Fulgsang
Restaurant Tårnet Odense C
Sir Club
Sirups
Slotskroen
The Old Irish Pub Odense
Tingstedet
Ungarsk vinstue
Vognhjulet Skibhusvej IVS
Wienerstuen
Find more bars that participate in other cities around  Denmark here.
Support our magazine with a contribution of any size
We hope that you enjoy the information, insights and inspiration that we provide. We are a small team and we would like to keep delivering high quality, interesting articles for you to enjoy and your support will help Your Danish Life to continue to produce relevant content for expats in Denmark.
We do not want to put up a pay-wall, so we need your support and if you find our content relevant and worthwhile, we would value any contribution, however big or small, as a token of your appreciation of our efforts.
How to support:
Transfer any contribution to our bank account at: Your Danish Life/ Danish Expat Media Aps
Danske Bank Account number: 3409 11405673
IBAN: DK68 3000 0011 4056 73
or MobilePay to 2144 1224
Message: Support