OPERA FOR FREE at the Royal Danish Theatre's Open Air Tour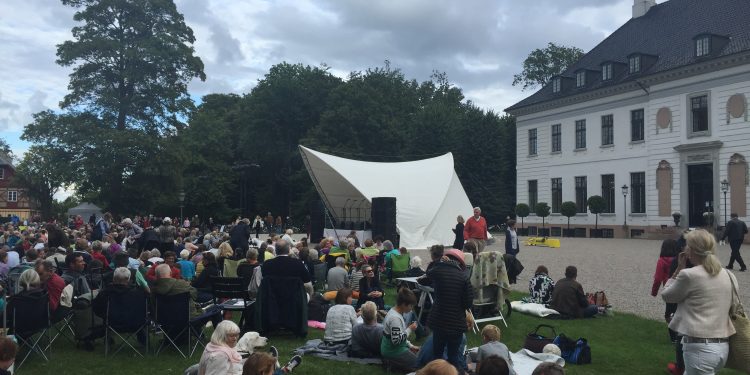 After several years of corona these concerts are back in MAY  and AUGUST. A great opportunity to get a taste of the Royal Danish Theatre's music performances: they are FREE.
The article continues below.
By Bente D. Knudsen
Certainly, if there is promise of a rainfree evening/afternoon, they are crowded but at the same time these are truly great events not to be missed.
They take place outdoors at selected outdoor venues; in parks and other green fields.
As they are on a first serve, first come basis, and every year, since their start 16 years ago, the concerts are increasingly popular, go early to get a good seat.
Bring a carpet or pillows, and of course a picnic and enjoy the music of  Verdi, Johan Strauss and Puccini, amongst others but also more modern with Gershwin musicals on the program.
The idea behind OPERA I DET FRI is to bring classical music out to the public around the country, the venues take place all over Denmark and as they are free, the aim is to entice a larger audience to get a taste of what the Royal Danish Theatre has to offer.
The article continues below.
The performances take place at specially selected venues around the country:
AUGUST
Friday 5 August 2022 at 18.00: Sct. Knuds Kilde, Hjørring
Saturday 6 August 2022 at 18.00: Torvet, Vordingborg
Sunday 7 August 2022 at 18.00: Fredensborg Slotshave/ Mindestenen, Fredensborg
Friday 2 August at 18.00: Anneberg Kulturpark, Nykøbing Sjælland
Saturday 13 August at 18.00: Skanseparken, Århus
Sunday 14 August 2022 at 16:00: Byparken, Esbjerg
This year's program contains both opera and musical to delight your ears, you will find both Verdi, Puccini, Gershwin, Strauss, Heise and Carl Nielsen on the program.
Support our magazine with a contribution of any size
We hope that you enjoy the information, insights and inspiration that we provide. We are a small team and we would like to keep delivering high quality, interesting articles for you to enjoy and your support will help Your Danish Life to continue to produce relevant content for expats in Denmark.
We do not want to put up a pay-wall, so we need your support and if you find our content relevant and worthwhile, we would value any contribution, however big or small, as a token of your appreciation of our efforts.
<strong>How to support:</strong>
Transfer any contribution to our bank account at: Your Danish Life/ Danish Expat Media Aps
Danske Bank Account number: 3409 11405673
IBAN: DK68 3000 0011 4056 73
or MobilePay to 2144 1224
<strong>Message:</strong> Support