Reader event: save up to 30% on warm winter wear at Imarit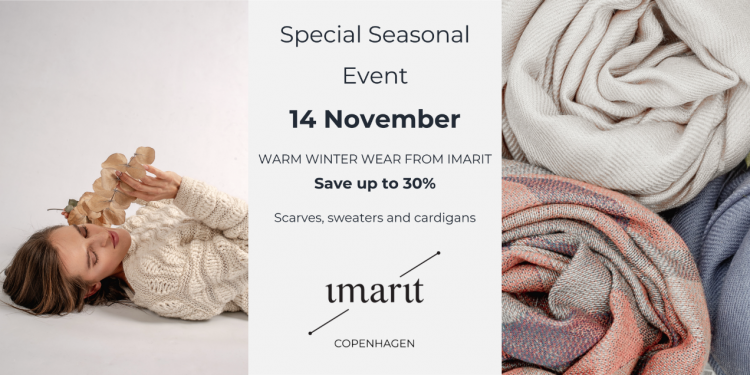 Your Danish Life is proud to present our first reader event together with fashion brand Imarit
Come to our reader event on 14 November at the Imarit Concept Store in Copenhagen and benefit from a special discount of up to 30% on warm winter wear from the 2019 winter collection of scarves, sweaters, cardigans, dresses and ponchos; all made from warm and soft alpaca wool.
Imarit is a fashion brand inspired by the simple, classy and easy to wear Danish fashion style.
"My inspiration came from the fact that I am constantly focusing on how I can keep warm in Denmark," says founder of Imarit, Mayra Navarrete.
Originally from Latin America, Mayra moved to Denmark in 2014 after spending more than seven years in India.
She loves being in Copenhagen, where she lives close to the sea with her German partner, and they both enjoy the easy and much calmer lifestyle compared to the delightful but crowded and bustling India.
However, being used to a very different climate (read warmer) has made her painfully aware of the need to dress with a mind to the ever-changing weather, and much lower temperatures.
"You keep saying it gets warmer in the summer," she says during an interview with Your Danish Life.

"But there is no summer! I dress warmly for nine months and a bit less warmly during three."
Keeping warm is what inspired Mayra to use her background and knowledge of the talented artisans of the Andes and the amazing powers of alpaca wool and Imarit was born as her own brand of warm and stylish women's fashion.
Come to the
Your Danish Life / Imarit
event on
14 November from 11:00 to 19:00
and be inspired to dress warmly with style.
Do bring a friend!
Location:
Imarit Concept Store located at Store Kongensgade 74, 1264 Copenhagen. Find out more about Imarit here.
How to get there:
Metro Cityringen to the Marmorkirken stop, exit and turn left on Store Kongensgade, the store is the fifth store located at number 74. Or take your bicycle.