Renting a Danish summer cottage – find our GUIDE and best TIPS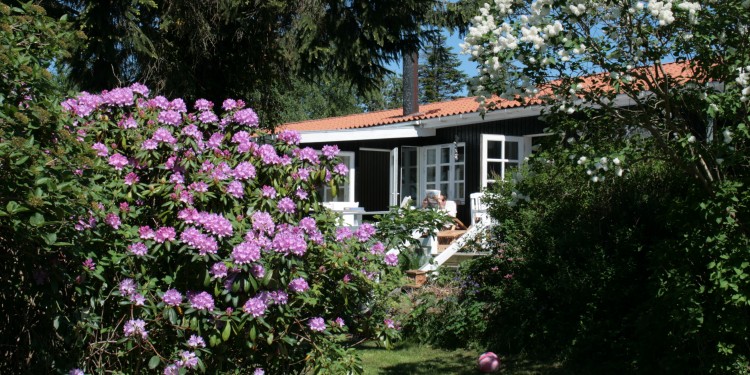 Despite the ease in restrictions and renewed travel possibilites,Danish summer houses are still extremely popular. With a limited selection during the main season, you need to book early to get what you want. Find inspiration in our GUIDE to Danish summerhouses.
The article continues below.
By Bente D. Knudsen Pictures: Maya Navarrete summerhouse with grass roof
Despite being a country where there is rarely more than 60 km to the nearest beach, Danes have a surprising penchant for owning a summer house/cottage in Danish called a sommerhus, literally translated as the summer house.
For a country with barely 5.8 million inhabitants, the number of summer houses is a staggering 200,000.
However, only about 40,000 are available for rent on a weekly basis.
According to the Danish tourist industry this number is much too small to cater for the demand – particularly in the main holiday weeks in July and August, and the current epidemic hasn't made it any easier, already now in January bookings for the summer 2021 are on the rise.
They have been called summer houses since the end of the 19th century despite being used by Danes all year round.
In the 19th century, well off Copenhageners started to move their families out of the city during the summer months to their new residences on the coast north of Copenhagen.
In the beginning it was the arrival of the train running along the coastline, Kystbanen, that opened up the whole stretch of land running along the Øresund coast from Copenhagen's outer rim Svanemøllen all the way up to Helsinggør.
Thus well to do families could spend the summer months outside of Copenhagen, while the working husband could take the train to town.
Later this area was expanded to include the North Zealand coast from Hornbæk to Tisvilde, also called Nordkystvejen.
The trend was not limited to Copenhagen; it also took place in other parts of the country, creating for instance the seaside resort of Skagen at the north tip of Jutland.
Some of these summer residences were nowhere near the typical small wooden cottages found today.
Instead, they were often real mansions, or big houses and those on Strandvejen in the Copenhagen area are now sold as full year residences at astronomical prices.
The article continues below.
The heydays of building summer houses
The big sommerhus building boom came during the 1960's and 70's. The Danish economy was growing and many wanted and could afford a second residence close to the sea to spend their holidays.
The municipalities along the coastline saw an opportunity to create jobs and encourage tourism and started allowing the transformation of rural areas, fields and farmland, into summer residential areas.
In addition, Saturday became a day off, making it possible to use the summer house also during weekends thus adding to their popularity.
During this time, many of the summer houses built were quite simple wooden cottages, typically only 40-50 m2, with just two small bedrooms, a living area combined with a kitchen and a bathroom. They were purchased by middle-class families looking for fresh air and more space compared to their city dwelling.
Protecting the coastline
It was not until 1977 that a coastal zone law prohibited building right next to attractive coastlines; the three-km protection zone meant that any new summer houses had to be built further inland, at least three km from the coastline.
Today the (relatively) few houses with a sea view are in great demand, making people who own one either pass it on to other family members, or let it go making a nice profit on the original price.
The development took place all over Denmark; in Jutland along the North Sea coastline, creating summer towns such as Løkken, Blokhus and Lønstrup.
Large summer house areas were also created south of Aarhus.
Many of the larger Danish islands such as Samsø, Fanø and Anholt, and of course the most famous one Bornholm, also have summer house areas.
The trend since the 1980's has been for larger and more comfortable houses, some with pool and spa facilities.
Also summer house owners often want the same level of comfort in their holiday home as they are used to in their main residence.
Houses are increasingly equipped with designer furniture, bigger kitchens with dishwashers and large bathrooms.
After a heavy dip in sales and prices, summer house sales are picking up again.
The article continues below.
Why expats cannot buy a summer house in Denmark
When Denmark became member of the European Union in 1973, it was able to maintain a regulation prohibiting that foreigners could buy a summer house, fearing that wealthy and more densely populated neighbouring countries would want a large piece of the attractive coastline.
Therefore, if you do not possess a Danish passport, you are not able to buy a summer house. This rule applies to non-EU as well as EU citizens.
Should you wish to do so anyway, you can apply for an exemption from that rule. It's the Ministry of Justice who grants the special dispensation needed.
The assessment would take into consideration an applicants personal, financial, and other types of attachment to Denmark, as well as any special connections to a particular house.
Of the annual approx. 250 dispensations granted, more than 50 percent go to Norwegian citizens.
Support our magazine with a contribution of any size
We hope that you enjoy the information, insights and inspiration that we provide. We are a small team and we would like to keep delivering high quality, interesting articles for you to enjoy and your support will help Your Danish Life to continue to produce relevant content for expats in Denmark.
We do not want to put up a pay-wall, so we need your support and if you find our content relevant and worthwhile, we would value any contribution, however big or small, as a token of your appreciation of our efforts.
How to support:
Transfer any contribution to our bank account at: Your Danish Life/ Danish Expat Media Aps
Danske Bank account number: 3409 11405673
IBAN: DK68 3000 0011 4056 73
or MobilePay to 2144 1224
Message: Support
Renting a summer house in Denmark
All of the 40,000 summer houses available for rent are privately owned homes, owned by Danes, who put up their house for rent a couple of weeks every year.
Some have been converted into luxurious houses with spa and pool, and they are an investment, where the rental incomes help pay off their mortgages.
The first 30,000 DKK rental revenue is not included in the owners taxable income, but only if the owner uses a certified agency to rent out his house.
This legislation has been put in place for a number of reasons; one being that the tourist organisations were complaining that they lacked houses to rent out during the attractive high season in the summer and also to get more control over the black market, as only houses rented out through a certified agency can apply the rule.
Which agency to choose
Forty years ago, most summer houses were rented out by the local tourist organisations.
Today, however, there are a number of large rental agencies offering houses for rent all over the country. There are also a number of regional or local agencies, and the Danish tourist organisations' local offices.
The Danish trade association for summer house rental agencies, Feriehusudlejernes Brancheforening, represents almost 90 percent of all houses put up for rent.
They have made a number of ethical guidelines, which they ask their members to adhere to, but they are only guidelines.
So although they recommend holiday seekers only rent a house through their member agencies, at the same time, they have not provided either quality stamps or other quality marks attributed to the houses available for rent through their members.
They do have a common complaints board, which holiday seekers can contact.
The article continues below.
Find a home on a German or Danish site
For many years, spending the summer holiday in Denmark has had a strong appeal with German middle class families, which is why several of the best-known rental agencies have German websites and German sales consultants available on the phone.
They have names such as Dansommer, Dancenter, Sol og Strand, and Novasol.
The German language website fejo.dk has more than 30,000 houses for rent in their database.
You can also check the Danish website, danishholidayhomes.com, a database of some of the largest Danish rental agencies' holiday homes. Here you will find the price difference for each home depending on the season.
According to the German magazine Geo Special, the 7,000-km coastline and white sandy beaches make Denmark very attractive to German tourists and 80 percent of all rentals are made by Germans.
The article continues below.
TIPS FOR RENTING
Book as early as possible – popular destinations are quickly sold out (this applies all over Europe though).
Avoid the Danish school holiday weeks 27 to 32
The most expensive houses are the ones with a sea view, consider if you really need such a location.
The trade association Feriehusudlejernes Brancheforening recommends their members ensure that someone from their agency is available for at least four hours on the day of arrival and that they have nearby offices open during weekdays.
Check your agency's local office and local office opening hours. The summer houses are all private homes that can vary in quality and equipment and if you have any questions or complaints, make sure you can get hold of someone from the rental agency.
You have to add electricity, water consumption and other costs to your rental price. Depending on the season, this can increase your final bill considerably. The trade association recommends that the rental agencies notify renters about the average expected extra cost. If they don't automatically do so, it is a good idea to ask – to avoid unpleasant surprises.
What kind of holiday are you looking for? Do you want just to relax on the beach, have a barbecue and take an occasional bike ride, or do you also want to do some sightseeing and visit bigger cities?
Check the location, as some summer houses are far away from any real city life and others can accommodate both. Holiday homes on the smaller islands tend to be quieter and less crowded.
Most holiday homes are located in larger holiday home compounds, and if you go during the high season, you will find other tourists and Danes on holiday as well.
The article continues below.
A summerhouse family haven 
For many Danish families their summerhouse is a haven, a special place where they can unwind from the busyness of daily life.
Often they use the house whatever the season as they find it equally relaxing to go swimming at the nearby beach as playing in the snow and having a hot cocoa while the stove spreads warmth during the winter.

Renting off season to accommodate a family visit
Brianna Oehmen rented a summerhouse to celebrate her daughter's first birthday. As they were gathering quite a crowd, a total of 10 people, with family from Germany joining as well, it had to be a large house. The location was important too, with activities for both young children and grandparents.
" We used the Danish Holiday Homes site, and found two large ones. We chose the one close to the city of Helsingør, it also had a good view of the beach. As it was in February, the price was great. The whole family thought watching people swimming in the ice cold water was as exciting as Hamlet's Castle and unpacking presents."