Royal Salute when DANNEBROG leaves Copenhagen Harbour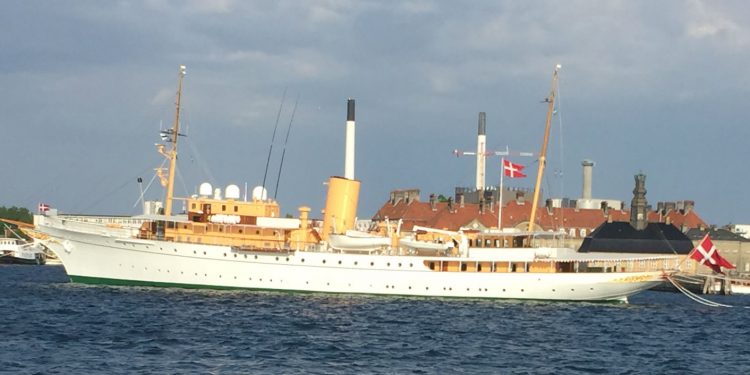 On 2 May, Danish Queen Margrethe will board the royal yacht Dannebrog from the Royal Navy site on Holmen.
The article continues below.
The beginning of the royal cruise season is celebrated in style.
The royal cruise season is when, during the spring and summer season, the Queen and Crown Prince couple use the royal yacht to visit Danish towns.
This year the Queen's planned trips have been postponed due to her recent back operation, however, she is expected to sail later this year.
Until leaving the harbour for the official beginning of the season, the Royal Yacht is anchored in the port of Copenhagen just outside of the Royal Navy's base on Holmen.
This year, the Danish Queen will board Dannebrog from Holmen, the Danish Royal Navy's base in Copenhagen, due to her recent back operation she is not able to sail from Esplanaden in her small motorboat out to the yacht.
She will board the ship at 12:00. Dannebrog leaves the Copenhagen Harbour at 12:30 direction Helsingør, where the Queen disembarks at around 15:30.
Loud bangs will be heard as the navy salutes the yacht by firing off their cannons from Batteri Sixtus – part of the naval base on Holmen.
Upon arrival at Helsingør around 15:00, the cannons at Kronborg Castle will salute Dannebrog.
Dannebrog officially belongs to the navy but is put at the royal family's disposal for six months every year.
This is an annually recurring event and called "Officiel Ombordstigning på Dannebrog."
The article continues below.
Dannebrog was built in 1932 at the then existing shipyards of Copenhagen (Orlogsværftet), this more modern ship replaced the former one in service until then; the old Dannebrog dated back to 1879.
The yacht has a crew of 55, all of them naval personnel as the ship is officially part of the Danish naval fleet. When in official use, a further staff of 27 from the Royal household and up to 14 passengers are added to the crew.
The yacht is is 78m long and 10m wide. Dannebrog has visited most Danish seaside towns and harbours, and sailed to Greenland, Britain, Norway, Sweden and even Greece to act as royal residence for the Danish royal family's many trips around Denmark and abroad.
The Queen's cruise in 2023 is planned to start on the 29 August with a vist to Vordingborg.
Until then Dannebrog can be seen on cruise along the Danish coasts while the new recruits practice on board.
The article continues below.
In this movie, viewers are taken on a tour of Dannebrog – it is all in Danish – but the pictures are great and you get a chance to see the royal yacht from the inside as well.
Picture and text by Bente D. Knudsen