So what is Easter in Denmark?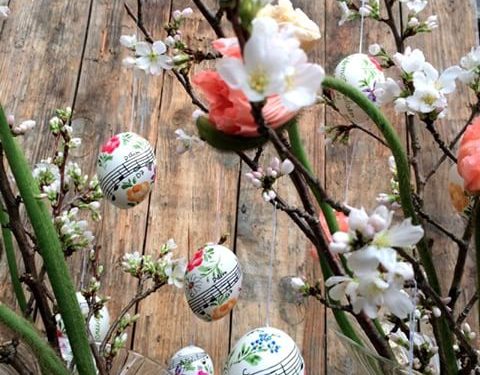 You might think, due to all the extended Easter bank holidays, that Danes are very religious and spend their free days going to special Easter church ceremonies. Nothing could be more wrong.
By Bente D. Knudsen
I was asked the other day if Danes are really busy going to church for Easter – since we have several extra days off compared to a range of other countries, notably Thursday before Easter known in Denmark as Skærtorsdag, or Maundy Thursday.
Surprised by the question, I had to think an extra minute before answering.
I had never thought about Easter in that way. To me, Easter is just another great time off from work or school, time to be with your family and relax, eat some traditional Danish smørrebrød, maybe put in a roast lamb or two for dinner and work in the garden.
Under normal conditions museums would be open, this year with the coronavirus epidemic only the outdoor ones will such as Tivoli, the zoo's, safari parks and such.
Certainly, no shopping as retail stores and other shops are closed;  this year  the dates are  Thursday 1 April,  Friday 2 April,  Sunday 4 April and Monday 5 April, except for garden centres and some of the supermarkets that stay open on bank holidays.
According to the garden centres, they have their busiest time of the year for Easter!
So the answer is no.
The religious elements of Easter are more or less gone in modern Denmark.
Instead the – finally- arrival of spring is celebrated and we decorate our homes with bright Easter colours, daffodils, spring branches and painted eggs, all as a celebration of spring.
Most of all; it's a holiday to reload after the long winter.
We spend the days off with family and friends, eat good food (mostly at home), clean the car, work in the garden, and of course open up our summerhouses which have lain dormant during the winter.
Normally it would be an important season for travelling to warmer destinations or sightseeing in foreign cities, this year all of the world is red on the Danish Foreign Office map, so no travelling.
Of course, Easter in Denmark is a Christian celebration of Jesus's death, the day he was crucified and ultimate resurrection from death. And interestingly, Denmark is one of only a few countries where the Thursday before Jesus was crucified is still celebrated – as a day off.
I am sure the government would have a hard time trying to annul that day.
We used to have an old holiday legislation, which prohibited any kind of event that might disturb the service on church festivals (so this is why I do not remember that museums and cinemas were open when I was a child).
It was removed in 1991.
In the only national survey made (in 2000), 48 percent said that Easter was an important time to spend with your family, 37 percent just saw it as another opportunity for a holiday, while only 10 percent mentioned 'attending Church' and 'the Christian message' as the main feature of Easter.
This would probably be even less so, if the survey was repeated today.
The gækkebrev is a unique Danish Easter tradition and consists of sending teaser letters before Easter to friends and family.
The letter is anonymous, but signed with a number of dots corresponding to the number of letters in the sender's name, so that the recipient has a chance of guessing who sent it.
The pledge is a chocolate Easter egg redeemed at Easter, if the recipient can guess who the sender is.
It is an old tradition, dating back to the 16th century, however, in modern day Denmark, this is mainly a tradition practised between grandparents and grandchildren, and with the cost of postage and level of postal service, it would probably die out completely, if the schools didn't uphold it as a yearly tradition in art classes and after school activities.
Egg, chicken and lam are all symbols of fertility and probably some of the most traditional and oldest Easter traditions, not only in Denmark but also in other Christian countries.
An Easter lunch is eaten with both family and friends, which is why Danes never have time for anything at Easter, as they usually have a number of Easter lunches to attend.
In extended families, deciding which day will be spent eating with whom is quite a puzzle.
Easter lunch – it resembles the ordinary Danish lunch with herrings and other kinds of fish, little hot dishes, sliced meats and cheese. Most people drink beer and schnapps, not wine to with it.
This year due to the epidemic, the Danish Government is urging its resident to refrain from large gatherings at home,l only meet with the selected few, and if in groups of 10 or more, meet outside for Easter.
For Easter, the breweries make a special Easter brew, which is stronger and therefore tastier than ordinary beer – just as they do for Christmas.
Eggs seem to more important in the Easter meal, sometimes even an eggnog is severed as a welcome drink.
And of course – chocolate eggs with marzipan in all variations. The Anthon Berg eggs – in white, pink, green and orange, are important for decorative purposes on any table (and to eat), and many copies of them are made.
To be honest, I find the original the best – they seem to have a better combination of marzipan and chocolate coating than the look alike ones do.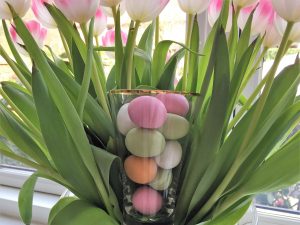 Happy Easter