Storehouse – a new lunch spot in Østerbro/Nordhavn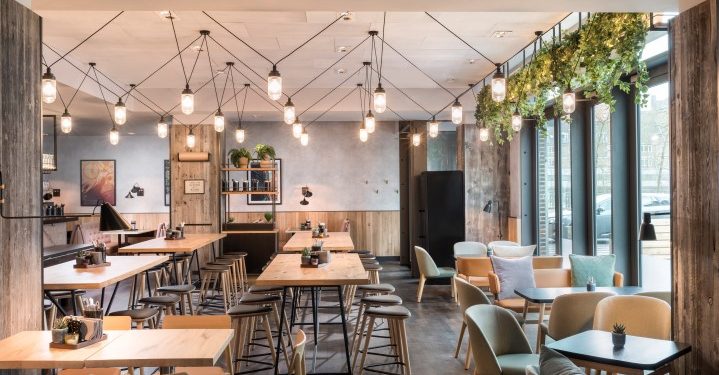 The Nordhavn district is still expanding, however, eateries for lunch are not yet abundant, so the opening of Storehouse since June 4th for lunch is a welcome addition. Find here our lunch review.
The article continues below.
By Louise Chamberlain.
Recently opened after a major refurbishment, Storehouse is part of the Adina Apartment Hotel in Amerika Plads. For customers who were familiar with the Adina's previous restaurant, Storehouse is a pleasant surprise.
The refurbished dining room is fresh and airy but retains a comfortable, cosy atmosphere. It's modern and Nordic but has managed to avoid feeling stark and impersonal by using tactile materials and careful lighting.
Lunch is served Monday to Friday from 12.00 and 14.00. The lunch menu is designed to be cooked in a relatively short space of time to cater for the needs of local office workers with limited time for lunch. The selection is small and includes a classic burger, fish and chips, a pulled pork sandwich, chicken salad and the Danish classic: herring.
Portions are generous and prices are reasonable. We had fish and chips and pulled pork, both served with really tasty and delicious home-made sauces. The fish in the fish and chips was tasty, however be prepared for a fried fish prepared Danish style and not as big chunky fish pieces as the British would.
The lot was finalised with a great large piece of cheese cake and good and rich coffee.
If the unusually good Danish summer persists, there is a lovely terrace where you can enjoy your meal in the sunshine.
The article continues below.
The restaurant is also open for breakfast (served buffet-style) and dinner (where the dishes are designed to be shared tapas-style). There is a small but perfectly formed selection of wines by the glass and an extensive drinks menu including homemade signature cocktails.
In the evenings, the kitchen is open from 17.00 but you can pop in for a drink from 16.00.
To strengthen the local vibe, Storehouse is hosting a number of musical events.
On Friday 22nd June, there will be a "Rum, Sangria and Latin Jazz" afternoon from 15.30 until 18.30. Why not pop by after work and get your weekend off to a great start?
Location: Storehouse Copenhagen
Amerika Plads 5, 2100 Copenhagen Ø
Parking in the garage: daytime DKK 24/hour  and evenings from 17:00 DKK 8/hour).