Take advantage of the great kids' activities on offer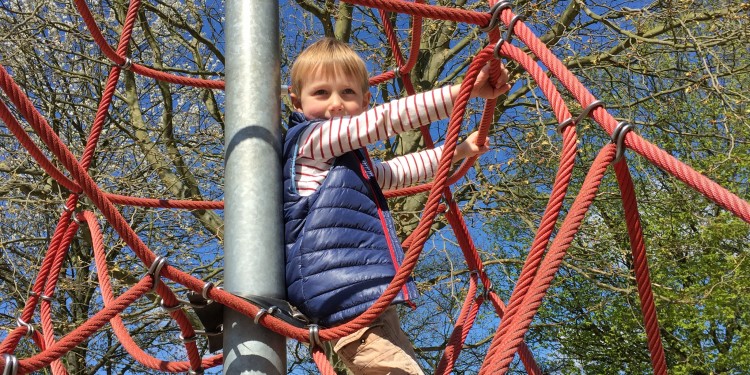 "One of the things I've enjoyed most has been discovering some of the child-friendly museums and great kid's activities this country has to offer."
The article continues below
DGI Byen, Copenhagen
Imagine jumping into a swimming pool via a trampoline. Or diving off what looks like a small cliff into crystal, clear water below. How about having a go at some rock climbing knowing that when you fall, you'll land in a pool. Well this place really exists and it's right next to Copenhagen Central Station.
DGI Byen is a sports complex that houses a bowling centre and even a hotel. But it's the swimming pool that my son, aged five, my husband and I enjoy. As well as the diving area, you can find a really large children's pool that is warm and safe for all the family.
Slap bang in the middle of it there is even a jacuzzi. If you are a more serious swimmer and want to get away from the splashing kids, you can take yourself off to the lap pool. One complete circuit is 1,000 metres so it feels like a proper work out.
Adult ticket: DKK 65 (10-visit pass DKK 495)
Child Ticket: DKK 45 (10-visit pass DKK 345)
DGI-byen, Tietgensgade 65, 1704 Copenhagen V
T: +45 33 29 80 00
Info: www.dgi-byen.com
Blue Planet, Kastrup
Sticking with water, and Northern Europe's largest aquarium, Blue Planet (Den Blå Planet) is definitely worth a visit. Inspired by a whirlpool, the building itself is impressive and is now recognised as one of Denmark's newest architectural gems. Inside there is so much sea life and water it's difficult to know where to begin. The main attraction for my son was walking through the 'ocean' in a tunnel and watching fish swimming above, below and beside us. As the sea creatures include hammerhead sharks and stingrays you can understand why this part gets the busiest. But there's much more to see including fish dissections – not for the squeamish – as well as children's storytelling and theatre. There's also a pretty good restaurant here, but be warned it does get very busy at peak times.
Adult Ticket: DKK 160
Child ticket: DKK 95
National Aquarium Denmark, Den Blå Planet, Jacob Fortlingsvej 1. 2770 Kastrup
T: +45 44 22 22 44
Info: www.denblaaplanet.dk/en
The article continues below
Kattegatcenteret, Grenaa, Jutland
If the movie JAWS hasn't put you off, then at Grenaa in Jutland you can even dive with sharks alongside professional instructors in the oceanarium. Kattegatcentret is home to more than 250 sea creatures but is best known for its shark and seal training. You can learn all about these creatures and watch them being fed. There are many more activities available for all the family and for the really adventurous, there is the chance to take a RIB boat ride out at sea.
Adult ticket: DKK 160
Child ticket: DKK 90
Kattegatcentret, Færgevej 4, 8500 Grenaa
T: +45 8632 5200
Info: www.Kattegatcentret.dk
 Copenhagen Zoo
I admit that I was rather put off Copenhagen Zoo after the decision in 2014 to kill Marius the giraffe, dissect him in front of the public and feed him to the lions! But as my son is now crazy about animals, I decided it was time for another visit.
It is a great place, and is certainly the best zoo I've ever visited. So much thought has gone into the design and layout of the complex. For example, catching a glimpse of a polar bear in an area that really does resemble a small section of the Arctic (albeit without the snow and ice, most of the year) is almost magical.
The first time we were there one of these magnificent creatures was swimming laps above our heads as we watched, open-mouthed, from the walkway below. Or there's the chance to visit the Elephant House, designed by world-famous architect Norman Foster, as the animals are being fed.
Like so many places in Denmark, the zoo is very child-friendly. For example, you can borrow carts to transport children or even your bags during your visit. And every child must experience the playground. With its walkable rabbit warrens and hidden tunnels, this is still my son's favourite part of the day at Copenhagen Zoo. PS the newborn Hippo is a hit!
Adult Ticket: DKK 170
Child Ticket: DKK 95
Zoologisk Have, Roskildevej 38, 2000 Frederiksberg
T: +45 72 200 200
Info: uk.zoo.dk
The article continues below.
 Playgrounds
I can't get enough of Denmark's playgrounds – and they're free. You don't need to travel far before you come across swings and slides, but some really do stand out. Top of my family's list is Fælledparken in Østerbro, Copenhagen where there are several to choose from. The Towers playground is built around five of the city's most recognisable tall buildings or spires.
It includes a kid-friendly Round Tower as well as City Hall and which house kids' slides, bridges and climbing frames. Whoever thought church and politics could be so much fun?! There's also a big sandpit for children to enjoy plus toilets and picnic tables.
Staying in Fælledparken and you can also find the Children's Traffic Playground, complete with roads, cycle lanes and traffic lights.
We are currently in the process of teaching our son to ride a bike and this is the perfect place. But he's been scooting around here ever since we first arrived in Copenhagen more than two years ago.
There's also another playground right next to it. And only a few hundred metres away there is another children's area complete with trampolines and huge swings.
Plus there's a skate park in Fælledparken – one of the largest in Denmark. In the summer months there is also a paddling pool area. Fælledparken really is a place where you can spend all day having fun without it costing a krone.
There are so many more playgrounds to enjoy and the list could go on and on. But one small playground that's worth a mention for younger children is the one found right bang in the middle of the King's Garden in Central Copenhagen. It means parents can enjoy a walk in the grounds of this historic area knowing the little ones will also enjoy it.
Aarhus is also home to some exciting playgrounds, including the Planet, which can be found at DOKK 1, the library and citizens' centre on the city harbour.
The children's area is made up of five sections, each representing a continent of the world. And as it's right next the library, there's the perfect place to warm up afterwards.
 Botanical Garden, Aarhus
Talking of Aarhus, right in the middle of the city you'll find an oasis of green and colour. The Botanical Garden and the Greenhouses are part of the university's science museums and to visit them will cost you nothing.
Here you can wander through different climate zones, see the plants and even have a bite to eat in a former tropical greenhouse.
If you want to book an hour's tour for up to 15 people, it will cost around 500 DKK. Botanical Garden and Greenhouses, Peter Holms Vej, 8000 Aarhus C,  T: +45 87 15 54 15 and café +45 87 15 57 06 Info: sciencemuseerne.dk/en/botanical-garden/
By Alex Forrest  ( Alex wrote this article for us some time ago – she has since then moved on to Berlin) Pictures: Alex Forrest
TIP - How to find a playground

Playgrounds for children are part of the local municipalities' responsibility.




They are all public and maintained by the Vej&Park (roads and parks) section of the municipality. To find them in your area, you will need to visit your municipality's website.

In Danish they will be listed as legeplads or offentlig legeplads, often their location will be shown on a map. Such is the case for instance for Esbjerg, where they categorise them into four different kinds, Copenhagen has 125 different ones split into five different categories by type of equipment and location.