The coolest place to hang out? Libraries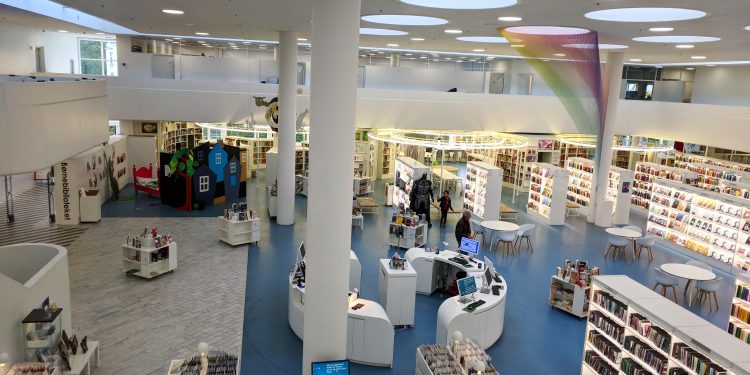 Yes, we said libraries. As an expat, English language literature is a must, and as our expat writer found out, the Danish libraries excel in English language books, or will go to great lengths to get you what you want.
The article continues below.
Pictures and text by Sehrish Haq
Have you ever been in a dilemma when buying a book in Denmark? Has the price tag on the book made you go have a look online? Have you chosen to go out for a coffee with friends instead of buying a book? Do you worry about leaving your books behind in case you have to relocate?
Well, my fellow book lovers, look no further, for I have recently (re)discovered THE BIBLIOTEK.
Who knew that the libraries carry books from all over the world! Maybe you did, but, like me, never actually explored a library (bibliotek) in Denmark.
The last time I used a library was over a decade ago.
I have had the joyous pleasure of visiting my local bibliotek with my children recently. And I was amazed.
Not only by the new technology and the extent of materials you can borrow, but also by how welcoming the staff were towards the children.
In Denmark, children are allowed to touch, play, talk and explore at the libraries!
There is something for everyone, from soft toys for toddlers, to actual play areas for older children, to quiet studying areas.
The article continues below.
My local library has an extraordinary children's section, where children can dress up, drive a cardboard bus, play shop. While they run wild with their imagination, I have the time to explore the English section or peruse online.
I feel more comfortable taking my children to the library than to a restaurant.
But this is not the only thing that I found intriguing. If you are after a book or an article that your local library does not hold, the staff will check on the database to find if any library in Denmark has what you are looking for.
In case they do not have the item, they will buy it for you and will send you a reminder once the item has arrived at a library of your choice.
Once you register, you will need your yellow health card (fun fact: the card has a barcode, so your health card also becomes your library card!) and you will have access to all the books in Denmark.
You will also have a choice to download an app if you prefer ebooks.
The app can be downloaded on phones or tablets, or you can simply order a book and see the waiting time and the number of copies in use. Once the book is available at the library of your choice, you will receive an email and also an SMS with the details.​
The ebook app is called LIBBY and it also contains a large selection of English language books. Once downloaded you use your library info to sign up and use.
The article continues below.
Recently I visited Gentofte Hovedbibliotek and was blown away by its layout. It should be on everyone's must visit location.
This gorgeous library not only holds books in English, but also has other language books.
There's more, they hold language cafes for people wanting to learning a new language (Spanish, Italian, German and English.) and what's more, this library has an indoor café, you can eat and drink INSIDE THE LIBRARY.
Most libraries are open 7 days a week, from 8:00 to 20:00 on weekdays, and 10:00 to 16:00 on weekends, check your local library's opening times online as some are open until midnight!
So, take your health card to your local library today and register yourself and your children.
As George R.R Martin says "winter's coming" and you'll need a haven, luckily we've found ours: The Bibliotek.
If you have never been, check out your local library and give yourself the option of having a coffee while reading a book.
What's not to love about Denmark!